The Most Controversial Things Kid Rock Has Ever Done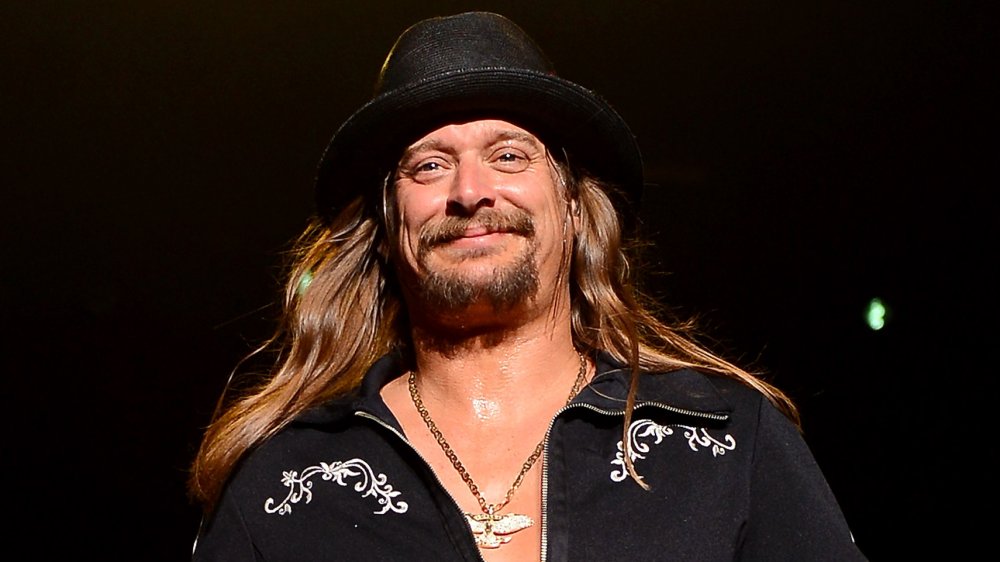 Ethan Miller/Getty Images
Kid Rock released his first album in 1990, but it wouldn't be until a decade later that the Detroit rapper would hit it big with his 1998 release Devil Without a Cause. That LP, his fourth, catapulted him to international success, spawning the hits "Bawitdaba" and "Cowboy," ultimately selling 11 million copies. And Kid Rock has proven to be no flash in the pan, with 25 million album sales under his belt as of 2013, per Yahoo! Entertainment. Through it all, controversy and Kid Rock have gone hand in hand, something he rarely sidestepped and often encouraged. 
Kid Rock once again made headlines in March 2020 as the COVID-19 pandemic escalated, and cities throughout North America mandated the closure of bars and restaurants to mitigate the spread of the virus. According to Variety, when Nashville, Tenn. ordered all the city's eateries and watering holes shut down, Kid Rock's Nashville steakhouse was one of the spots to blatantly defy that order (the restaurant later reversed its decision and shut down).
This was just the latest in a string of controversies that have woven their way through Kid Rock's career. Read on for a look back at the most controversial things that Kid Rock has ever done.
The VFW isn't here for Kid Rock's poncho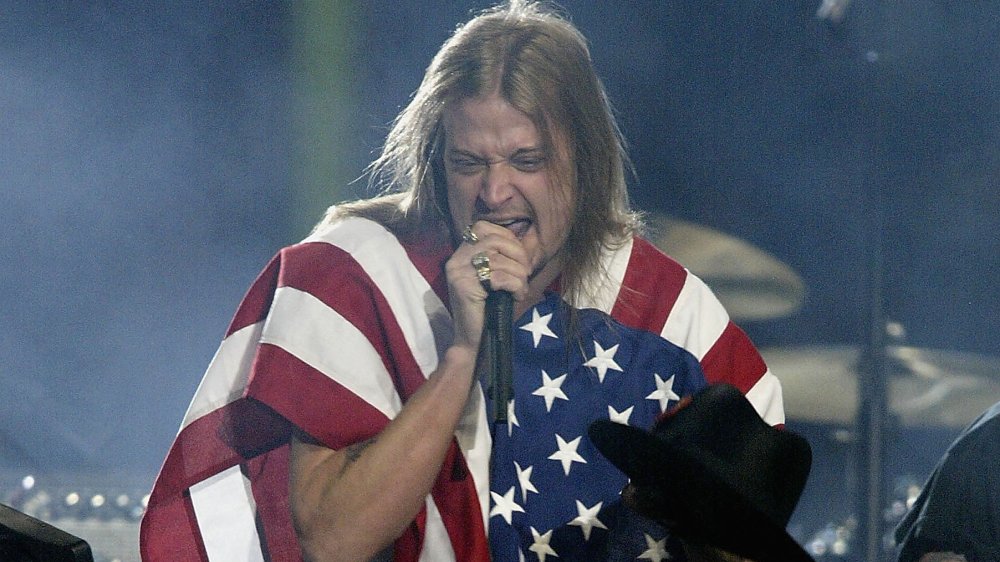 Donald Miralle/Getty Images
By 2004, Kid Rock had grown popular enough to be invited to perform at the Super Bowl halftime show, which also featured Janet Jackson, Justin Timberlake, Nelly, P. Diddy, and Jessica Simpson. 
When he took to the stage, Kid Rock wore an American flag as a poncho. This did not go down well with the Veterans of Foreign Wars, with CBS News reporting that VFW commander in chief Edward Banas Senior slammed the poncho as being "in poor taste and extremely disrespectful." Georgia Sen. Zell Miller, a former Marine, was even more incensed by "seeing this ignoramus with his pointed head stuck up through the hole he had cut in the flag of the United States, yelling about having 'a bottle of Scotch and watching lots of crotch,'" as he described the performance in his book, Zell Miller A Senator Speaks Out on Patriotism Values and Character. Miller further expressed his wish that Kid Rock be "tarred and feathered and ridden out of this country on a rail."
Luckily for Kid Rock, the furor over his stars-and-stripes sartorial choice was completely swept aside by the scandal unleashed by Jackson's notorious "wardrobe malfunction" and the ensuing "Nipplegate" backlash. 
A Confederate flag controversy has plagued Kid Rock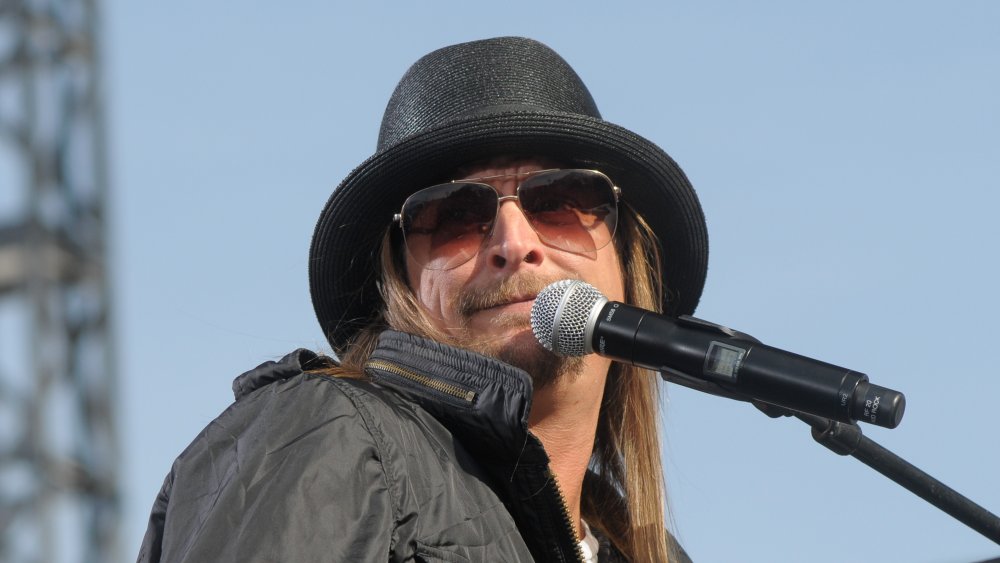 Kris Connor/Getty Images
Old Glory wasn't the only flag that created controversy for Kid Rock. In fact, he's been criticized repeatedly over the years for unfurling the Confederate flag during performances. Despite backlash and protests, he remained defiant. In 2008, Kid Rock told The Guardian he had no plans to stop waving the flag. "Sure, it's definitely got some scars, but I've never had an issue with it," he said. "To me it just represents pride in Southern rock' n' roll music, plus it just looks cool."
However, a survey undertaken by market research firm YouGov determined that 41 percent of Americans believe "the Confederate flag represents racism," which explains why protests erupted when the Detroit NAACP presented Kid Rock with an award. "You know what that flag stands for?" a protester told Associated Press. "It stands for hatred, bigotry, racism, murder..." According to Billboard, when Kid Rock accepted the award he said: "I've never flown that flag with any hate in my heart. Not one ounce."
In 2015, Kid Rock made his feelings about the backlash crystal clear when relayed the following statement to Fox News host Megyn Kelly: "Please tell the people who are protesting to kiss my ... ask me some questions"
Kid Rock's fake Senate run led to a federal investigation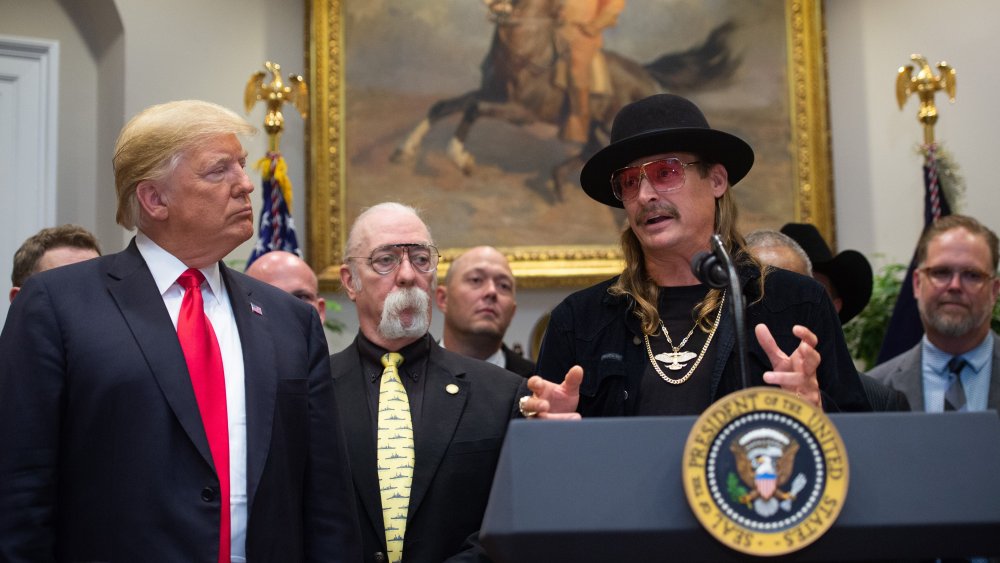 Saul Loeb/Getty Images
The 2010s found Kid Rock becoming increasingly political, and his views leaned heavily to the right. In 2017, the rapper made a provocative statement when he took to Twitter and shared an image of a political yard sign reading "Kid Rock for US Senate." He then made an apparent announcement he was planning a political run. "I have had a ton of emails and texts asking me if this website is real," wrote the rapper (real name: Robert Ritchie) referencing the now-defunct kidrockforsenate.com site. "The answer is an absolute YES."
But was it? While visiting The Howard Stern Show he confessed the whole thing was a hoax. "F**k no, I'm not running for Senate. Are you kidding me?" he said, adding, "Who f**king couldn't figure that out? I'm releasing a new album. ... I'm going on tour too. Are you f**king sh**ing me?"
His admission resulted in a complaint to the Federal Elections Commission, which launched an investigation. The FEC ultimately concluded there was "no evidence" that Kid Rock took any official action after that initial tweet, and that "further pursuing this matter would have been an unwise use of commission resources."
He delivered a right-wing rant during a concert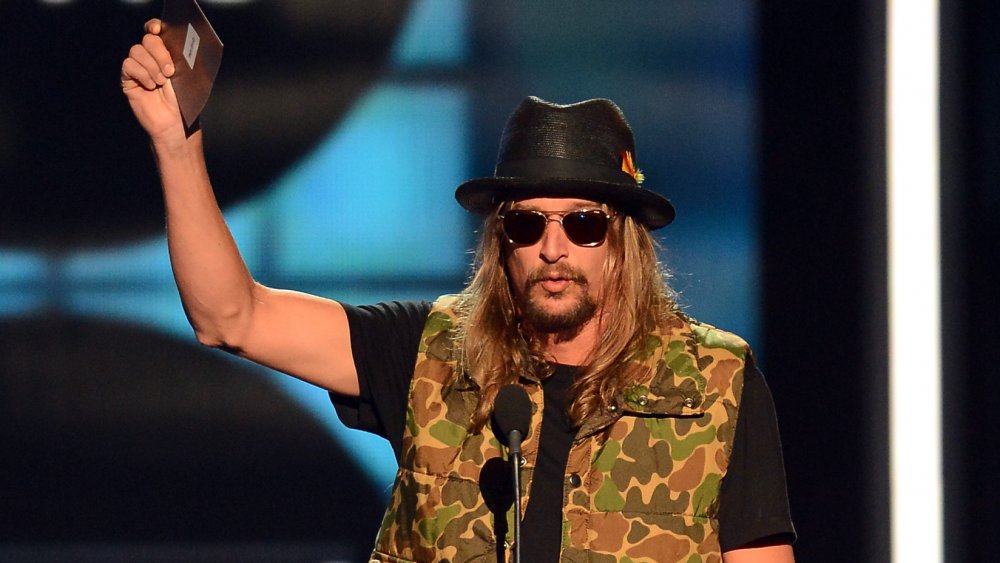 Ethan Miller/Getty Images
Before Kid Rock's Senate run was revealed to be a PR stunt, he was introduced as "the next senator from the state of Michigan" when he took to the stage at a concert in his hometown of Detroit in September 2017. As Time reported, he then delivered a profanity-laced stump speech that laid out the bare bones of his decidedly un-PC platform. 
He railed against tax dollars being used to help "some deadbeat" or a single mother who keeps "having kid after f**king kid." He also blasted Colin Kaepernick-inspired take-a-knee protests before asking "why these days is everything so gay?" On the topic of transgender rights, he declared that "whatever you have between your legs should determine the bathroom that you use." He also addressed accusations he was a racist, which had been fueled by his love of the Confederate flag. "I love black people. And I love white people, too," he said. "But neither as much as I love red, white, and blue."
Kid Rock's rant resulted in backlash, with News One Now reporting the National Action Network called for his upcoming concerts in Detroit to be cancelled. 
Kid Rock's performance for the NHL was hit with backlash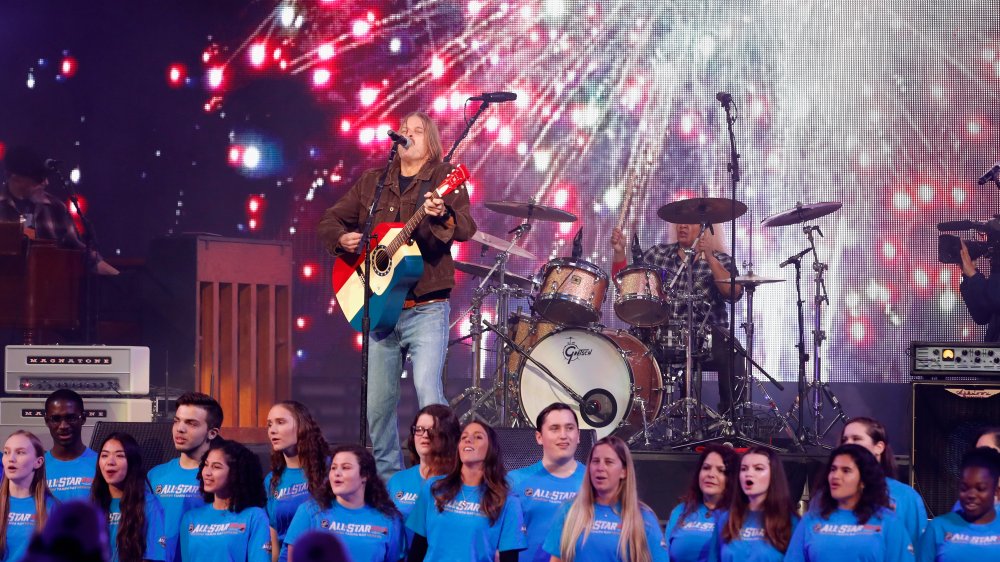 Mike Carlson/Getty Images
In January 2018, the National Hockey League announced that Kid Rock would be the performer at that year's NHL All-Star Game. As Sporting News reported, the announcement was instantly greeted by concerns over his alleged "racism, sexism and homophobia," along with his continued use of the Confederate flag as a stage prop and his opposition to controversial NFL quarterback Colin Kaepernick protesting police violence against African-Americans by taking a knee while the National Anthem was played before football games.
Twitter unleashed a tsunami of outrage. "WTF are you doing @NHL?" read one Twitter comment, while another wrote, "This is unbelievably out of touch. Why not somebody uncontroversial and broadly appealing, like anyone else?"
According to ESPN, the NHL was "aware" of the opposition to featuring Kid Rock at the All-Star game, but stood by its decision. As NHL exec Steve Mayer explained, the league selected Kid Rock simply because he was a longtime hockey fan. "It's all about the entertainment at the end of the day for us, and this selection was purely based on that, and the fact that Kid Rock is a hockey lover," he said.
Taylor Swift fans weren't amused by Kid Rock's lewd tweet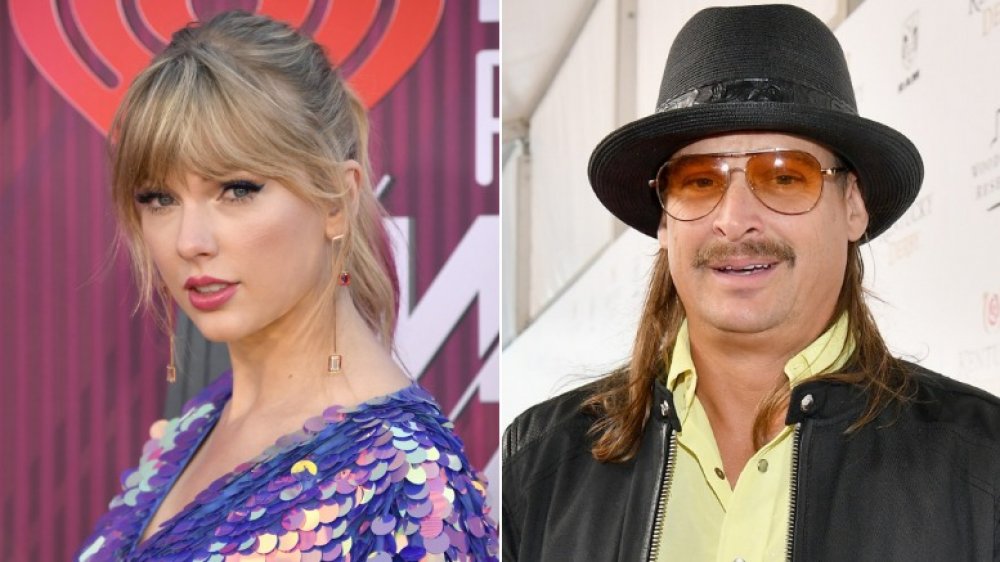 Frazer Harrison, Dia Dipasupil/Getty Images
After years of keeping her political views to herself, Taylor Swift took to Instagram to publicly throw her support behind two Democratic congressional candidates during the 2018 midterm elections. A subsequent Vogue cover story focused on her decision to finally share her political opinions with fans. The day after the Vogue story was published, Kid Rock felt the need to throw in his two cents in a scorched-earth tweet. "Taylor Swift wants to be a Democrat because she wants to be in movies... period," he wrote, before making a crude reference to Swift performing a sexual act. "Oldest move in the book. Good luck girl," he continued. 
Swifties came after Kid Rock with the kind of white-hot fury that can only be mustered by a hormonal teenager. They were joined in their outrage by some celebrities who were also appalled by the insulting, sexist remarks. "You're pathetic," responded Chrissy Teigen. "She should be a real American like you," comedian Patton Oswalt sarcastically sniped, referencing Kid Rock's upscale upbringing, "growing up on a six-acre estate complete with tennis court and horse paddock, and then bravely adopting a faux 'redneck s**tkicker' cosplay persona."
His bar's cheeky sign created controversy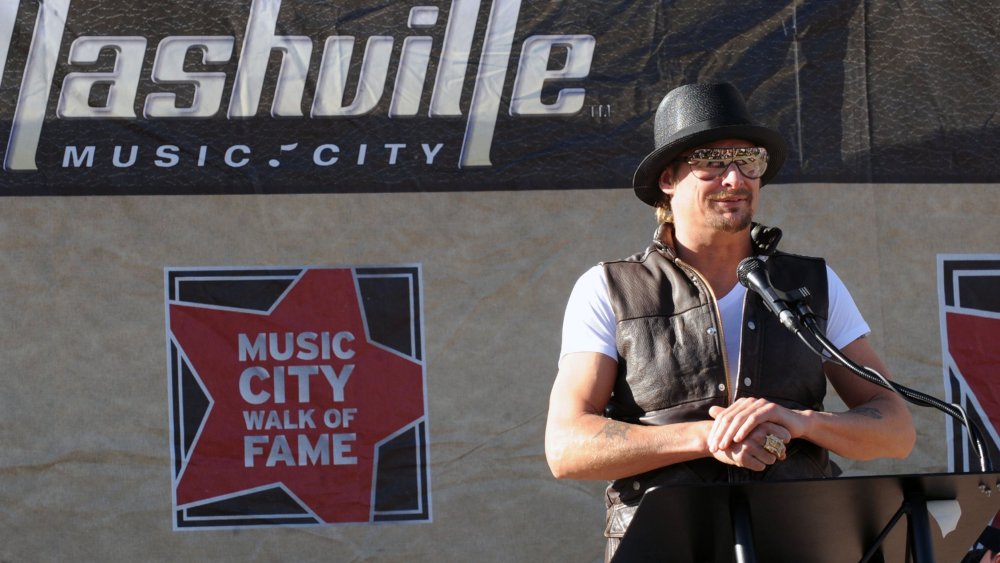 Rick Diamond/Getty Images
Kid Rock eventually expanded his horizons from the world of music into the hospitality industry. After the 2017 opening of his Kid Rock's Made in Detroit bar in the Michigan city's Little Caesars Arena, he launched Kid Rock's Big Ass Honky Tonk & Rock n' Roll Steakhouse in Nashville, Tenn. He had an interesting idea when it came to signage, reported ABC News: a 20-foot-high neon sign featuring a giant guitar, with its curvy base designed to resemble a female derriere.
According to the Tennessean, Nashville's Metro Council ultimately approved the sign in a 27-3 vote, with dissenters expressing concerns over the butt-shaped marquee. "We've worked very hard as a city to become somewhere that is a tourist destination, an 'It City,' somewhere that is family friendly," said Councilwoman Kathleen Murphy.
Murphy was concerned not only about the sign itself, but for the precedent it could set. "This one I feel crosses the line between good taste, family-friendliness, and I think what we would like Nashville to portray to people who come to visit us," she added. "If we allow this, what is going to come next? I think we can all use our imaginations here."
Bashing Joy Behar got Kid Rock booted from Nashville's Christmas parade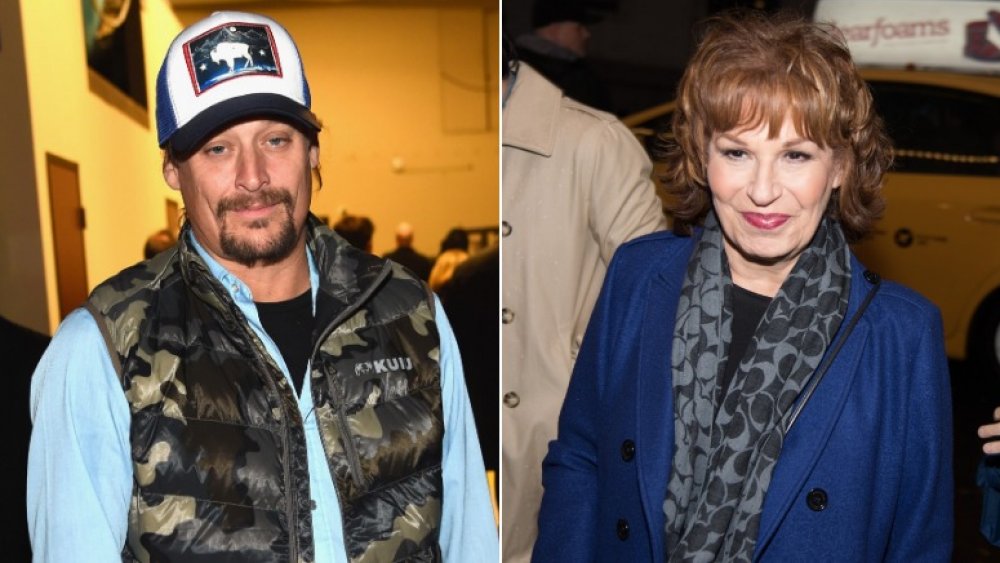 Rick Diamond, Dave Kotinsky/Getty Images
Kid Rock was in a celebratory mood while attending the opening of his new Nashville, Tenn. eatery, Kid Rock's Big Ass Honky Tonk Rock N' Roll Steakhouse. Fox & Friends host Steve Doocy was on hand to get a few comments — and hoo boy, did he have a few. Sipping what seemed to be an adult beverage from a styrofoam cup, Kid Rock told Doocy, "I would say, love everybody ... except I'd say screw that Joy Behar b***h," he said, causing Doocy to immediately apologize to viewers for the rapper's salty language. Kid Rock clarified, but didn't back down. "I did apologize for the language," he told Fox News viewers, "not the sentiment."
The following day, Behar — a standup comic before joining The View — responded to the insult in her own inimitable way during a broadcast of the daytime talk show. "This b***h and these b***hes will be happy to have you on the show and have a beer," she said.
Backlash to Kid Rock's comments was so severe, reported Rolling Stone, that he wound up being booted as Grand Marshal of Nashville's 2018 Christmas Parade.
Kid Rock was thrown offstage after a drunken rant about Oprah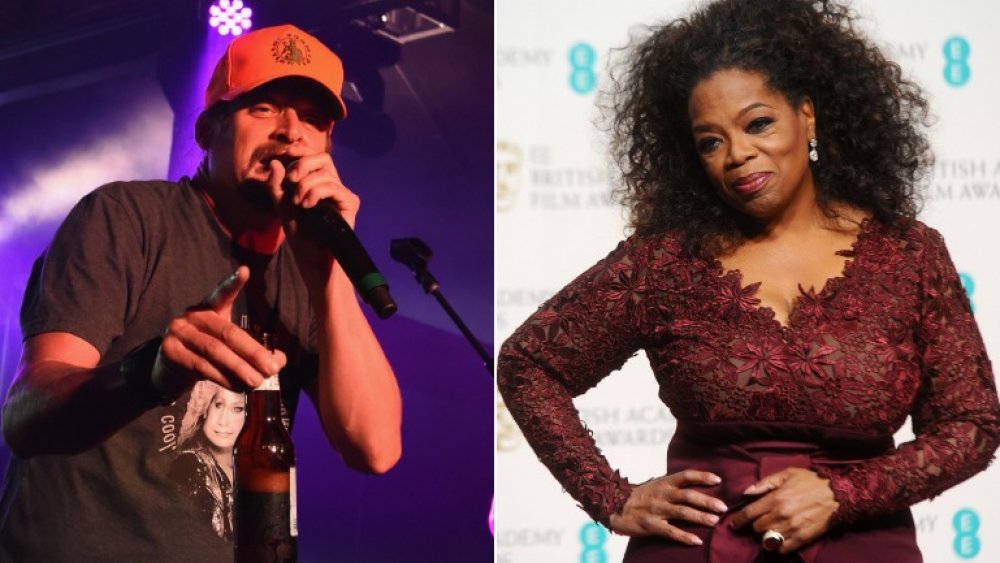 Rick Diamond, Anthony Harvey/Getty Images
A few months after the approval of his sign, Kid Rock jumped onstage at his Nashville, Tenn. restaurant and went off on — you guessed it! — a profanity-laden rant. Unfortunately for him, those remarks were captured on video and wound up in the hands of TMZ. In between f-bombs, Kid Rock trashed Oprah Winfrey, Joy Behar, and Kathie Lee Gifford, telling anyone who thought he was a racist to "f**k off." 
With one audience member telling NBC News that Kid Rock appeared to be "blackout drunk," the rapper's tirade was interrupted when a member of the restaurant's team escorted him offstage. He later offered a somewhat nonsensical explanation on Twitter, claiming he was asked to do Winfrey's show years earlier, but balked when "her people" asked him "to write down five reasons why I loved her and her show."
There was fallout. Days after the video leaked, reported the Detroit Free Press, the company that owned the Detroit arena housing his Made in Detroit bar announced Kid Rock had "voluntarily decided not to renew" the agreement, and the bar would shut down. The company would seek a new establishment that "aligns with our community and company values." Kid Rock commented on the closure in a Facebook post that boasted his many charitable donations to Detroit organizations and undying affinity for his hometown and its residents. However, the rapper also stated that he "learned long ago, go where you're celebrated, not tolerated." 
A racial discrimination lawsuit for his Detroit bar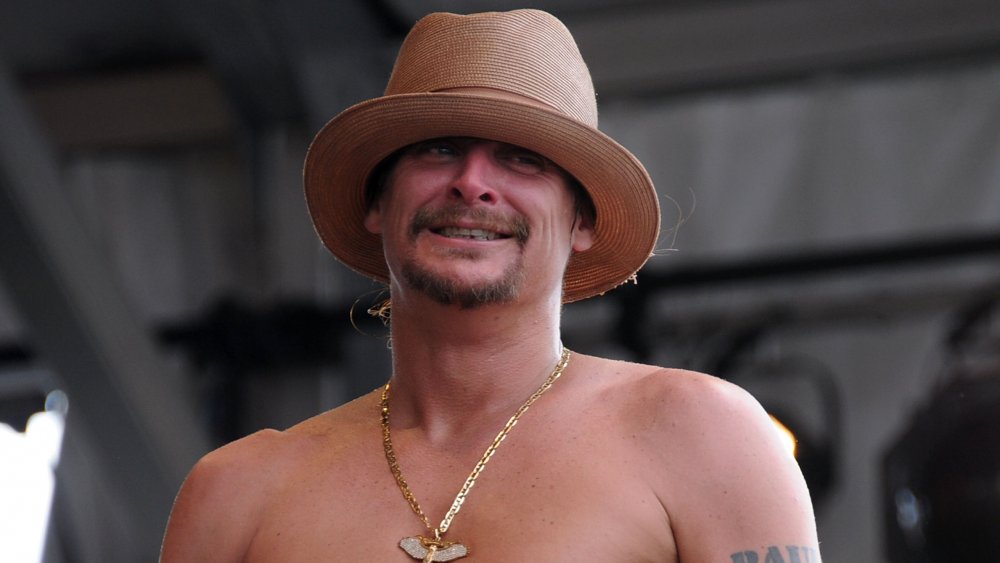 Rick Diamond/Getty Images
On the same day of the announcement that Kid Rock's Made in Detroit restaurant would be shutting down, the establishment settled a racial discrimination lawsuit filed by a former employee. According to the Detroit Metro Times, Carinne Silverman-Maddox, who claimed to be the restaurant's only black bartender, filed a federal lawsuit against Made in Detroit. She alleged she was fired for wearing her hair in "a curly afro, instead of straightening it or putting it up like her Caucasian coworkers."
While the terms of the settlement were not made public, the lawsuit claims that Silverman-Maddox was "abruptly suspended... for allegedly over-pouring a single drink." Following her suspension, Silverman-Maddox alleged she was removed from the bar's schedule and eventually denied access to the schedule entirely. When her attorney informed the bar that she had retained a civil rights attorney, she was then officially fired.
When the Detroit Free Press first covered the lawsuit, Kid Rock, who wasn't named in the suit, responded by blasting the newspaper on Twitter. "More bad journalism," he snarked. "Another attempt to get cheap clicks and views. Only minor investigating instead of immediate reporting would reveal the correct facts."
Animal-rights activists bashed Kid Rock for performing at SeaWorld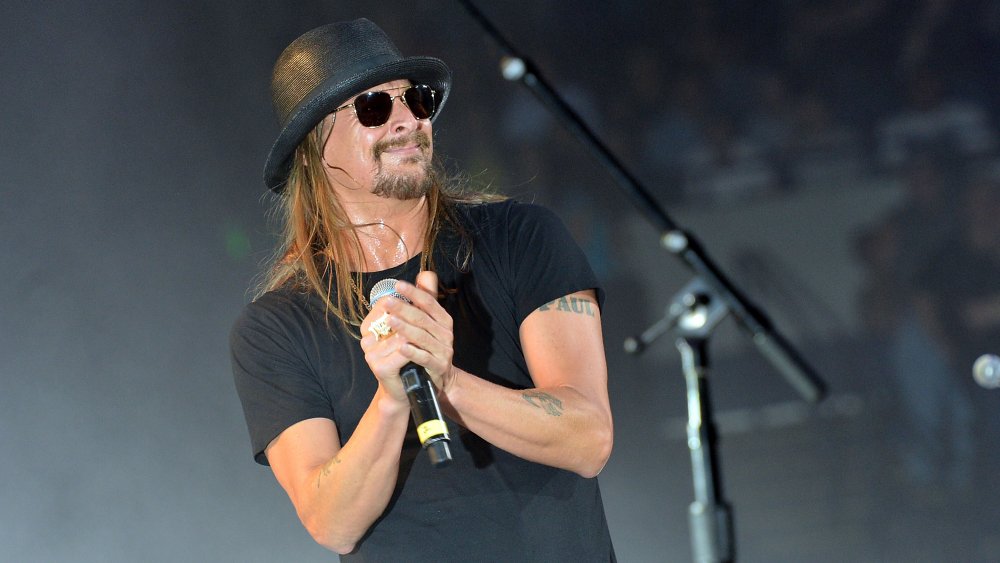 Rick Diamond/Getty Images
San Diego's SeaWorld was once considered a family-friendly destination where children could get up close and personal with creatures that call the ocean home. By 2014, however, the park had become a hotbed of controversy after the release of the documentary Blackfish, focusing on a 2010 incident in which a SeaWorld trainer was killed by an orca. The film questioned how humane it was to keep orcas and dolphins in captivity.
Kid Rock stepped into the controversy when he and country singer Alan Jackson were booked to perform at SeaWorld's "Bands, Brew & BBQ" concert series. As CNN reported, other acts booked by SeaWorld pulled out to avoid getting sucked into the whole mess — but not Kid Rock. A petition was launched urging Kid Rock and Jackson to cancel.
Ultimately, both artists ignored the backlash and performed as scheduled, unlike performers Trace Adkins, Trisha Yearwood, Willie Nelson, Barenaked Ladies, Martina McBride, Cheap Trick and Heart, all of whom had cancelled their SeaWorld shows due to the controversy. "What they do is slavery, plain and simple," Heart singer Ann Wilson told Rolling Stone, revealing the band made the decision after watching Blackfish. 
Kid Rock was blasted for a big game hunt with Ted Nugent
If animal lovers were disappointed in Kid Rock for performing at SeaWorld after numerous other artists cancelled their concerts there, a photo shared on social media only amped up the anger. It all started when Kid Rock's fellow Detroit rocker — and fellow hunting enthusiast — Ted Nugent posted a photo on Facebook of Kid Rock proudly holding up the dead carcass of a mountain lion he had killed during a hunt.
In the photo's caption, Nugent praised Kid Rock "for saving all those muledeer elk & livestock by whacking this magnificent mountain lion." Nugent also correctly predicted he and Kid Rock would be criticized by "braindead squawkers already with their obscene denial that killing lions is wrong." While Nugent's Facebook followers predictably offered support and accolades, anti-hunting commenters also chimed in, sparking a spirited pro-and-con debate over the merits of killing animals for sport.
All told, Nugent's post of Kid Rock and his dead feline trophy generated more than 6,700 comments.
Kid Rock's Trumped-up tribute to Kobe Bryant was a bust
When retired NBA great Kobe Bryant and his 13-year-old daughter were killed in a tragic helicopter crash in January 2020, numerous sports and entertainment figures paid their respects and offered condolences on social media. 
Kid Rock was among them. However, his tribute accompanied a photo on Instagram, featuring himself and Donald Trump Jr. on a hunting trip in Texas as they proudly posed with the deer they had just killed. In the caption, Kid Rock wrote that he had taken a helicopter and experienced a "very dark/eerie feeling," and revealed the gun he used during the hut had been nicknamed "The Black Mamba" — the same nickname that Bryant had given himself.
The Twittersphere was not impressed. "Huh. Who knew that Kobe Bryant's death was really about Kid Rock?" tweeted one user, while yet another described Kid Rock's post as "absolutely tasteless." Yet another Twitter user summed up the prevailing sentiment by tweeting, "Interesting how he turned this tragedy into being about him. He does have something in common with the Trumps: narcissism." Ouch. 
Did Kid Rock's brief marriage really end because of Borat?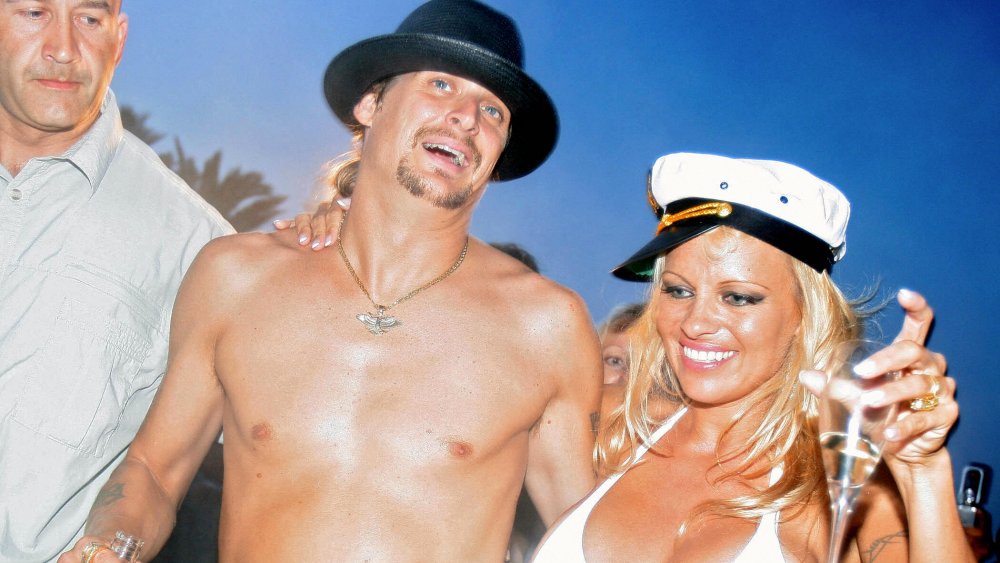 Eric Estrade/Getty Images
In 2001, Kid Rock began dating Pamela Anderson. They became engaged in 2002, reported Us Weekly, only to break up in 2003. They reconnected in 2006 and got married in the French Riviera that same year. The marriage ended quickly, however, with Anderson filing for divorce 17 days later. 
British comedian Sacha Baron Cohen may have shed some light on the reason behind the marriage's brevity. Speaking with the Daily Beast's Last Laugh podcast about his 2006 film Borat, he revealed a scene featuring his Kazakhstani journalist character throwing Anderson over his shoulder and accidentally injuring her jaw. "She lost two things," he said. "One, she lost a tiny bit of bone from her jaw and secondly, she lost a husband."
He was apparently referencing a 2006 report in the New York Post (via CBS News), in which a source alleged Kid Rock attended a Borat screening and became incensed with the way Anderson was portrayed. Kid Rock, said the source, "started screaming at Pam, saying she had humiliated herself and telling her, 'You're nothing but a wh**e! You're a s**t! How could you do that movie?'" Cohen confirmed that through a text exchange, Anderson told him "the movie" was the reason for her quickie divorce.