Here's How Much Brock Lesnar Is Really Worth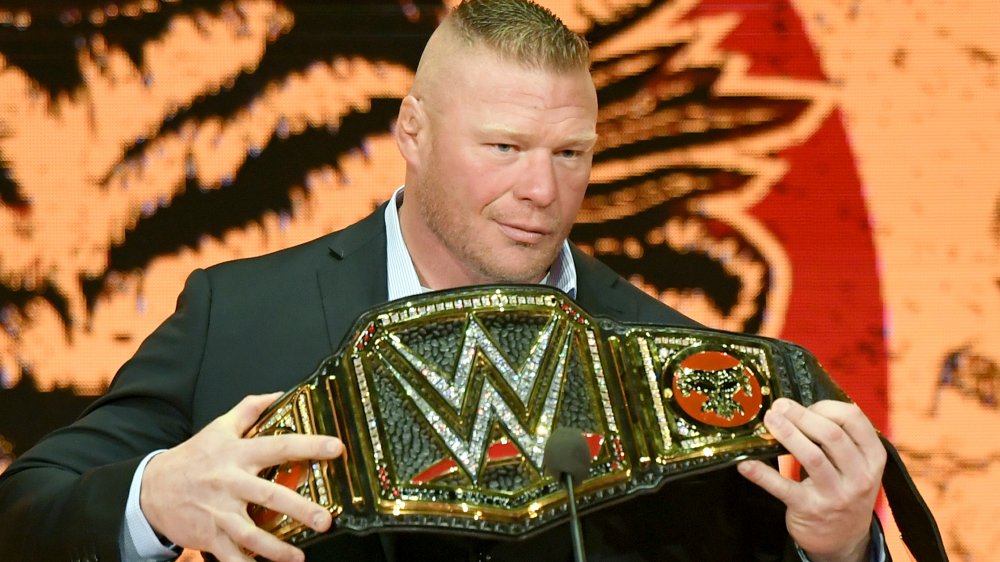 Ethan Miller/Getty Images
In the years since American wrestler Brock Lesnar made his WWE debut, the former MMA fighter has become a superstar in the wrestling world. Lesnar secured his spot in WWE history when he defeated Dwayne "The Rock" Johnson to become the youngest WWE Champion ever at only 25-years-old, per the organization's website. 
Known as The Beast Incarnate, Lesnar briefly put his WWE career on hold to pursue his NFL dreams in 2004. Lesnar joined the Minnesota Vikings, but the fighter only played a few pre-season games before he was released from the team, per Business Insider. Before officially returning to the WWE in 2017, Lesnar found success as both an MMA and UFC fighter. When he did make his return, Lesnar bested Bill Goldberg to become the WWE Universal Champion.
With decades of career wins under his belt, Lesnar has become one of the richest fighters across the board. Lesnar raked in more money than wrestler John Cena during the 2016 fiscal year, earning $12 million to Cena's $8 million (per Forbes). According to Celebrity Net Worth, at the time of this writing, Lesnar's net worth sits at $28 million. Perhaps that has something to do with the fac that Lesnar is the only fighter to hold NCAA, UFC, and WWE championship titles (per CBS Sports).
Brock Lesnar's love for hunting cost him in Canada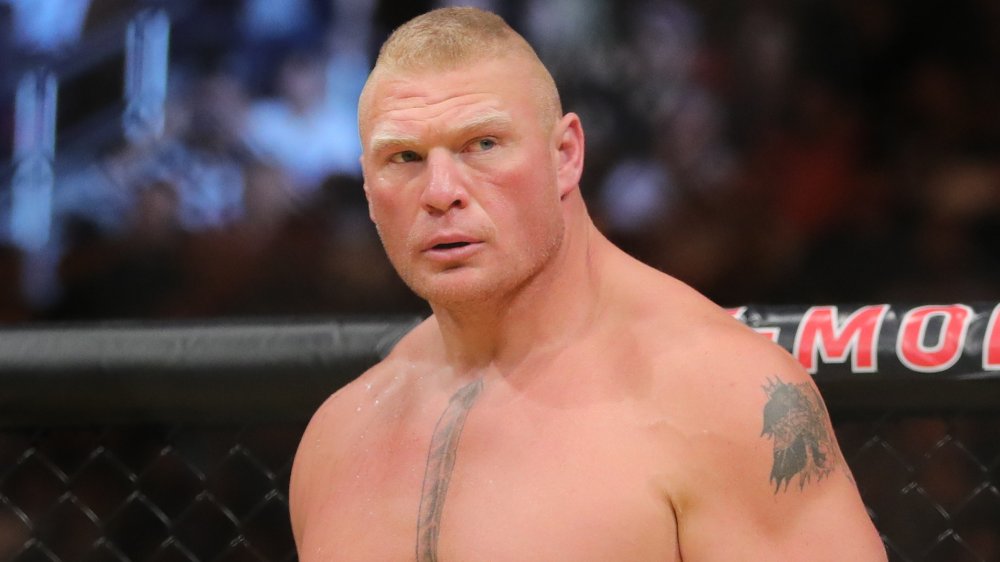 Rey Del Rio/Getty Images
Fans of Brock Lesnar know that, in addition to the wrestler's physical talents, he's also a skilled hunter. However, his hobby got him in trouble in 2011 when he was charged with three counts of violating the Alberta Wildlife Act back in 2010, per the Pioneer Press. According to authorities, Lesnar failed to tag a deer he shot, to which he pleaded guilty, per CBC. According to Heavy, Lesnar's two subsequent charges—possession of a controlled animal and spoiling of skin and edible flesh—were ultimately dropped by the court. CBC reports that Lesnar was "fined $1,725 and given a six-month hunting suspension."
"It's the kind of thing that happens to hunters all the time," Lesnar told the outlet. "I want to thank the Canadian authorities for their cooperation in resolving this misunderstanding. I love Canada and I can't wait to go back to Alberta for a hunt."
As Owen Voaklander, the director of the Alberta Professional Outfitters Society, told Newsday, "Wasted game is a very serious crime in the minds of hunters because most everybody is hunting for meat at the outset. It's sort of paying reverence to the animal that they harvested and you're not wasting." 
We're sure Lesnar's wallet won't soon forget the value —both monetary and symbolic— of Canadian game any time soon.