The Truth About Trump's Relationship With The MyPillow Guy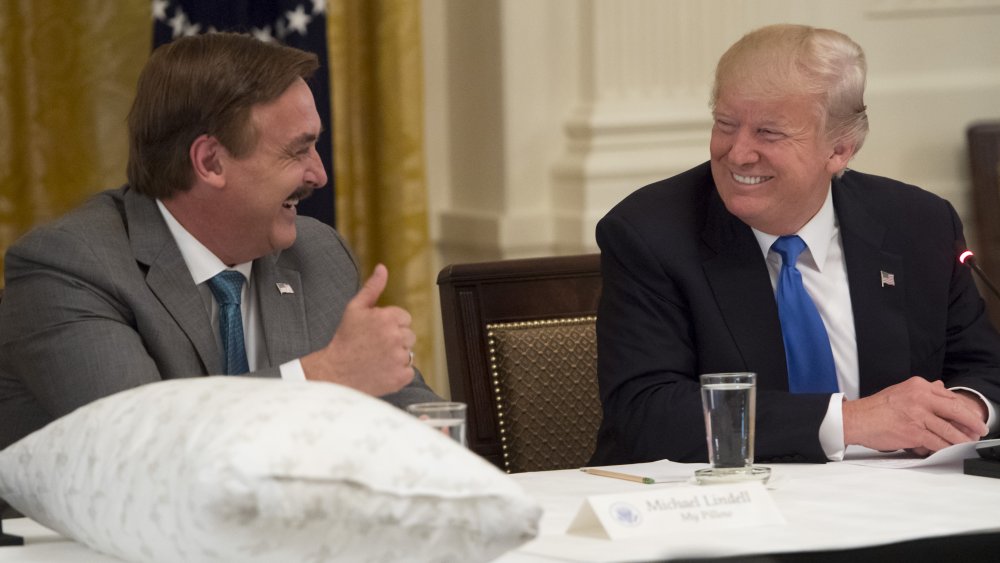 Afp Contributor/Getty Images
On March 30, 2020, the world witnessed a bizarre moment: President Donald Trump inviting MyPillow founder Mike Lindell (or the MyPillow guy, as he's known on Twitter) to speak at the White House's coronavirus (COVID-19) briefing. Naturally, viewers were confused. "Well, imagine my relief that the My Pillow guy is on the job," quipped one Twitter user. "Trump now has the guy from My Pillow doing a campaign commercial for Trump's 2020 campaign in the middle of a press conference about a deadly virus," griped another.
It turns out, Lindell was at the conference with good intentions. As reported by Newsweek, the CEO of the popular pillow company was invited by the POTUS "to announce his company's intention to produce face masks to help mitigate the spread" of the disease. As commentator Ben Shapiro tweeted, shooting back at the critics, "If you're angry at the guy shifting over his factory to produce 50,000 facemasks a day for medical professionals, you're doing being human wrong." Hey, it is for a good cause.
Nevertheless, another strange occurrence to come out of the briefing was witnessing how close Trump and Lindell actually are. "Boy, do you sell those pillows," the POTUS announced as Lindell came up to speak. What followed were a few "off the cuff" remarks, where Lindell declared that the POTUS winning the election was a result of God's "grace." A strange union, no? We've dug a bit further, so here's the truth about Trump's relationship with the MyPillow guy.
Mike Lindell met Donald Trump a few years back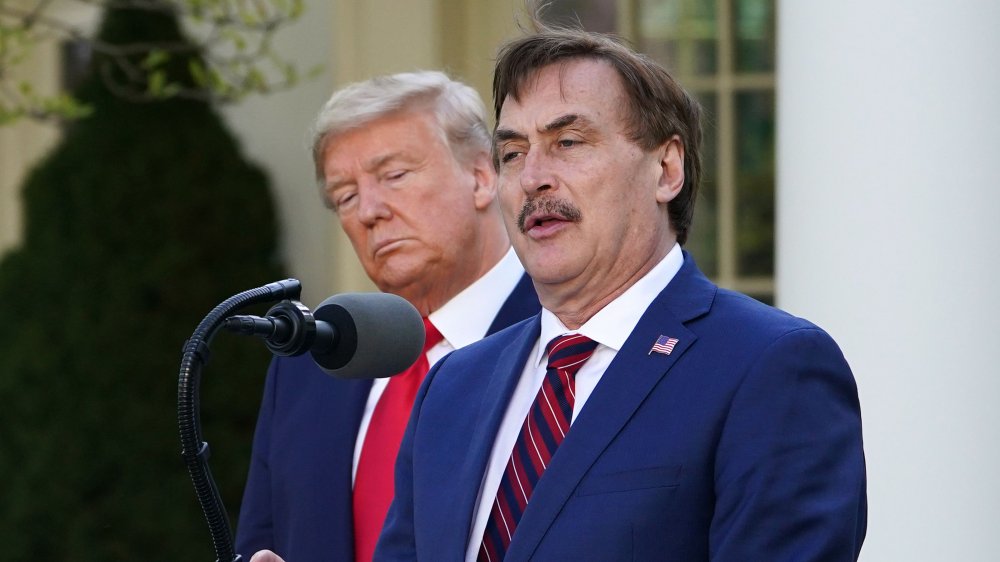 Mandel Ngan/Getty Images
So, how far back do Mike Lindell and President Donald Trump go? The MyPillow founder shared some insight with People, explaining that he first met the POTUS in 2016 when he was still a Republican candidate. Inviting him up to the Trump Tower in New York, the future president "was just intrigued and he wanted to know" about Lindell's multimillion-dollar business, proceeding to "[pick] the CEO's brain about his company and his American-based operations." As it turns out, after that, Lindell would see Trump at various events and the two "became friends."
"When I quit everything — January 16, 2009 — I had never voted, I didn't know anything about politics. I didn't know a liberal from a conservative," explained the MyPillow CEO to People, adding that it's only before he met with Trump in 2016 that he sat down and "learned a little bit about what each party was." After his crash-course and sudden rapport with the POTUS, Lindell told the outlet that he's "proudly championed Trump since, appearing in the crowd behind him at campaign rallies, [and] writing glowing editorials in local Minnesota newspapers."
As a devout Christian after overcoming his severe drug addiction prior to becoming a success story, Lindell has also preached "his belief that God directly chose Donald Trump to become the president of the United States," as revealed by People. To put it mildly, it's something people are not too happy about.
Is Donald Trump prepping the MyPillow guy for politics?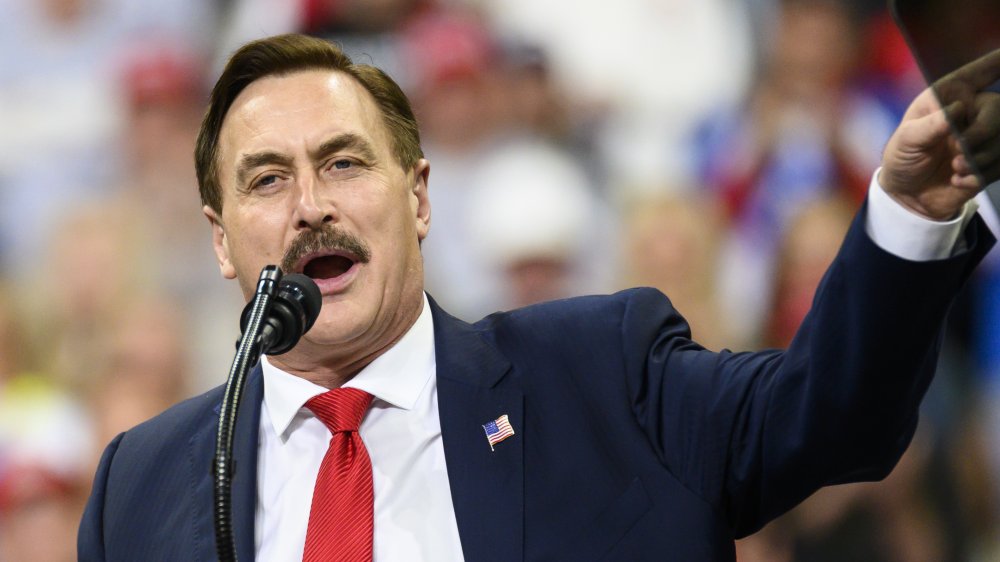 Stephen Maturen/Getty Images
At the end of Mike Lindell's novel coronavirus briefing on March 30, the CEO of MyPillow praised the president for his pandemic management. "I did not know he was going to do that," Donald Trump declared to the crowd after Lindell walked off stage. "But he's a good friend of mine, and I do appreciate it. Thank you, Mike, very much."
Was there any political undertone to Lindell's speech? There's no way to know for sure, but according to Politico, the POTUS has been "nudging" Lindell to run for governor of Minnesota in 2022, to "keep Minnesota red beyond" the 2020 race. In fact, after Lindell's COVID-19 speech, the former business mogul decided to give the MyPillow CEO a tour. As he recalled to People on March 31, Trump asked Lindell, "Mike, have you been in the Oval Office?" What followed was a walk and a 20-25 minute "one-on-one conversation in the Oval Office."
Although Lindell denies being approached by Trump or anyone in the administration regarding running for governor, he does admit other "governors, congressmen and other former lawmakers have all implored him to run in 2022." As the avid Christian told the outlet, "If I'd gotten prayer to run, I would do it in a second. I'm going to do what God wants me to do."