Inside Michael Jackson's Connection To Joe Exotic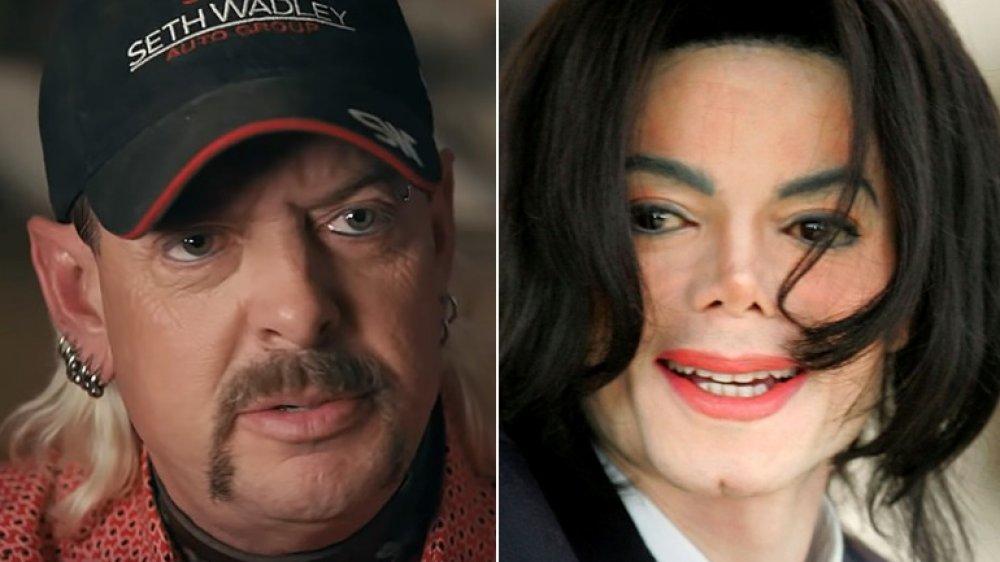 Netflix/YouTube/Carlo Allegri/Getty Images
The very meme-able star of Netflix's Tiger King: Murder, Mayhem and Madness, Joe "Exotic" Maldonado-Passage, curiously had a lot of celebrity connections. Shaquille O'Neal visited Joe's Greater Wynnewood Exotic Animal Park in Oklahoma and even appeared on a 2014 episode of his reality show, JoeExoticTV. Then there's Britney Spears, who has a link to Bhagavan "Doc" Antle, a mentor-like figure to Joe and the controversial zookeeper who runs The Institute of Greatly Endangered and Rare Species (T.I.G.E.R.S) in Myrtle Beach, SC. 
Considering Joe was sentenced in January 2020 to 22 years in prison for wildlife violations and a murder-for-hire plot, it's arguably odd that he and his colorful associates were supposedly hobnobbing with the rich and famous. Even more surprising? The mullet-loving convict reportedly has a connection to the late Michael Jackson, adding another layer of strange to this already bizarre story. 
We won't reveal the link just yet, but here's a hint: It involves alligators and a claim from one of Joe's five "husbands." 
Joe Exotic's wild claim about Michael Jackson's alligators
In March 2015, The Los Angeles Times reported that Michael Jackson's "seven alligators and a crocodile died" in a fire that engulfed the video production studio at Joe Exotic's Oklahoma zoo. The alligators and crocodiles were reportedly housed in the warehouse where Joe shot his videos for Joe Exotic TV, and in 2014, the controversial zookeeper uploaded a video titled, "Michael Jackson's Alligator." The alligator from the video is pictured above.
After the blaze, Joe Exotic TV posted an episode about an "arsonist" allegedly "killing all but one of Michael Jackson's Alligators and one Crocodile." The Kansas native also described how the animals "boiled alive in a towering inferno." 
Authorities suspected arson started the fire, as did Joe. He later vowed to avenge the creatures' deaths, declaring on his show, "They might have shut me up for just a little while, but let me tell you they have awoken a monster."
Joe's ex-husband, John Finlay (who he was never legally married to), seemingly confirmed during an appearance on David Spade's Lights Out with David Spade that Jackson's alligators lived at the G.W. Zoo. "One of the previous managers had gotten us Michael Jackson's alligators from Neverland Ranch," Finlay claimed to Spade. However, a spokesperson from the singer's estate told People it "cannot confirm if said alligators had belonged to the late singer."
Just for reference, Jackson closed down Neverland Rach in 2006, per CBS News.