The Untold Truth Of John Finlay's Fiancee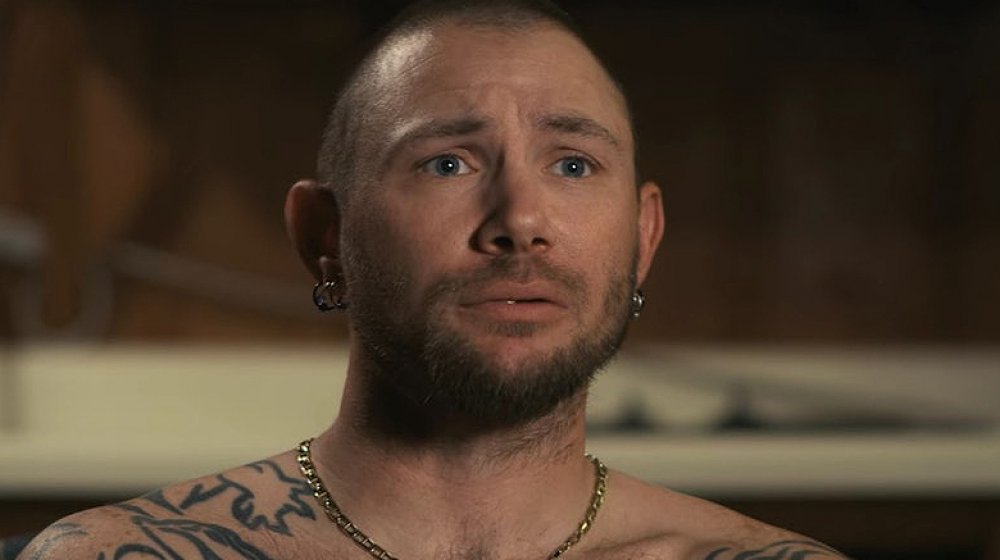 Netflix
There's a wide cast of eccentric characters featured in the Netflix hit, Tiger King: Murder, Mayhem and Madness. One of those people is John Finlay, an ex-husband of Joe "Exotic" Maldonado-Passage, the former zookeeper of the Greater Wynnewood Exotic Animal Park in Oklahoma who is serving a 22-year sentence in federal prison for wildlife violations and a murder-for-hire scheme. Finlay married Joe Exotic in a three-way ceremony with Travis Maldonado, a young man from California who showed up at the G.W. Zoo with hopes of recovering from his meth addiction, per Texas Monthly. 
Although Finlay, Exotic, and Maldonado got hitched in 2014, the nuptials — complete with the grooms wearing matching, hot pink shirts — wasn't legal. When same-sex marriage was legalized by the U.S. Supreme Court in June 2015, Joe officially married Maldonado, as Oxygen reported. By that time, Finlay had left the controversial zookeeper, running off with a female employee at the park. "John Finlay came out and said 'Look I got to tell you, I'm really not gay, I've been sleeping with the girl at the front desk,'" Rick Kirkham, a reality TV producer who worked on Joe Exotic's reality TV web series, recalled in Tiger King (via Oxygen).
Finlay's decision to leave Joe is just one of many interesting twists in the series, and now viewers are curious to learn who he's romantically linked to today. As it turns out, Finlay is no longer with the woman he left the zookeeper for, and he's engaged to someone new.
John Finlay and Joe Exotic had a tumultuous relationship
Although Joe Exotic released a romantic music video in honor of John Finlay (a still from the video is pictured above), their relationship wasn't all rainbows and butterflies. Shortly after the three-way marriage in 2014, Finlay accused "Joe of being manipulative and controlling," culminating in an alleged physical altercation between the two in August 2014. Finlay allegedly "attacked Joe in the back parking lot" of the G.W. Zoo, and was "arrested and charged with assault and battery," according to Texas Monthly. 
Finlay ultimately left Joe for a female park employee, but it didn't mean he was completely rid of his ex-husband. That's because Joe had paid for "John to get a tattoo, just above his pelvis, that read PRIVATELY OWNED BY JOE EXOTIC," per Texas Monthly.
It's unclear if the tattoo was any consolation for Joe, who lamented to Tiger King filmmakers (via Oxygen), "He left me for a girl. I can't compete with that."
John Finlay has completely moved on
After leaving Joe Exotic, John Finlay (pictured above) settled down in Oklahoma with Stormey Sanders, and the two are now engaged. "The girl I ran off with, we had a kid, we spent three years together," Finlay, who now works as a welder, explained to David Spade during a March 29, 2020, episode of his show, Lights Out with David Spade. "We never got engaged, never got married, anything like that." He added, "I will be married soon."
Not much is known about Sanders, but we do know she runs a Facebook page with Finlay called, "The Truth About John Finlay." The venture appears to clear up misconceptions about Finlay, especially where it concerns his portrayal on Tiger King. The former G.W. Park employee touched on this in an interview with Entertainment Tonight, complaining that producers made him "look like a drugged-out hillbilly." He continued, "I'm waiting to get my story out, to be able to sit down with a producer or reporter to get the whole story out. And to let the world know what my life was actually like."
Did you catch that, Tiger King fans? This isn't the last time you'll hear from John Finlay.