The Real Reason Joe Exotic Got Into The Zoo Business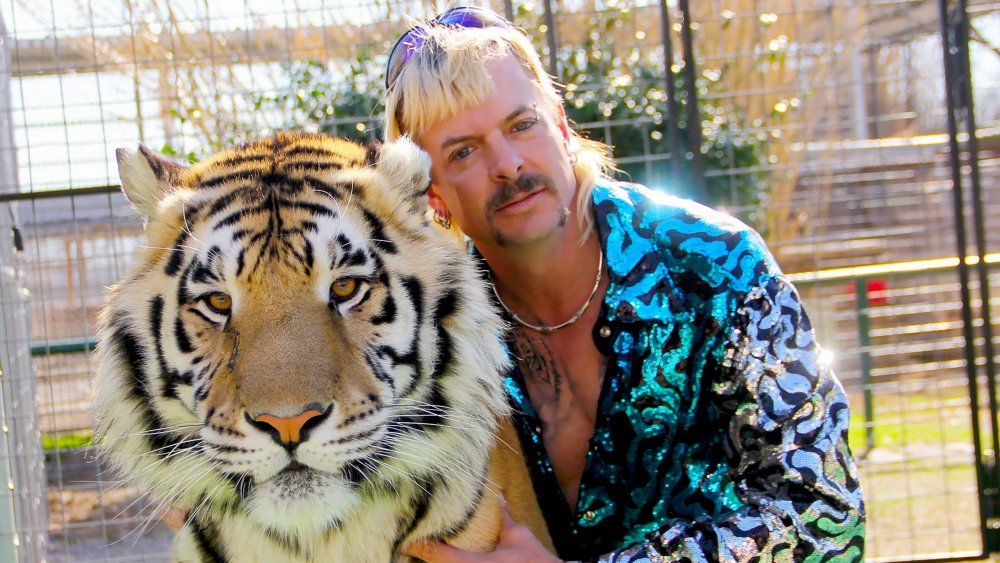 Netflix
Joe Exotic, Carole Baskin, and Doc Antle.  These names are everywhere nowadays, along with the rest of the characters in Netflix's hottest docuseries, Tiger King: Murder, Mayhem and Madness. While some stars are a little more villainous and eccentric than others, every cast member is captivating in their own right, especially where it concerns Joe. For instance, how did the Kansas native become the owner of Oklahoma's Greater Wynnewood Exotic Animal Park? And when did he first become entranced by exotic zoo animals? 
As it turns out, Joe — who is serving a 22-year sentence for wildlife violations and a murder-for-hire plot — first became interested in animals thanks to his brother, Garold Schreibvogel, according to Texas Monthly. Garold once supposedly "confided in Joe that he hoped one day to live in the wild in Africa so he could see the beautiful beasts there running free."
After high school, Joe worked as a police officer and became the chief when he was just 19, per Texas Monthly. Around this time, one of Joe's siblings informed their parents that he was gay and, in response, their father shook Joe's hand and made him promise he wouldn't attend his funeral. Understandably, this experience was devastating to Joe and he allegedly tried to drive his police cruiser off of a bridge. Joe was left with severe injuries and moved from the family's home in Texas to West Palm Beach, Fla., to recover.
What happened next? Stay with us to find out.
It all started with Pet Safari
While recovering in Florida, Joe Exotic became close to his neighbor, a man named Tim, who owned a pet store. Tim had a friend who worked at a drive-through zoo, and this friend would occasionally bring home baby animals, allowing Joe to play with baby monkeys and lions, according to New York Magazine. Joe said "he was broken and those little critters helped put him back together," according to the outlet.
A few years later, in Texas, Joe and his brother, Garold Schreibvogel, bought a pet store called Pet Safari. Joe and his brother started with "reptiles, birds, and small fish" but gradually got more unusual animals, like armadillos, according to Texas Monthly.
Sadly, just as the store was gaining traction, Garold was hit by a drunk driver outside of Dallas and died in October 1997, according to Texas Monthly. Joe's family won $140,000 in a lawsuit over Garold's death, and Joe convinced his parents to spend the money on a memorial zoo. So Joe bought an old horse farm in Wynnewood, Okla. and dubbed it: The Garold Wayne Exotic Animal Memorial Park.
Joe Exotic finally gets his tigers
Joe Exotic only had a deer and a buffalo, belonging to his brother, Garold Schreibvogel, to feature at the G.W. Zoo when it first opened, according to Texas Monthly. But when word spread that there was an exotic animal park, people started dropping off animals they could no longer take care of. First came a mountain lion, then a bear, followed in 2000 by two tigers who had been abandoned in a backyard. These two tigers bred, and Joe and his husband at the time, Brian Rhyne, raised the cubs in their living room, just like the zookeeper had done back in Texas. More and more people dropped off their exotic animals until Joe had a packed zoo.
Amazingly, Joe wasn't initially interested in breeding tigers, according to New York Magazine, because he knew that they were "mean" and expensive to feed when fully grown. However, he quickly realized that tiger cubs, and the fees involved with petting them, could offset the growing costs of the zoo. 
So this became his financial plan until, as New York Magazine noted, Joe became "the largest breeder of tigers in the country." But this financial solution soon proved tricky, and the rest, as they say, is history.