Here's How Much Tekashi 6ix9ine Is Really Worth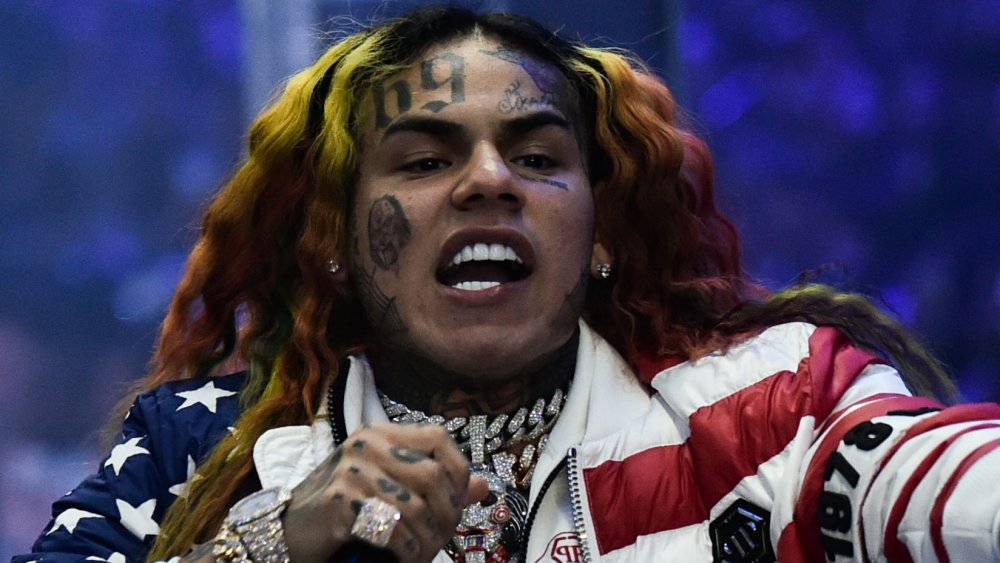 Marco Bertorello/Getty Images
Tekashi 6ix9ine was at risk of losing his music career and his millions when he was arrested in 2018 and sent to prison. However, on April 2, 2020, the rapper was released due to coronavirus concerns. The controversial star's medical history (He suffers from asthma and was previously treated for bronchitis.) makes him high-risk for COVID-19 complications (via the BBC). Tekashi — whose real name is Daniel Hernandez — will now complete the remaining four months of his two-year sentence in the comfort of his home, wearing a GPS ankle monitor. Word is he's planning new music too, reportedly signed a new record deal worth about $10 million. 
In 2015, Rapper 6ix9ine pleaded guilty to three felony counts of "use of a child in a sexual performance" after videos of him, another man, and a 13-year-old victim were posted online, reported Billboard. In 2019, he pleaded guilty to a string of gang-related robberies and shootings, but he has reportedly been cooperating with authorities since. Before his early release, he was even being held at a private prison facility in Queens, New York, to keep him safe from potential retaliation from gang members (via ABC News). 
Tekashi 6ix9ine plans to produce new music from home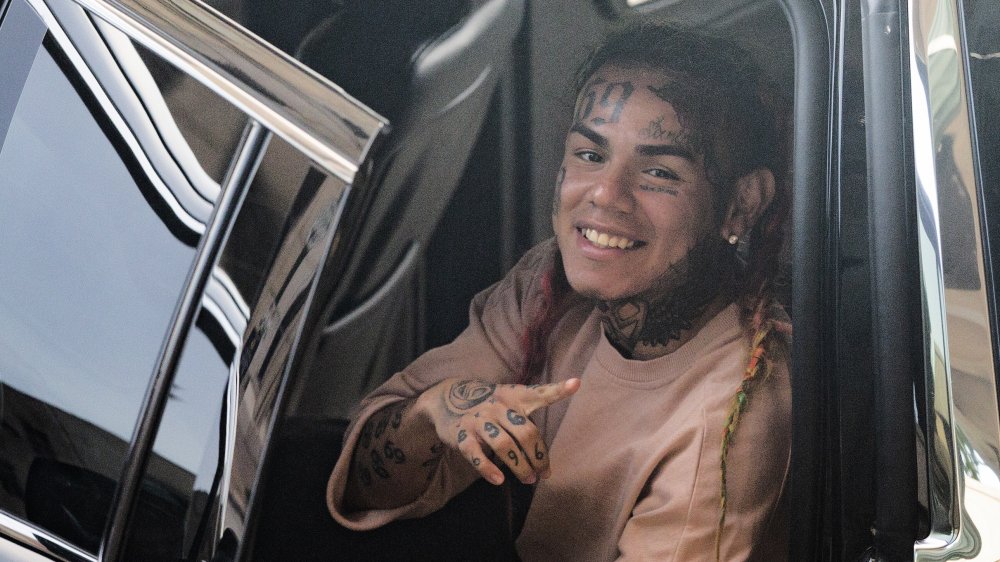 Bob Levey/Getty Images
Tekashi 6ix9ine is worth approximately $5 million, according to Celebrity Net Worth, and his war chest could keep growing now that he's out of prison. His attorney, Dawn Florio, told Complex that her client will be working on an English album and a Spanish album for 10K Projects. 
The so-called "King of New York" began making rap music and videos in 2014, and many of his early songs were released by FCK THEM, a music label based in Slovakia. Still, his life back home was tough. His father was killed when the rapper was 13, so Tekashi 6ix9ine jumped between jobs to support himself and his mother. To make money, he reportedly began dealing drugs and wound up entangled in some bad circles.
In 2017, the rapper — with his rainbow hair and shocking face tattoos — rose to fame with the release of his debut single "Gummo." The track peaked at No. 12 on the U.S. Billboard Hot 100 and launched the star's music career. Tekashi's debut album, Day69, quickly rose to the No. 4 spot on the Billboard 200 album chart after its release in 2018, buoyed by tracks like "Billy" and "Rondo." The 2018 track "Fefe," featuring Nicki Minaj and Murda Beatz, and became Tekashi's first No. 1 on Billboard's streaming charts.