The Untold Truth Of Mel Brooks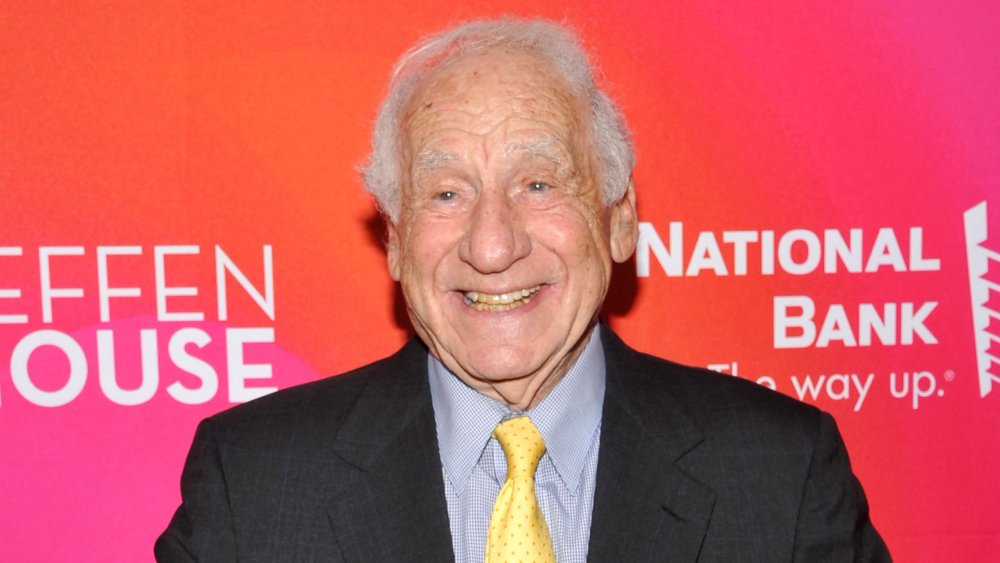 John Sciulli/Getty Images
For decades, Mel Brooks has been synonymous with laughter. According to CNN, Brooks was born Melvin Kaminsky in 1926, the Brooklyn native cut his teeth as a writer on the iconic 1950s sketch comedy series Your Show of Shows. Further success came with the 1960 comedy album The 2000 Year Old Man, alongside his lifelong friend Carl Reiner, followed by co-creating the hit spy sitcom Get Smart in 1965.
Brooks headed to the big screen in 1967, making his directorial debut with The Producers — and winning an Oscar for the film's hilarious screenplay. More movies followed, including Blazing Saddles, Young Frankenstein, Spaceballs, and many more. Brooks has also seen big success on Broadway, creating hit musicals based on The Producers (which enjoyed an impressive six-year run) and Young Frankenstein. Brooks' run of success also extended into his personal life; he married Oscar-winning actress Anne Bancroft in 1964, with their romance enduring for more than 40 years until she passed away in 2005. 
Brooks' showbiz career has spanned eight decades, and even though he's one of the most popular comedians of the last century there's still much to learn about this perpetually busy nonagenarian funnyman. Get ready to discover the untold truth of Mel Brooks. 

Mel Brooks served as a combat engineer during WWII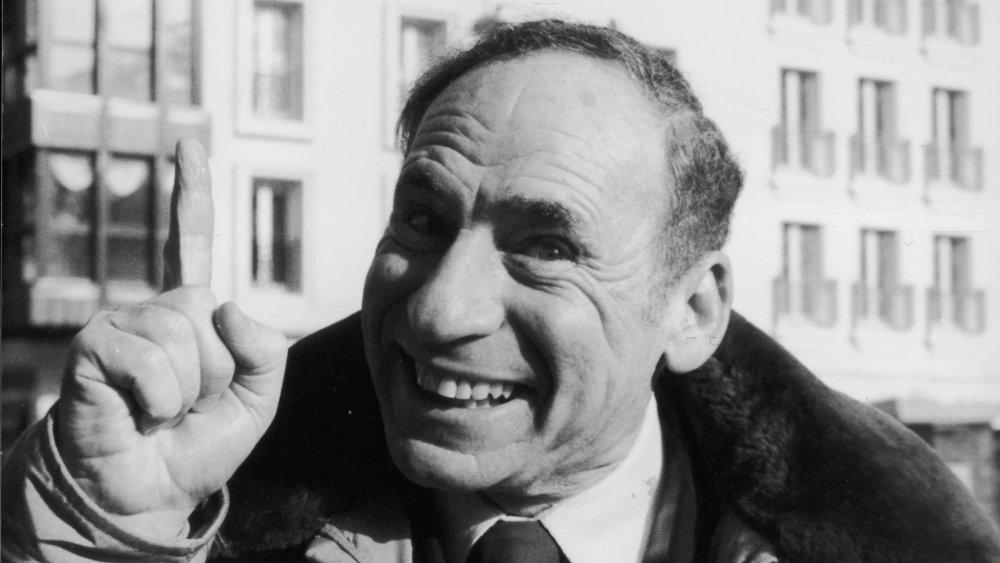 Central Press/Getty Images
After graduating from high school in 1944, Mel Brooks enlisted in the army during the final years of World War II. According to the biography It's Good to Be the King: The Seriously Funny Life of Mel Brooks, Brooks served with the U.S. Army Corps of Engineers as a combat engineer, tasked with clearing land mines so troops could advance unimpeded. "I was a combat engineer. Isn't that ridiculous?" joked Brooks, adding, "The two things I hate most in the world are combat and engineering."
Even amid the perils of warfare, Brooks couldn't keep a lid on his comedic impulses. One day, he recalled for PBS documentary Mel Brooks: Make a Noise, Nazi troops were close enough that he could hear soldiers singing a song in German. Brooks found a large bullhorn and decided to sing to them. "So I sang 'Toot-toot-tootsie, goodbye,'" he bellowed, imitating the voice of singer Al Jolson. 
When he finished his impromptu performance, Brooks heard cheers and applause coming from the German encampment. "They really liked it," he said. "I think I could have ended the war right then and there, but General Patton or somebody kept going."
A music legend mentored a young Mel Brooks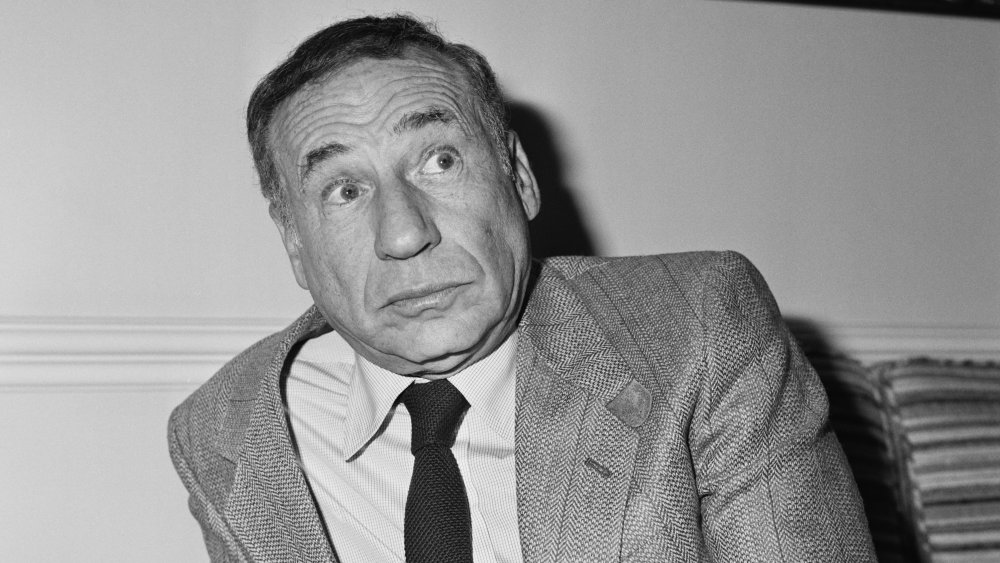 Larry Ellis/Getty Images
When he was just 14, a young Mel Brooks landed his first job in show business. As he wrote in the The New York Times in 2001, he played drums in a band during the summers "at a place called the Butler Lodge in the Catskills." That was also where he discovered that what he really wanted to be was a comedian, when, two years later, a then-16-year-old Brooks was asked to step in when the show's regular emcee became ill. 
Brooks eagerly agreed, and took over the hosting duties for the night. He did so well he was soon upgraded to host. "I got big laughs with terrible jokes..." he remembered. "I never went back to the drums again — I was now a $25-a-week comic, and on my dressing room they'd hung a six-pointed star."
Speaking with Billboard, Brooks recalled that his "original dream was to play with Artie Shaw and Tommy Dorsey and Benny Goodman." All those years later, he looked back at his drumming days fondly. "I made a living at it," he said, revealing he was taught to play by legendary drummer Buddy Rich, lauded by Brooks as "the greatest drummer that ever lived." 
Mel Brooks is almost a double EGOT winner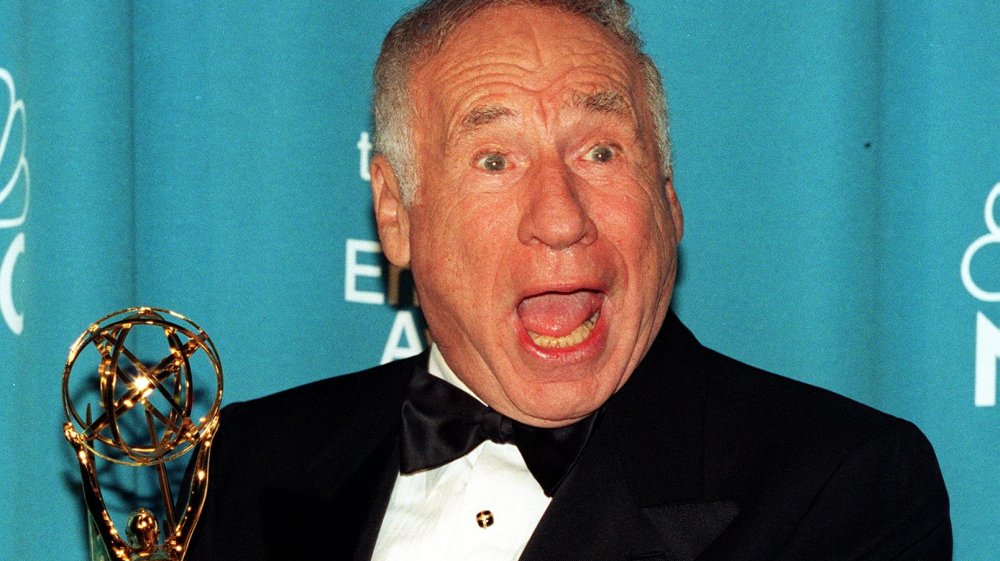 Kim Kulish/Getty Images
Mel Brooks is one of the rare entertainers to have achieved the EGOT: an Emmy, a Grammy, an Oscar and a Tony. As AXS pointed out, he won his first Emmy as a writer for 1967's The Sid Caesar, Imogene Coca, Carl Reiner, Howard Morris Special. In 1969, he won the Best Original Screenplay Oscar for The Producers. He won his first Grammy in 1999, for his 2000 Year Old Man in the Year 2000 comedy album. Brooks completed the EGOT in 2001 by winning three Tony Awards for his Broadway version of The Producers.
As of 2020, Brooks was just one Oscar away from completing a second EGOT; since winning his Tonys, Brooks has won two additional Grammys and three more Emmys.
He's won other awards as well. Brooks revealed he turned down an invitation to be honored by the Kennedy Center in the early 2000s, he told NPR, because he wasn't a fan of President George W. Bush. "I'm an EGOT, so I don't need any more [awards]," he joked. He finally accepted his award in 2009, when there was a president in the White House more to his liking.
Is Mel Brooks responsible for the funniest movie ever made?
Of all Mel Brooks' directorial efforts, the most successful remains 1974's Blazing Saddles, with Box Office Mojo listing the film's worldwide gross at $119.6 million. Not only is it Brooks' most lucrative picture, but he also believes it's his most hilarious. In fact, Brooks firmly contends that not only is Blazing Saddles the funniest of his movies, he also made this less-than-humble boast to Vanity Fair. "I shouldn't brag about it, because it's my own movie, but I think it's the funniest movie ever made," he told the outlet.
To prove his point, Brooks revealed he set up a "laugh-off" at the American Film Institute, going head to head with director Billy Wilder's classic 1959 comedy Some Like It Hot. He explained how the "laugh-off" worked. "At 6 o'clock they come in to see Some Like It Hot, and you take a 20-minute break, and at 8 o'clock they see Blazing Saddles," Brooks said. "And you just measure the laughs. We have twice as many laughs, maybe three times as many. And bigger... People rolling in the aisles. It's a very funny movie."
Mel Brooks' secret to fake flatulence
While there are no shortage of hilarious moments in Blazing Saddles, arguably the funniest — and certainly the most notorious — takes place around a campfire. In the scene, a group of cowboys are sitting around the fire while enjoying plates of baked beans. Suddenly, one cowboy burps, followed by another breaking wind. Then another passes gas, then another and another, until the entire scene erupts in a cacophonous symphony of flatulence. 
Discussing the infamous scene with IndieWire, Brooks revealed that not only did he write and direct the scene, he also helped provide the gassy sound effects. "Those farting sounds were made in the editing room by putting soap and water under our armpits to get a certain sound," he explained. "This is a secret; I don't know if I ever told anyone this. Soap and water under our arms, and then every once in a while we'd imitate things."
According to Brooks, "I don't get a laugh until about the third fart... And by the sixth or seventh one some people are falling out of their seats. I'm very proud of it but a little ashamed of it at the same time."
Alfred Hitchcock helped Mel Brooks make High Anxiety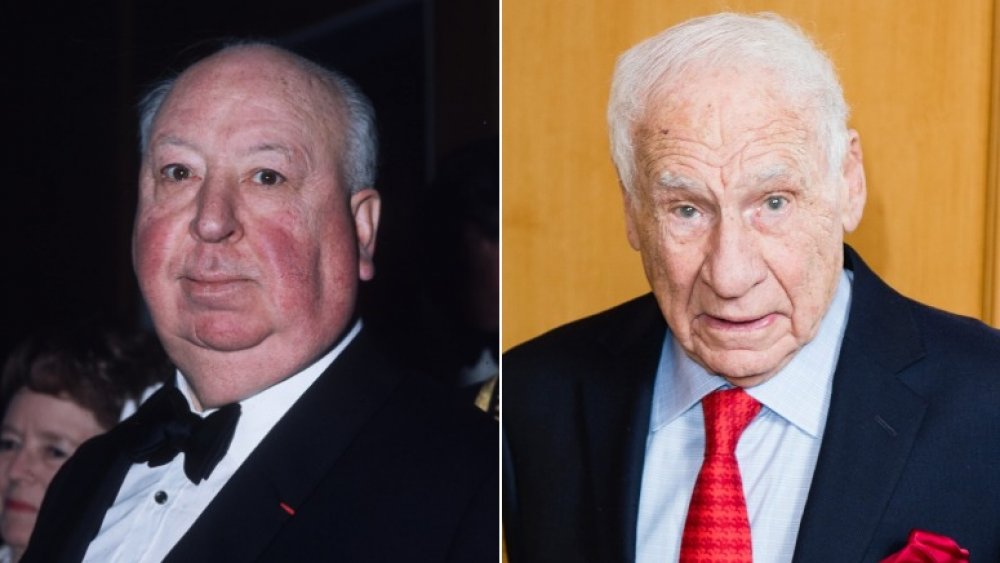 Mike Lawn, Jeff Spicer/Getty Images
After parodying westerns with Blazing Saddles and horror films with Young Frankenstein, Brooks next set his sights on spoofing the films of director Alfred Hitchcock. His 1977 comedy High Anxiety featured Brooks' hilarious take on such Hitchcock classics as Vertigo, Psycho, and The Birds. 
Before embarking on the project, Brooks told Rolling Stone in a 1978 interview that he sought out Hitchcock to get his blessing. Hitchcock, then 80, not only loved the idea of Brooks parodying his movies, he even offered some suggestions for the script. "He was very helpful," Brooks explained in a TV interview with Joy Behar, recalling that he would visit Hitchcock each Friday to have a meal and work on the script together. 
Hitchcock also pitched Brooks a joke for High Anxiety, although it didn't make it into the film. The gag features the protagonist running from bad guys, guns drawn, when he finds himself at the end of a dock. Luckily, he sees a ferry about 12 feet away and makes a desperate leap, just barely making it. Only then, Brooks explained, he "realizes too late the ferry is coming in."
Mel Brooks' role in Spaceballs nearly killed him
Mel Brooks satirized Star Wars and its sequels with his 1987 comedy Spaceballs. In addition to writing and directing, he also played two roles in the film, President Skroob and wise old Yogurt (spoofing Star Wars' Yoda), who tells the heroes, "May the Schwartz be with you." Yogurt was one of the most memorable characters in the movie, declaring his hope that they would all one day reunite for "Spaceballs 2: The Search for More Money." 
Brooks subsequently revealed that playing the character nearly cost him his life. The gold makeup plastered on his face, he told The AV Club, left him with a severe skin ailment. "Well, except for a life-threatening rash, it was fine," Brooks divulged. "My eyes broke out because of the fumes of the gold paint. It was right in the middle of shooting it. I just kept taking Benadryl and all that stuff to fight the allergy. It was really terrible; it was dangerous."
According to Brooks, he was "assured" that the paint was non-toxic and would be totally safe. "And it was toxic," he said. "I'm supposed to chalk it up to show business, but I nearly died."
There are 11 fingers on Mel Brooks' handprints at Hollywood's Chinese Theatre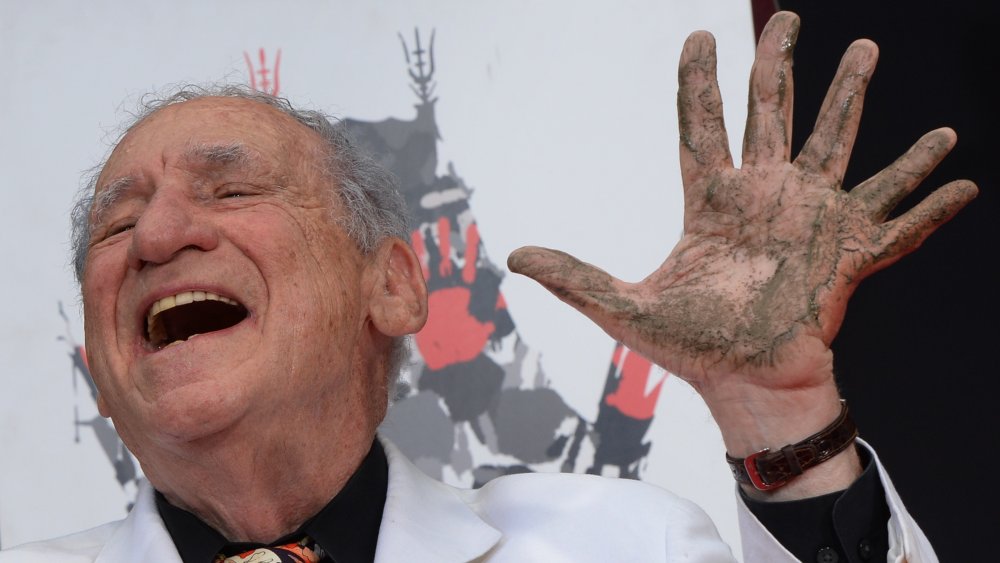 Mark Ralston/Getty Images
In 2014, Mel Brooks became the recipient of the ultimate old-school Hollywood honor: he was invited to leave his handprints and footprints permanently imprinted in cement outside Hollywood's TCL Chinese Theatre (once known as Grauman's Chinese Theatre). During the ceremony, Brooks pulled a sly prank. Unbeknownst to anyone, his left hand had been outfitted with an extra prosthetic finger, which, due to Hollywood makeup artistry, looked totally real. 
Thanks to his stunt, Brooks' handprints boast 11 fingers instead of the usual 10. "I desperately need to wash my hands," Brooks wrote on Twitter, the caption accompanying a photo of his 11-fingered imprint. After making his mark in wet cement, Brooks revealed his trick to the crowd by showing off his bonus digit. "There'll be a lot of tourists in the future who might notice that I have six fingers on my left hand," he joked.
Later that night, Brooks appeared with Conan O'Brien on his late-night talk show Conan, reported CBS News, where he explained his motivation. "I wanted to do something just a little different, I didn't know what. So — I got another finger," Brooks told O'Brien. 
Mel Brooks' Broadway play (based on his movie about a Broadway play) set a record at the Tonys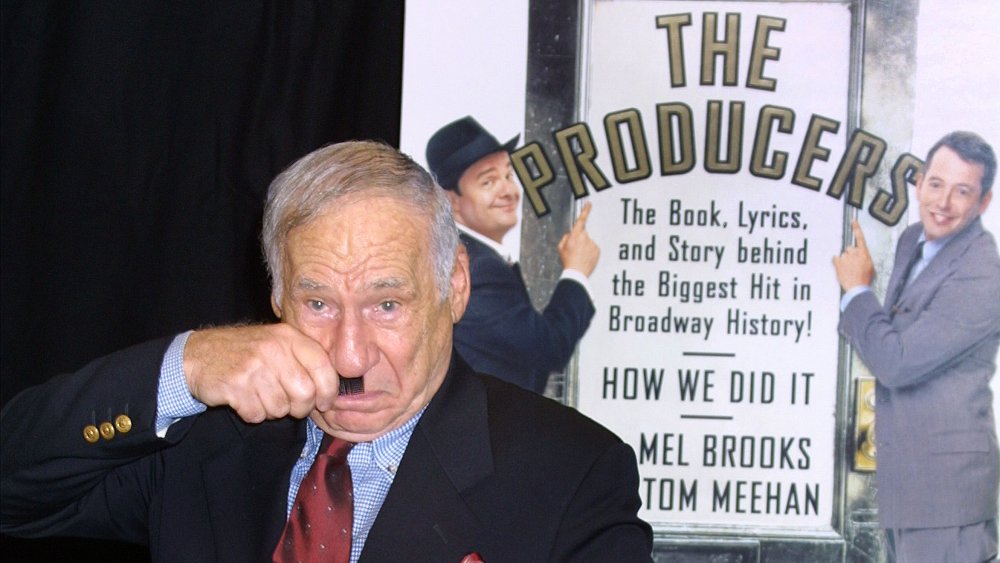 George De Sota/Getty Images
Mel Brooks' 1967 comedy The Producers didn't make big bucks at the box office (a mere $375,143 worldwide, according to Box Office Mojo), but it has come to be regarded as a cult classic. The plot follows a low-rent Broadway producer (Zero Mostel) and his accountant (Gene Wilder), who realize they can make more money from a flop than a hit by bringing in more investors than they'll ever be able to repay. This leads them to mount a production of the worst musical they can find: Springtime for Hitler, a musical-theater tribute to the Third Reich. 
Brooks revisited The Producers more than 30 years later when he revamped it as a Broadway musical, opening in 2001. The play was a critical and commercial smash that set a record at that year's Tony Awards, raking in 12 awards to beat the previous record of 10, won by Hello Dolly 37 years earlier. Bringing it full circle, stars Nathan Lane and Matthew Broderick reprised their Broadway roles for a 2005 movie adaptation of the play — a movie based on a Broadway musical based on a movie. 
It's good to be ... Mel Brooks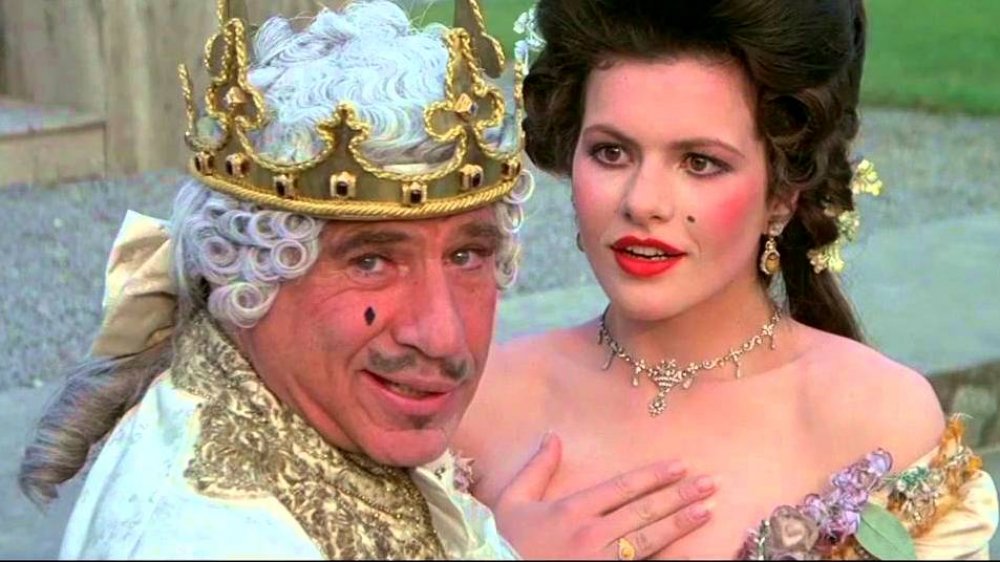 YouTube
To promote his 1981 comedy History of the World, Part I, Brooks recorded a disco-inflected rap single. "It's Good to Be the King" was based on the catchphrase of the movie's King Louis XVI, played by Brooks. As Night Flight recalled, the single — accompanied by a music video — was released in 1982 by Philadelphia soul label WMOT Records.
While Brooks no doubt saw the track as a novelty number, the song wound up making it onto the Billboard charts, ultimately peaking at #67 on the Hot R&B/Hip-Hop Songs chart. As Night Flight pointed out, this made Brooks "the first white artist performing a full-fledged rap song to penetrate the R&B chart." Meanwhile, the song was a bona fide hit in France, where it sold 375,000 copies and charted at "#2 on their equivalent SNEP chart."
Even stranger, Brooks' song led to a response song when Sylvia Robinson (whose label, Sugarhill Records, released the Sugarhill Gang's trailblazing hip-hop number "Rapper's Delight") released a musical answer, the single "It's Good to Be the Queen." Interestingly, Robinson's song did better in the charts than Brooks' did, climbing a few positions higher to peak at #53. 
Mel Brooks' surprising advice to living a long life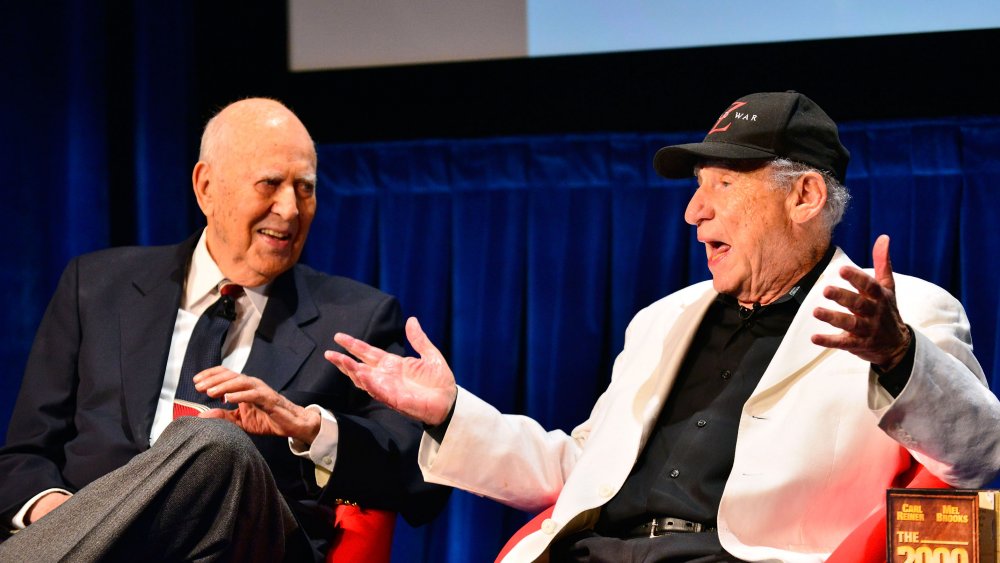 Jerod Harris/Getty Images
Shortly before he celebrated his 93rd birthday in June 2019, Mel Brooks performed a one-man show on Broadway, which ran for two nights. According to Page Six, Brooks was kibitzing backstage when somebody asked him to share the secret of his longevity. Brooks offered a simple two-word answer: "Don't die."
Brooks' longtime friend Carl Reiner (above left), five years his senior, also remains active as he approaches his 100th year, as of this writing. "I see Carl two, three times a week," Brooks told USA Today in December 2019, noting that they'll typically watch movies together. According to Brooks, Reiner stops the film when a commercial comes on "because he doesn't want to hear it. Then he goes back and pushes the wrong button and we're in a game show. But the funny part is that he goes right along with it. He says, 'Come on!' He's rooting for the game show! I say, "Carl, we were in the middle of The Bourne Identity. He says, 'Oh yeah, that's right.' Then he goes back to the movie. But for a while, he just swings along with whatever's on TV. Every day with him is a great gift and I appreciate it."
The best advice Mel Brooks ever received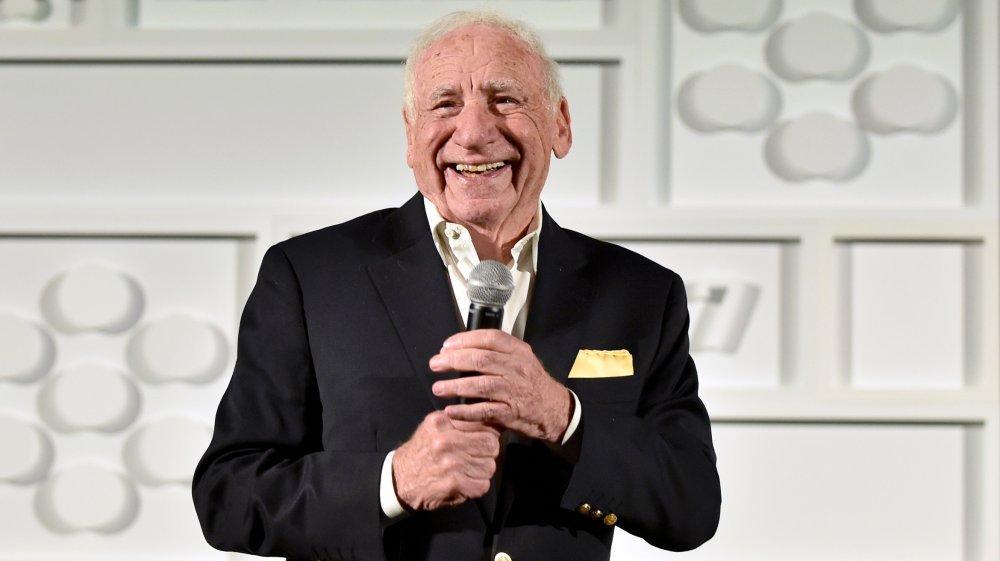 Emma Mcintyre/Getty Images
In an interview with Men's Journal, Mel Brooks was asked to relay the best advice he ever received. His response, as one might expect, was not a serious one (we hope). "Around five years ago, Father John Frasier, who's a Catholic priest said, 'Get out of the Jew business and join us, the Catholics, because you're not going to be covered after you're done.'" According to Brooks, "I never did leave the Jew business, even though I liked him very much. Jews can't promise any afterlife. I think we say, 'This is it.'"
In that same interview, Brooks was also asked to share the advice he would give his younger self after the lifetime of experiences he's accumulated. "Forget about correcting your past. You learn from your past as you go along," he said. "You can't say, 'If I had...' You say, 'OK, all right. That was a mistake. I won't do that again.' That's how you learn."
Why Mel Brooks isn't a fan of streaming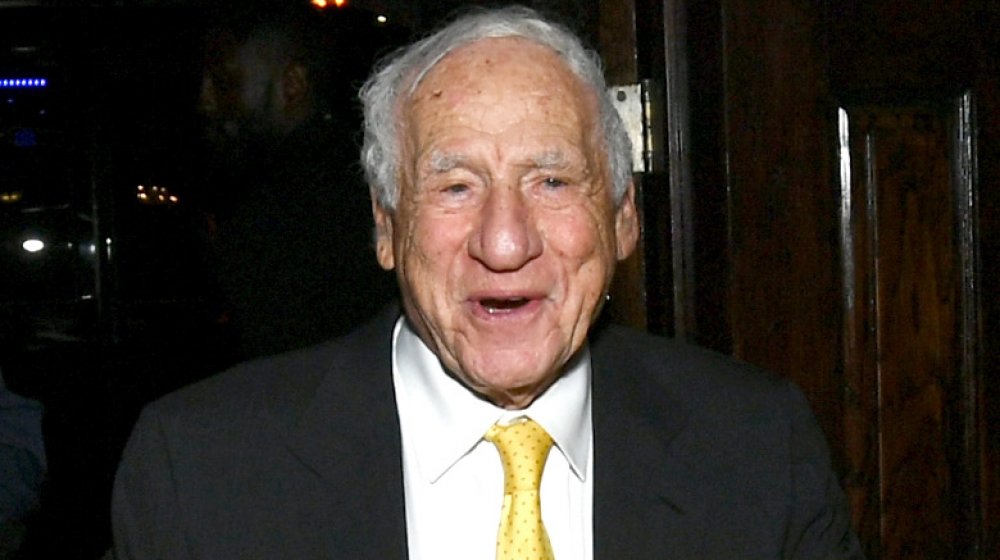 Emma Mcintyre/Getty Images
Mel Brooks is a lifelong fan of motion pictures, and he's old school about it. Speaking with the Associated Press in April 2018, Brooks said, "I don't like to watch movies at home. I like the community experience, especially if it's a comedy." He added, "I like being in the dark and being transported into different worlds, it's very important to me. And now there's a thing that's replaced it. It's called streaming."
Joking that he's "afraid to make another movie because I don't want it to be seen by millions of people on a telephone," Brooks expressed his belief that comedies are optimally viewed by a minimum of 100 people "in some kind of theater. It's really heartbreaking to me. You know, movies are still good. Acting is still good. Directing is still good. Writing is still good. It's where they're seen that just really gets me."
Mel Brooks has made a few bucks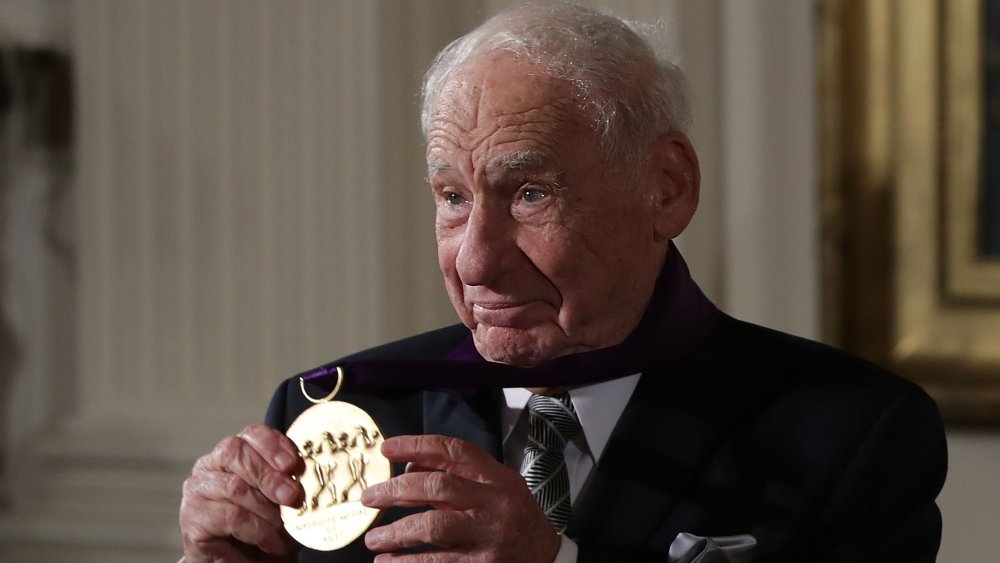 Alex Wong/Getty Images
Mel Brooks has generated a lot of laughs over the course of his long and storied comedy career, and he's made a lot of money doing it. According to Celebrity Net Worth, Brooks is worth an estimated $100 million, with the site noting that the 2001-2007 Broadway run of The Producers generated a staggering "$200 million in ticket sales" on its own.  
Despite having lots of it, money is not what motivates him. "At some point in your life, you got to say, 'I really can't go after money. I got to go after other things," Brooks told Men's Journal. For someone starting out with a family to support, Brooks can understand placing a high importance on making money, but also believes the pursuit of money shouldn't be someone's life's work, "when you're just wasting your time and making a lot more than you need," he explained.
He insisted that a big payday is no longer enough to entice him to sign onto a project. "These days, I'm Mr. Turn-down," he explained. "I said, 'I got enough. I got enough. I'm not going to sacrifice time, which, is a much more important commodity than money."