This Is The Guy Who Really Sang Joe Exotic's Songs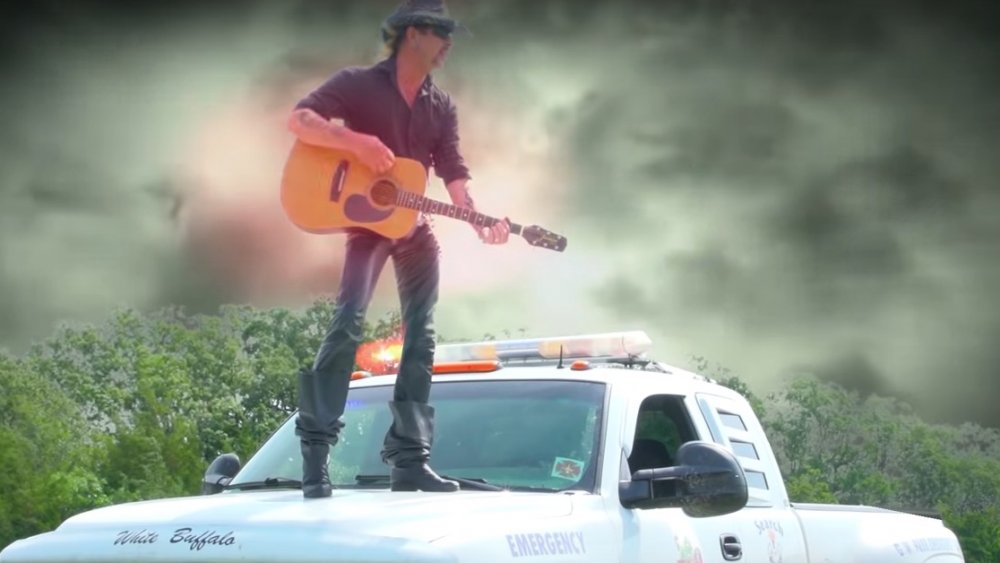 Joe Exotic/YouTube
Can we all just agree that Joe Exotic's music videos were one of the greatest discoveries of Tiger King: Murder, Mayhem, and Madness? And the fact that we later found out Joe faked his entire music career somehow made the origins of these melodies even more mythic. As the Netflix docuseries gains momentum, fans have been left with more questions than answers. We may never know what happened to Carole Baskin's missing husband, but at least we can rest assured knowing the truth about the guy who really sang Joe Exotic's songs.
Thanks to some Nancy Drew-level internet sleuthing, viewers have unearthed the true origins of these (honestly, catchy) country songs. The tunes were actually written and composed by the Clinton Johnson Band, made up of musician Vince Johnson and vocalist Danny Clinton, according to TMZ. It's really Danny Clinton's melodious voice you're hearing as Joe serenades us from the hood of a truck as thunderous storm clouds gather in the distance and tigers frolic in the grass (casual).
While it's great that the true roots of this music are finally coming to light, there is also some tragic news about one of the band members.
What happened to the real voice of Joe Exotic's music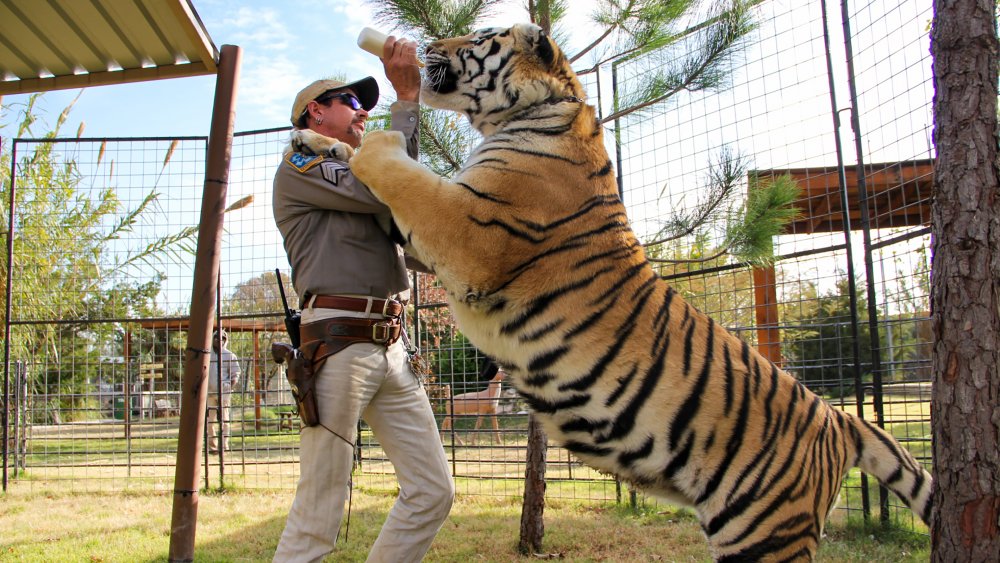 Netflix
Vince Johnson, of the Clinton Johnson Band, told TMZ that his other half, Danny Clinton, died in October 2019 from "a heart-related issue." Thankfully, Johnson said the duo had recorded three albums worth of music before Clinton died. The band, which originated in Vancouver, Wash., is attracting a lot of attention since the release of Tiger King, and Johnson is hoping this will lead to opportunities with music labels. Johnson also told the outlet that he has not yet watched Tiger King but "plans on it."
Vanity Fair tracked down the band after the Netflix docuseries rocked our worlds and found out how these musicians got talked into making music for Joe Exotic. Joe allegedly told Johnson and Clinton that he needed some songs for his reality show and that the project was currently in a "bidding war between Animal Planet, Discovery, and National Geographic." The band's work was reportedly pro bono in exchange for exposure.
Joe Exotic allegedly duped the Clinton Johnson Band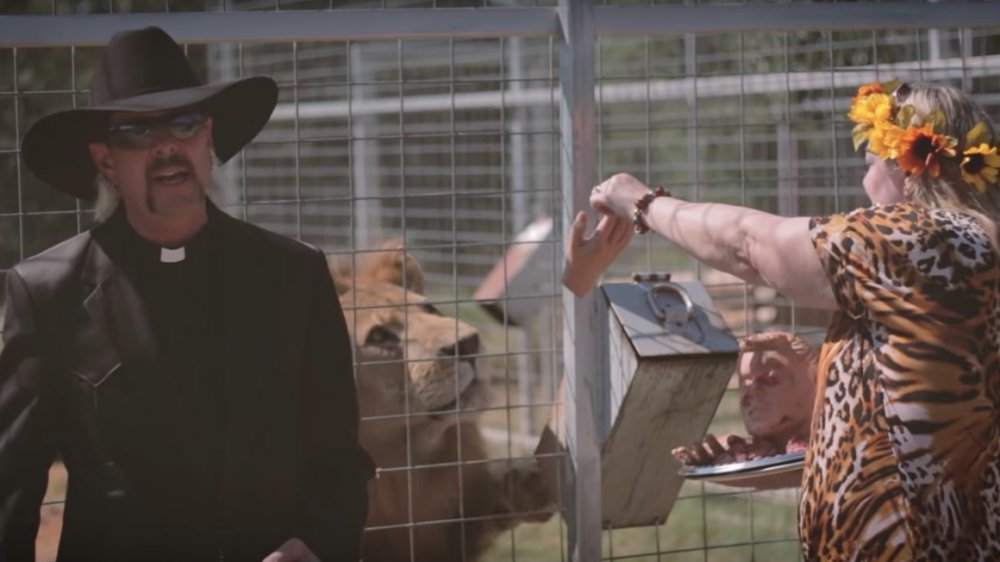 Joe Exotic/YouTube
Vince Johnson revealed some details about the sketchy deal the Clinton Johnson Band made with Joe Exotic. Johnson told TMZ that the Tiger King star would give the band a "theme and some details," then Johnson would write a tune while his bandmate, Danny Clinton, sang the lyrics. The band would email the song to Joe. (Wouldn't it be a treat to see what details Joe shared for the song, "Here Kitty Kitty," about Carole Baskin allegedly killing her then-husband and feeding him to a tiger?)
Johnson said he happened to look up Joe Exotic on YouTube, and according to Vanity Fair, he saw Joe lip-synching to the band's music. "I had no idea he was going to Milli Vanilli the songs," Johnson said. When he confronted Joe about it, Joe allegedly promised he'd make everything "right as rain." Johnson claimed he just wanted "the proper credit." Johnson and Clinton eventually realized there was no high-stakes bidding war for a reality show and presumed Joe was taking them for a ride, but as TMZ reports, this epiphany occurred after the musicians sent Joe about 20 songs!
Johnson has maintained a positive perspective. "We all get what's coming to us in the end, be it good or bad," he said, per Vanity Fair. "Joe, all in all, was likable. Most people just bore the hell out of me. They have the personality of a lobster. He's a seedy shyster, but he's got personality."
You can say that again!