The Truth About Summer House's Lindsay Hubbard And Carl Radke's Relationship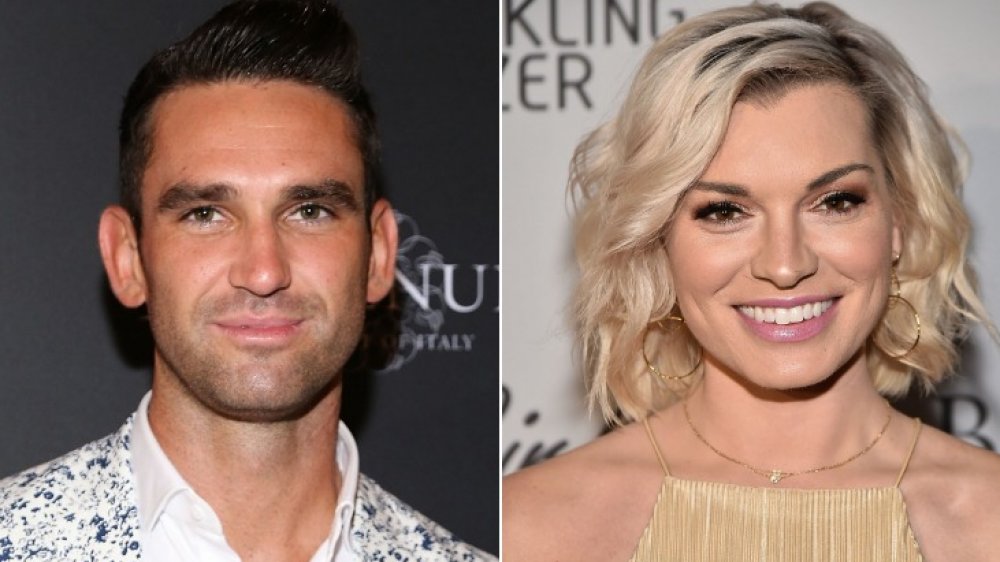 Eugene Gologursky/Getty Images
Summer House stars Carl Radke and Lindsay Hubbard tried to transition from best friends to romantic partners in Season 4 of the Bravo series, as the two both happened to be single at the same time. Spoiler alert: It didn't work out. Some might argue it was a disaster, with the pair's first date ending in a blowout fight. "Easy the worst I ever had," Carl said about their failed hangout, which was filmed for the show. The final cherry on top? Carl asked out the group's personal trainer, even though he hadn't made amends with Lindsay after telling her he wanted to remain just friends. Ouch.
Although it appears Carl and Lindsay are close again, they're still dealing with major drama. The culprit? Summer House fans who believe the friends "scripted" or "faked" their attraction for the series.
Considering showmances do happen, it's not out of the realm of possibilities to assume the costars got it on for ratings. However, Lindsay Hubbard's version of the truth seems to debunk this popular narrative.
Lindsay Hubbard says her "feelings were real"
As fans of the show probably already know, Lindsay Hubbard is a "what you see is what you get" type of person, never holding back her true feelings or putting on airs. The PR firm owner touched on this sentiment in an interview with In The Know's Gibson Johns, explaining, "Anyone who knows me — especially viewers at this point — four seasons in and especially my close friends, knows I do not know how to be fake. I think I actually could probably be a little bit more fake for my own good. She added, "But I don't know how to be fake. I don't know how to contrive feelings in any which direction for somebody. And it's really disheartening when some viewers say that this was a scripted storyline for the show. There was nothing scripted about this!"
Driving the point home about being authentic, Hubbard said, "This is the first time I really had extreme ongoing drama with one of my best friends. Everything you guys are seeing was very, very real and authentic, and the feelings were real, whether they were romantic feelings or me having hurt feelings."
Will suspicious fans ever believe Lindsay? That's uncertain, but it's clear the Bravo celeb is over the haters.
Lindsay Hubbard pleads with fans to stop
Lindsay Hubbard has always been clear about her desire to find lasting commitment, a memo Carl Radke missed. So when the two tried to forge a relationship, it quickly fizzled once Lindsay realized Carl wasn't as serious as she thought. The New Yorker addressed this directly in an Instagram message to fans, in which she begged them to stop questioning the realness of her relationship. "Unfortunately going into it, Carl didn't exactly understand that I'm not dating just to date at this point in my life (even if he is my best friend), or that he wasn't quite ready for the level of commitment I need in a relationship," she said. "Our expectations were not aligned, which is where it all went wrong ... I held him accountable then and he holds himself accountable now." She continued, "Carl is growing, albeit slowly, but he's getting there."
Despite Carl messing up during the summer, Lindsay is on his side 100 percent. "What is NOT acceptable is the mean-spirited, nasty, derogatory, bullying messages about him," the reality star penned. "I truly appreciate everyone being Team Lindsay here, but please give the guy some grace. He owned his s*** and we have both moved on. It took some time and you will continue to see this play out of course."
While we wait to see if fans will stop criticizing Carl, why not check out these Bravo stars who made some controversial decisions.