The Truth About Scheana Shay's Mom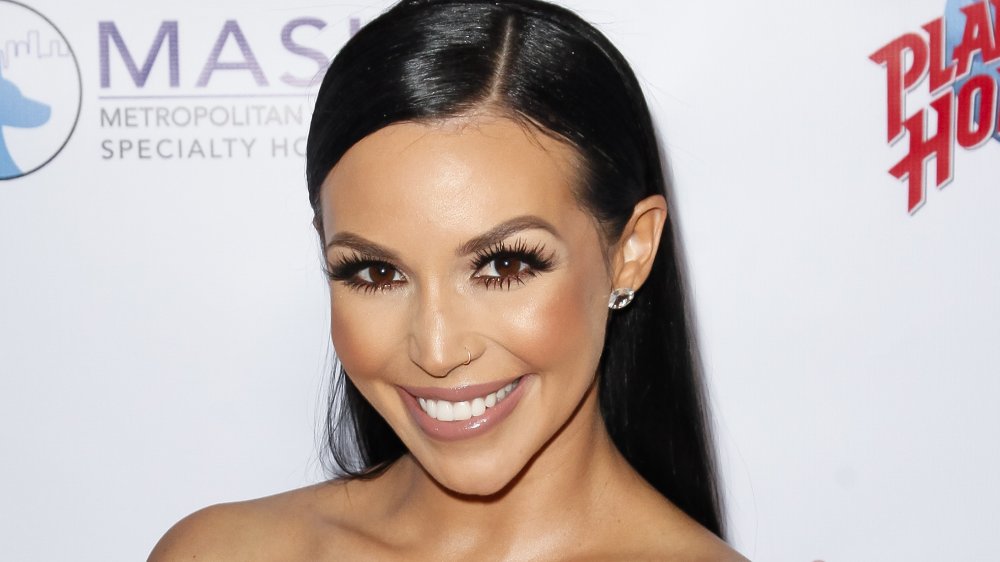 Tibrina Hobson/Getty Images
No one works harder than Vanderpump Rules star Scheana Shay, and there's one fan that's sick and tired of her not getting recognition on the Bravo reality show. Scheana Shay's mom took to Twitter on April 15, 2020, to make it known that her daughter is a jack of all trades, even if her current edit on Season 8 of Vanderpump shows her merely chasing the new male bartenders and stirring up catty drama with the ladies, as Scheana herself has pointed out, per Global News. 
Erika van Olphen began by tweeting: "Mom rant"  and then laying into haters for talking about Scheana's "life" without realizing that only the "tiniest" bit of it really makes it onscreen. "It's so annoying to me as a mom that some of the biggest things that my daughter Scheana's done (professionally & personally) aren't shown on VPR," she wrote. 
The frustrated mother noted that Scheana was the second cast member to buy a home (which wasn't shown at all), hosts a podcast, headlined a show in Vegas, and most notably, has gone through two rounds of freezing her eggs (which also wasn't documented on the show aside from some clips of her talking about the procedure as if it were one last desperate act), which it very much is not. Erika has also tweeted about "chopped" conversations on the show that supposedly remove the context from her daughter's interactions. 
Scheana Shay's mom always has her back
Scheana Shay and her mom, Erika van Olphen, have a super close relationship, although momma rarely appears on the show. (Audiences did get to see her on camera when Scheana married Shay in Season 3.) The Vanderpump Rules star often mentions her family, and Erika's Instagram account is full of pictures of Scheana and Scheana's sister, Cortney Erin. Erika is clearly very proud of her eldest, and really, it's about time someone has Scheana's back for once. 
While the "Good as Gold" singer isn't perfect, Scheana was literally the first character to ever appear on the show when the pilot premiered after The Real Housewives of Beverly Hills. Aside from Lisa Vanderpump, it was really Scheana who introduced the world to the SUR restaurant ... and all because she had an affair with Housewife Brandi Glanville's husband. 
Scheana has arguably carried the series ever since, whether it was documenting her marriage and subsequent divorce to Michael Shay or being the connecting thread to the new servers in Season 8. She deserves to have some respect put on her name, and her mom was the best person to do it. 
Scheana's mom is searching for her cousin
Erika van Olphen was able to use her daughter's Bravo clout during a family emergency. In late February 2020, Erika's 67-year-old cousin, Phillip Tate, went missing in the vicinity of the Westmont Village retirement community (formerly named Altavita Village) in Riverside, Calif. Erika and Vanderpump Rules star Scheana Shay took to social media to ask people to be on the lookout for him. Phil reportedly suffers from dementia and diabetes and may have gotten disoriented, per Bravo.
"So many family members and friends of my cousin have joined in on the search and have driven/walked miles and miles in all directions from where he was last seen," Erika said on Instagram Stories (via Bravo). As of mid-April 2020, there was no update as to his whereabouts. "They have been searching and will continue to monitor locations like churches, homeless shelters, hospitals, and parks in the area," Bravo reported. "Erika asked her followers to please contact her or call 911 if they have any information." You can also view the Silver Alert here.
While it must be a tough time for the family, Scheana is lucky to have a mom like Erika and a family that isn't afraid to defend her when they see her not getting the sort of respect they think she deserves.