The Untold Truth Of Naomi Biden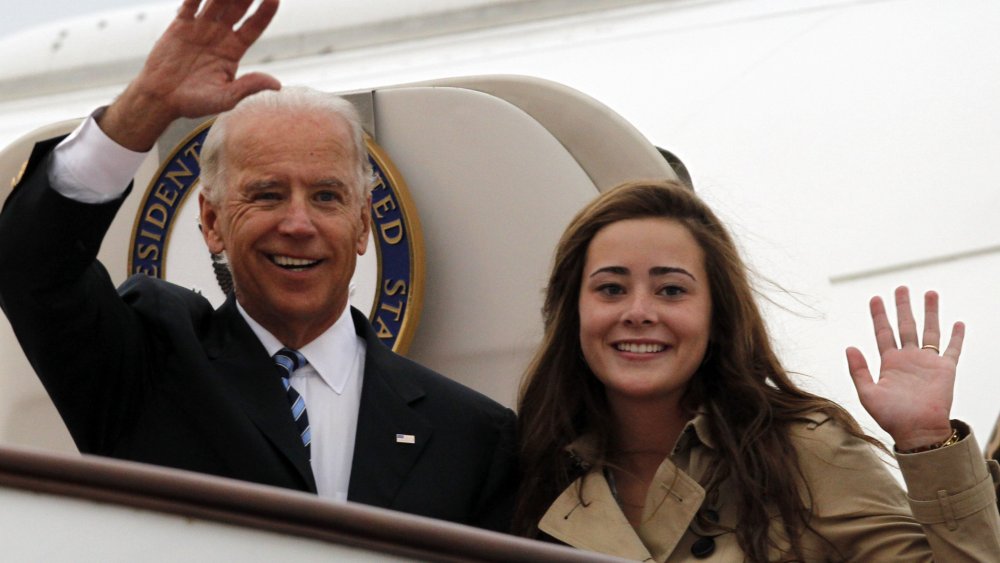 Pool/Getty Images
With Vermont Sen. Bernie Sanders dropping out of the presidential race in April 2020, Vice President Joe Biden has become the Democratic party's likely pick to run against Donald Trump in November 2020. Joe's likelihood of winning the election and potentially becoming America's 46th president has led to increased curiosity about the former senator from Delaware and his family. That's because when presidents take the Oval Office, the first family often becomes front-and-center along with them. 
Given Joe's long history in politics, his family has already been the subject of intense vetting from media outlets and politicians themselves. His son Hunter Biden, for example, is under scrutiny by the Republican party for his work ties to Ukraine, per The New York Times.
Joe's wife, and long-time educator, Jill Biden, has also come under the magnifying glass, which makes sense considering she'll be first lady if her husband gets elected in November. And Joe himself has come under intense fire after being accused of inappropriate behavior, including unwanted touching, according to The Cut.
Now, another family member is the subject of speculation: Joe's granddaughter, Naomi Biden. 
Naomi Biden's surprising connection to Donald Trump
Naomi, in her mid-twenties, is a "struggling law student" at Columbia Law School in New York City, according to her Twitter profile. She graduated from the University of Pennsylvania in 2016 with a degree in international relations, and her grandfather even attended her graduation ceremony, per Metro.
She's one of Joe's five grandchildren and is the eldest daughter of Hunter Biden, who divorced his ex-wife and Naomi's mother, Kathleen, in 2017. 
Particularly noteworthy, though, is that Joe's granddaughter wasn't the first "Naomi" of the family. She was named after Joe's late daughter, who died in a car crash in 1972 at just 13 months old along with Joe's first wife, Neilia, and would have been Naomi's aunt if she was alive today (via People). Joe's sons, Beau and Hunter, were also involved in the crash, and they survived with injuries.
Another interesting detail about Naomi? She appears to be acquaintances with President Donald Trump's youngest daughter, Tiffany Trump, who was her classmate at UPenn. In June 2018, Tiffany shared a photo of the pair hanging out in the Hamptons, and she decorated the snap with "two hearts — one pink, the other purple — intertwined," (via People). 
Now that we've caught you up on Naomi's life, check out what her mom, Kathleen, is doing now.