LeBron James' Oldest Son Looks Exactly Like The NBA Legend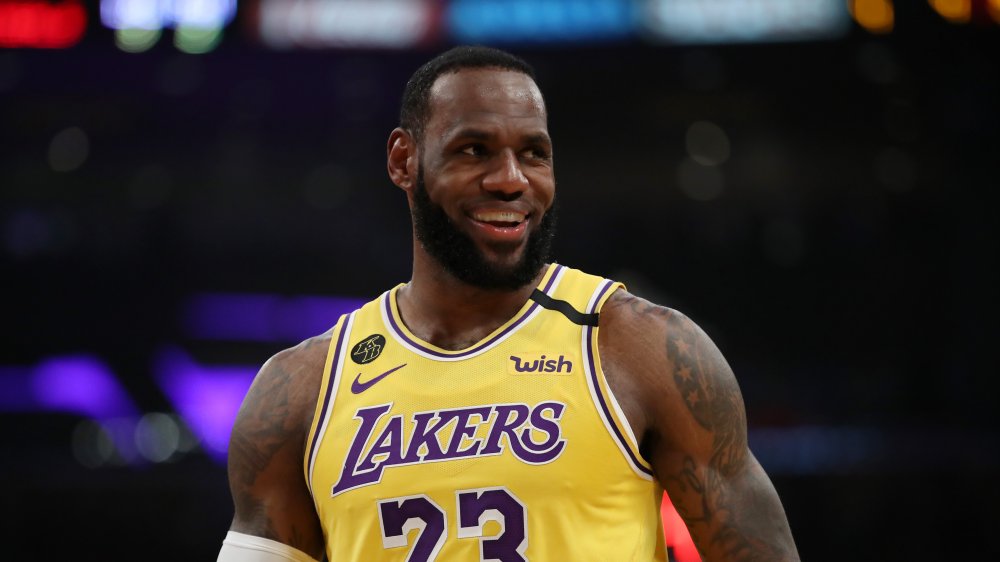 Katelyn Mulcahy/Getty Images
Having LeBron James as a dad means that Bronny James has a life full of opportunities, especially when it comes to basketball. Taking after his father, Bronny is a star high school player at Sierra Canyon High School in California. This is the same school where LeBron's good friend Dwyane Wade's son Zaire Wade plays basketball (or at least he did), so of course, there are a lot of eyes on Sierra Canyon games. Because yes, LeBron, Dwyane, and Gabrielle Union have been known to cheer in the crowd. 
Still, people are into these games for more than just famous athlete sightings. Bronny is truly holding his own out there on the court. Even so, it's hard not to look at him and see LeBron at times. They have a strong resemblance, they both dominate as basketball players, and let's not forget, they have the same name.
In a 2018 episode of his HBO show The Shop, LeBron admitted to Jon Stewart that he actually has second thoughts about naming his first-born son after himself. According to BBC, he said, "I still regret giving my 14-year-old my name." The men also discussed the pressure his kids face to live up to his success. LeBron explained, "When I was younger, I didn't have a dad, so my whole thing was whenever I have a kid, I'm going to do everything that this man didn't do." He concluded, "It's up to them to take their own course, whenever that time comes."
LeBron James' son Bronny James plays basketball too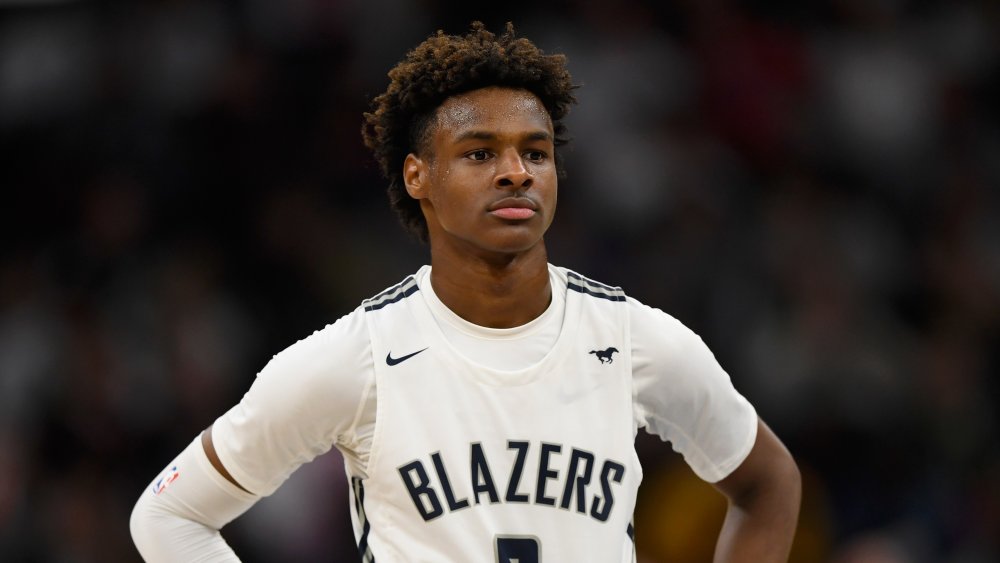 Hannah Foslien/Getty Images
It's understandable that LeBron James doesn't want his son Bronny James to feel stifled by his success. Thankfully, that doesn't seem to be the case. In fact, it's evident that Bronny is inspired by his father's work. In October 2019, Bronny shared a photo of himself holding a basketball, emulating a photo of his father during his own high school days on the cover of Slam. In the caption, Bronny called himself as the "heir to the throne," which is a clear metaphor, but it's especially fitting since his dad's Instagram handle is @kingjames. LeBron has also called Bronny a "Young King" on Instagram.
In December 2019, LeBron shared side-by-side photos of each of them going in for a dunk, twinning in form. The star wrote, "It's My Job to pass along to Blueprint so it allows him (his brother and sister) to Rumble Young Man/Woman Rumble! Heir to the Throne. #LikeFatherLikeSon." 
LeBron is one of his son's biggest supporters on and off the court. In January 2020, he shared a photo of himself watching Bronny play and wrote, "Know I got your back and front throughout it all! I'd die for you and your siblings. Never waver no matter what disrespect, hate, envy, jealousy, etc comes your way! Only push forward and continue to be the great kid/young man/person you are! Love you kid!!"
While they look alike and they both play basketball, Bronny is creating his own legacy.