Does Dak Prescott Have A Girlfriend?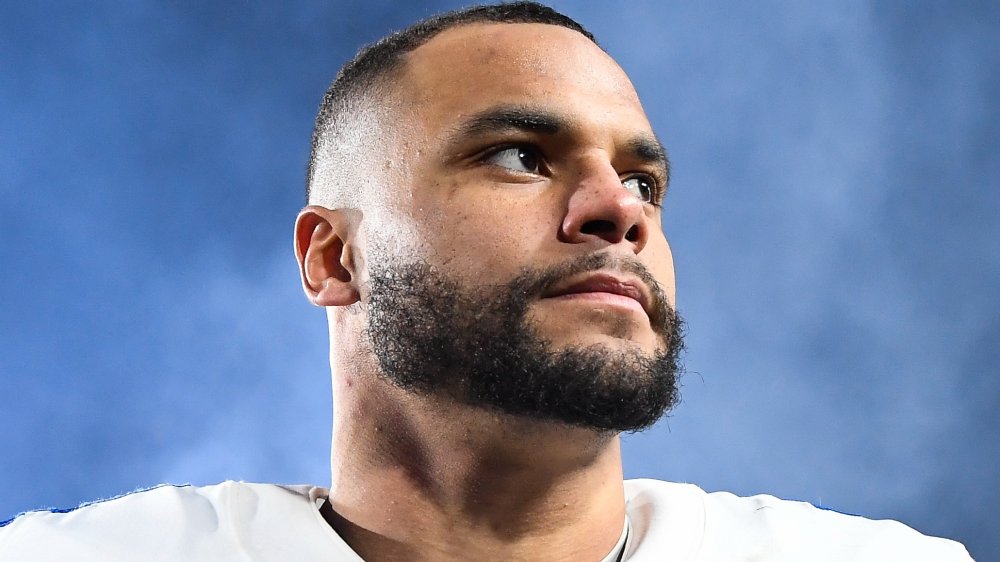 Kevork Djansezian/Getty Images
Dallas Cowboys quarterback Dak Prescott's older brother, Jace Prescott, died at age 31 on April 23, 2020. The team's owner, Jerry Jones, confirmed the news in a statement, sharing (via CNN), "We want to help him get through this time. Whatever we can do to help him get through this tough time." Jones added, "When you're young, and Dak is young, death is really hard to understand to think about or live with." 
As of this writing, it's unclear how Jace, a Northwestern State University alum, died. 
Amid this tragedy, some fans are curious to know who Dak is leaning on for support besides his teammates. Does the athlete have a girlfriend or wife, for example?
Although Dak hasn't publicly confirmed he's in a relationship, in the past, he was supposedly linked to the Instagram model, Ireland Boba, in April 2019. And before that, he reportedly dated Kayla Puzas for a few years before their breakup in 2016. Puzas went on to date Chrisley Knows Best star, Chase Chrisley.
Now there are rumors Dak is dating another model, a supposed connection we investigate after the jump.
Dak Prescott has been linked to model Lauren Holley
Rumors about Dak Prescott and model Lauren Holley first surfaced in January 2019, when sports gossip blogger, Terez Owens, shared a video that supposedly showed the two hanging out in a club together. Then in October 2019, SportsGossip.com posted photos of Holley at a Dallas Cowboys game. 
However, neither Dak or Holley have confirmed the supposed romance, and they haven't posted about each other on their respective Instagram accounts.
As for Holley's background, she turned 28 in February 2020, and appears to enjoy travel, modeling, and hanging out with her friends at the Dallas Cowboys stadium. 
So if these two are dating, will they make it in the long run? Dak touched on his feelings about relationships during a 2016 appearance on Sports Media's Inside the Huddle, saying when asked about whether he has a girlfriend, "Yeah, you women need a lot of time. And my time is focused on football right now – my first love."
Dating rumors aside, Nicki Swift sends its condolences to Dak Prescott and his family during this difficult time.