The Untold Truth Of Jay Cutler's Rumored Affair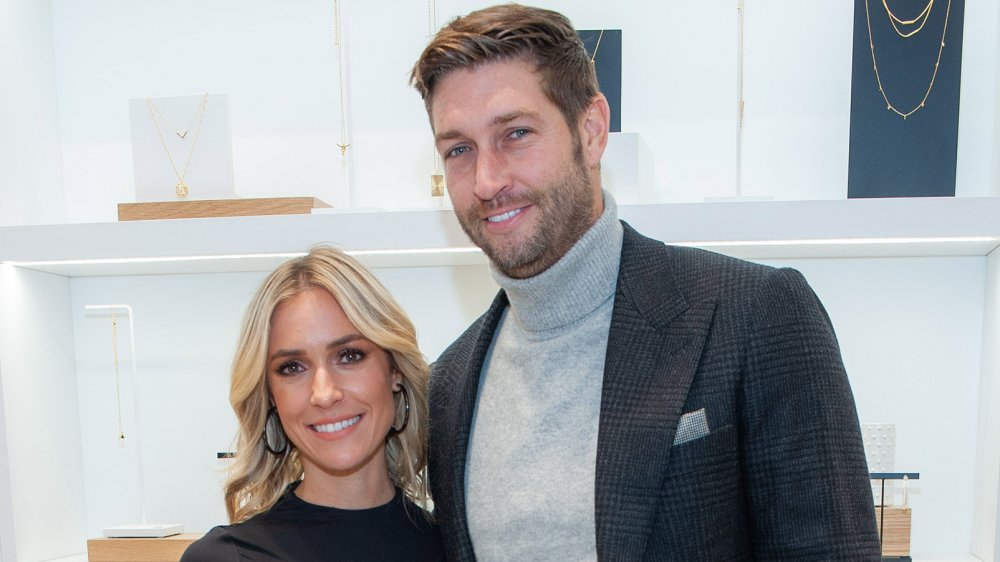 Timothy Hiatt/Getty Images
There's another heartbreak in Hollywood: Kristin Cavallari and Jay Cutler announced their split on April 26, 2020. News that the pair is filing for divorce comes after almost seven years of marriage and an entire decade as a couple. While the now-retired Cutler is best known for playing professional football, he gained even more fans after appearing alongside his wife on E!'s reality show Very Cavallari for the past three seasons. However, that's not to say Cutler has always found himself in the spotlight for the most positive of reasons, including rumors that he was unfaithful (... more on that in a minute).
It's worth noting that Cavallari and Cutler's breakup comments definitely skew on the more positive side and don't hint at any indiscretions on either side. The Laguna Beach alum wrote in their joint Instagram statement, "With great sadness, after 10 years together we have come to a loving conclusion to get a divorce. We have nothing but love and respect for one another and are deeply grateful for the years shared, memories made, and the children we are so proud of."
As for why these two decided to split, the now-exes kept it pretty vague, only sharing, "This is just the situation of two people growing apart. We ask everyone to respect our privacy as we navigate this difficult time within our family."
Still, as amicable as those words are, there's been heavy speculation amongst fans that Cutler's rumored affair could've had something to do with it.
Jay Cutler sparked rumors with Kristin Cavallari's (former) BFF, Kelly Henderson
If you thought the guy-related Laguna Beach drama between Lauren "L.C." Conrad and Kristin Cavallari was intense back in the day, this situation seems next-level. (Especially since, ya know, Cavallari is no longer a teenager on an MTV reality show that may or may not have been scripted.) As fans are likely aware, Cavallari and best friend Kelly Henderson cut ties after Henderson's name got swirled into cheating rumors involving Jay Cutler.
According to People, this friendship/marital drama was addressed during Very Cavallari's Season 3 premiere in January 2020. "The biggest change in my personal life is that my best friend Kelly and I haven't talked in two months. We've had a major falling out and it's just been breaking my heart," Cavallari admitted in an on-camera confessional. As the jewelry designer explained, the rumors began during Season 2 of the show, where fans on social media thought there was something more going on between Cutler and Henderson.
While the mother-of-three dismissed the rumors as simply that, she explained what hurt more: "Not for one second have I ever thought that it was true. It wasn't the actual accusations of them having an affair that made me upset, it was how Kelly went about it." Apparently, instead of talking directly to Cavallari, Henderson got "really defensive" and then stopped responding altogether. Cavallari added, "That, to me, is such a slap in the face. You don't care? Good to know."
So, did the cheating rumors actually cause Kristin Cavallari and Jay Cutler's split?
In a 2019 clip from Very Cavallari, Kristin Cavallari admitted, "I think I have just a couple friends that Jay [Cutler] really loves, and Kelly [Henderson] is one of them." Henderson says in the same confessional, "Jay and I have known each other forever. We're friends too." Interestingly enough, Henderson adds (after Cavallari asks), "He gives me hugs, if I hug him first." In other words, there seemed to be a respectful understanding of platonic boundaries, making the affair rumors seem just as absurd as Cavallari claimed.
Even so, Cavallari said on the show in January 2020 (per People), "Kelly was in my inner circle — she was one of my people. So this has been really hard on me." Per the New York Post, Henderson only addressed the situation indirectly, sharing an Instagram at the time that read: "Take a deep breath and remember who the f**k you are." That message hints she felt portrayed unfairly.
Adding more insight to Cavallari and Cutler's split, a source told People in April, "Kristin and Jay had been having problems for a long time. They hadn't spent much time together in recent months." The insider emphasized the breakup had "absolutely nothing to do" with the Henderson rumors; instead, it just came down to the fact that "Kristin and Jay are a lot different." Although a breakup is sad regardless, hopefully this officially puts all the cheating speculation to rest.