The Truth About Cher And Val Kilmer's Relationship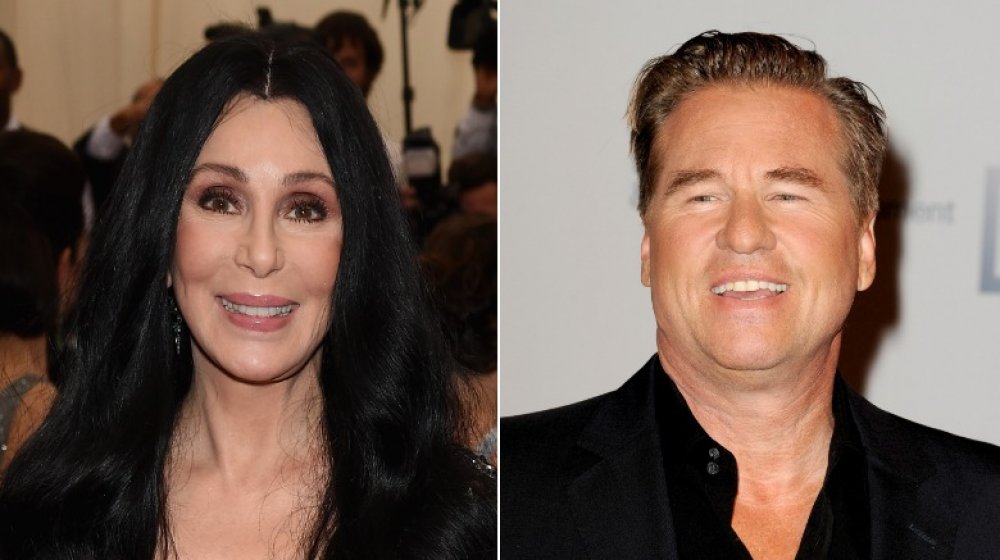 Dimitrios Kambouris, Kevin Winter/Getty Images
Cher may be known as both an iconic songstress and an Oscar-worthy actress, while Val Kilmer's fans can surely tell you all about his roles as Iceman in Top Gun and the title character in one of the '90s Batman movies. However, were you aware of the fact that these two once dated? Despite the major age difference between the stars (she's 13 years older), the duo used to be a hot item in Hollywood.
Cher and Kilmer dated from 1982 to 1984, according to Entertainment Tonight. The actor explained in his April 2020 memoir, I'm Your Huckleberry, that they first met while the actor, who was 21 at the time, was dining at a restaurant and was told that the singer, who was in her mid-30s, wanted to meet him. While explaining that he was shocked, he also admitted he wasn't exactly thrilled, writing, "I saw Cher as a less-than-fascinating character out of the gossip rags." He added that he wasn't "motivated to meet her," because he figured they'd have "nothing in common."
However, that didn't stop him from accepting the invitation, which led to what he deemed a "wild ride" of a relationship.
Val Kilmer 'fell under' Cher's 'spell'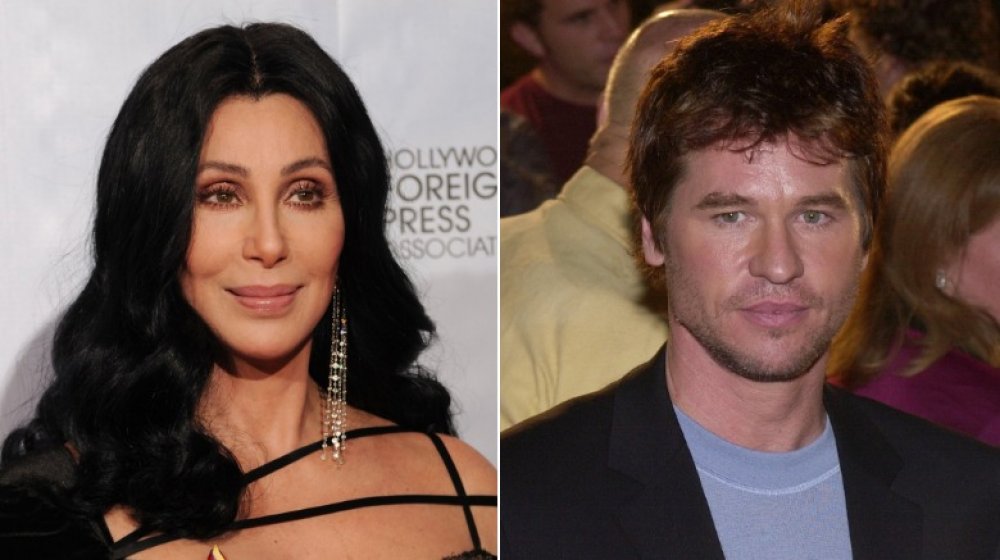 Kevin Winter, Chris Weeks/Getty Images
When Cher and Val Kilmer were introduced, they apparently hit it off and embarked on a two-year relationship. In his book, I'm Your Huckleberry, the actor explained that she's "hysterically funny," describing her as a "consummate artist who displays the attributes of a child, teenager, and sagacious adult, all at once." He also noted that "Cher trafficks an intoxicating glamour," and he, as "a Valley boy, fell under her spell."
As for Cher, she later opened up about their chemistry, telling the Daily Mail in 2018, "When we kissed I thought my head would shoot right off my body." Oh my!
The two ended up living together at Caesars Palace in Las Vegas, where she was performing at the time, and although the romance didn't last, Kilmer explained in his memoir that they remained friends following their split. "We had a wild ride ... and though we'd eventually veer off in different directions, our spirits stayed united," he said. That became clear years later when Cher showed up to help her ex as he was fighting for his life.
Cher was by Val Kilmer's side as he battled cancer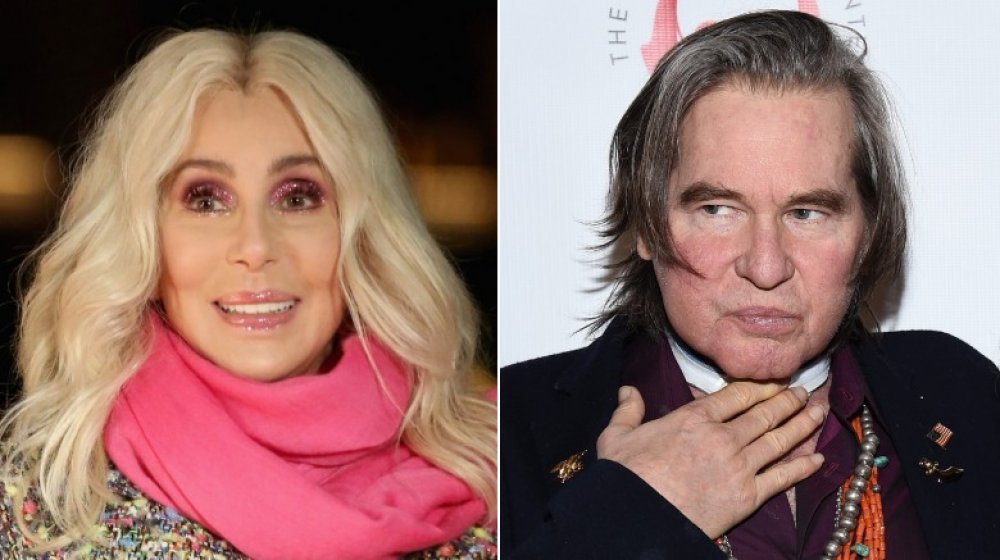 Gabe Ginsberg, Amanda Edwards/Getty Images
Val Kilmer was diagnosed with throat cancer in 2015, according to People, and during his health battle, his ex Cher invited him to stay in her guest house, which is why she was able to be by his side when his struggle became scary. He described one awful night in his memoir, I'm Your Huckleberry, writing, "Suddenly I awoke vomiting blood that covered the bed like a scene out of The Godfather. I prayed immediately, then called 911. Then alerted my hostess." He wrote that at that point, "Cher stepped in and stepped up."
One of the ways she was able to help was by unintentionally making Kilmer laugh in the dire moment. "[E]ven in my grave condition, I saw her scanning the paramedic, who was Gregory Peck drop-dead handsome. Only in Hollywood, right?" he noted. He explained that even though he was "covered in blood," he managed to catch Cher's eye and "bounced [his] brows like Groucho Marx. Hubba hubba." He revealed that "Cher was bashful to be busted but then couldn't help laughing out loud at the audacity."
Kilmer continued to explain, "Here we were, joking about beauty and desire, while I looked like a stunt man from Tarantino's Reservoir Dogs and, yes, while my life seemed to be in mortal danger." Despite everything that these two have been through together, it sounds like they're still making memories that they'll always remember.