The Untold Truth Of Dennis Rodman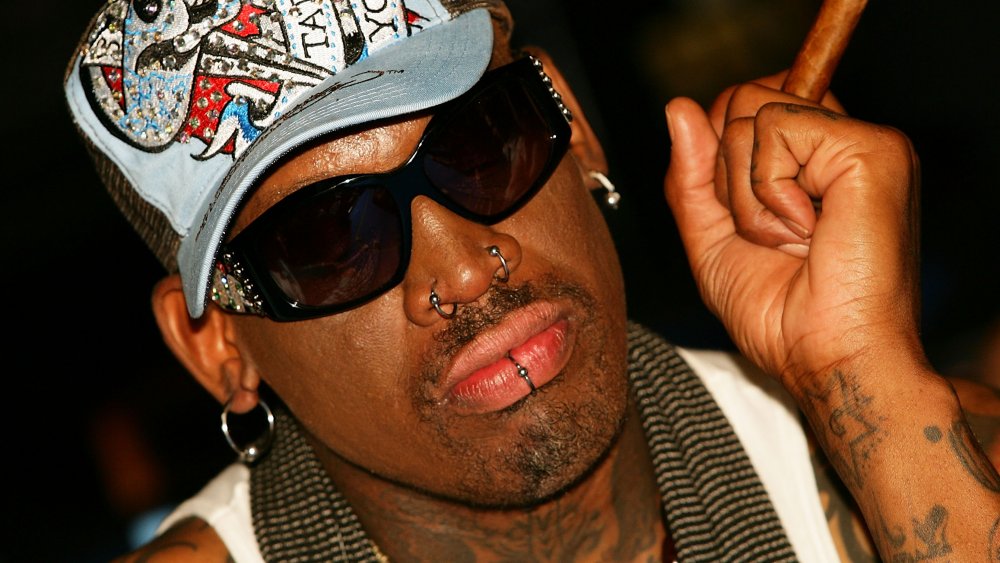 Matt King/Getty Images
Nicknamed "The Worm," Dennis Rodman built a Hall of Fame NBA career with his ferocious defense and his preternatural ability to grab a rebound. During his 14 seasons, the 6'7" power forward was two-time Defensive Player of the Year, a seven-time All-Defensive First Team selection, and led the league in rebounds in a record-setting seven consecutive seasons from 1991 to 1998. 
Along with the accolades, he also came away with the hardware, earning back-to-back championship rings as part of the Detroit Piston's infamous Bad Boys in 1989 and 1990, and three straight rings with arguably the best team in NBA history, the '90s Chicago Bulls. A different breed on the court, Rodman was from a different planet off the court. Known as much for his ever-changing hair color and controversial antics as his play, Rodman became a celebrity influencer before anybody knew what social media was. 
But as the great NBA philosopher Dennis Rodman once said, "Don't let what other people think decide who you are." So lace them up, and let's take a deep dive into the man, the myth, the legend, and the untold truth of Dennis Rodman.
Dennis Rodman is a friend to the homeless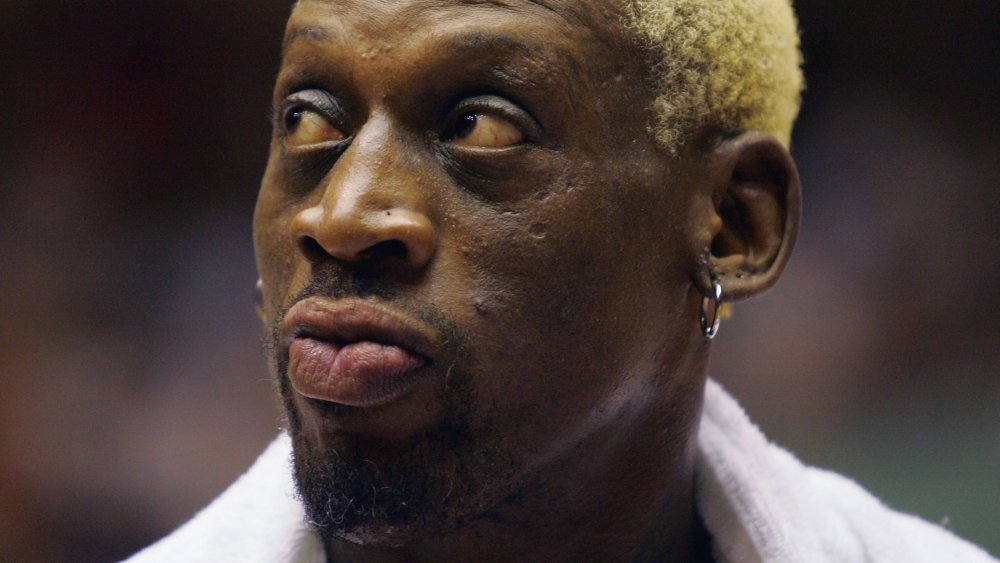 China Photos/Getty Images
During a 1990 interview with The New York Times, a then-29-year old Dennis Rodman discussed his difficult upbringing and the poverty that came with it. He recalled bussing tables at a Dallas restaurant making "$60 a night" and thinking he was making a lot of money. At the time of the article, Rodman was two years into a four-year, $2.6 million contract with the Detroit Pistons and felt the need to give back in the most Rodman way.
He recalled a time when he found himself walking back from a Chicago restaurant with his teammates and seeing a pregnant homeless woman with two small children. "I had $250 in my pocket, and I gave it all to her," Rodman said. "If I had $1,000, I would have given her that, too. There are a lot of people out there that are more worthy of this money. People without houses. People living on the street. I was lucky to come upon this, what I have now."
This wasn't an isolated incident. The former NBA star regularly did the same for the homeless people of Detroit. "I gave a lot of money to the homeless this year. I go to downtown Detroit and give out $50 bills or $100 bills," he said. "You can't help everybody, but you can help some people. I make millions now. What's $250?"
Does Dennis Rodman actually know what a Mormon is?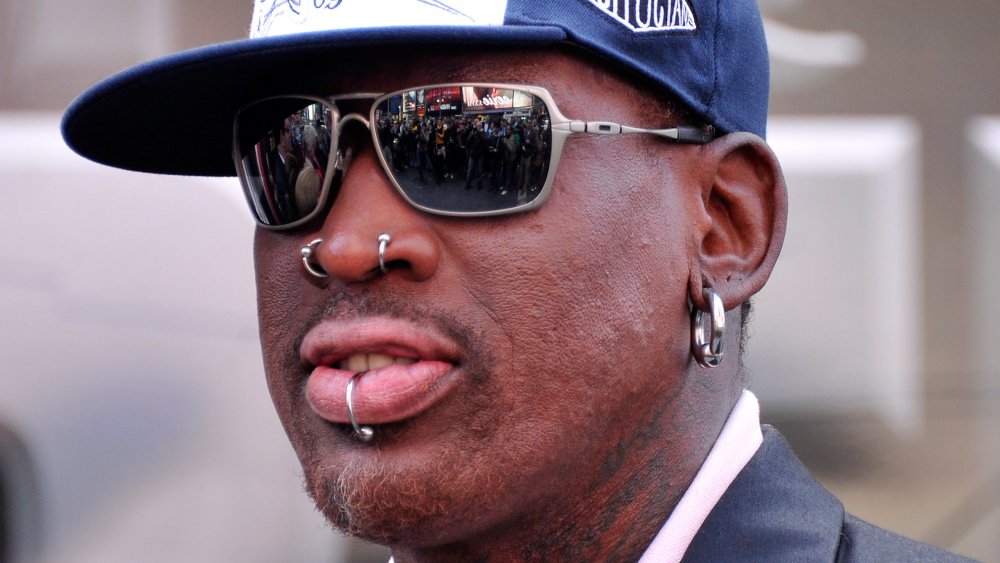 Stephen Lovekin/Getty Images
During the 1997 NBA Finals, the Chicago Bulls were defending their title from the Utah Jazz. Dennis Rodman wasn't playing well during game three of seven, and when asked by reporters about his performance, the power forward gave an inflammatory excuse. "It's difficult to get in sync because of all the (expletive) Mormons out here," Rodman said (via the Associated Press). "And you can quote me on that.″
As you might expect, Rodman's comments didn't go over well. The Salt Lake City branch of the NAACP said they were "outraged by the insensitive and derogatory remarks," and The Anti-Defamation League pressured the NBA to take action — and that they did. Rodman was fined $50,000, the biggest fine in NBA history at the time.
"That was a bad action on my part. So we retract that,″ Rodman said after the fine was handed down, adding that he didn't mean to insult a religion, just Utah Jazz fans. "The people were giving me the finger and things like that,″ he said. In a somewhat hilarious statement, Bulls head coach Phil Jackson claimed Rodman probably didn't know what a Mormon was. "To Dennis, a Mormon may just be a nickname for people from Utah," he said. "He may not even know it's a religious cult or sect or whatever it is."
The unique way a former teammate earned Dennis Rodman's trust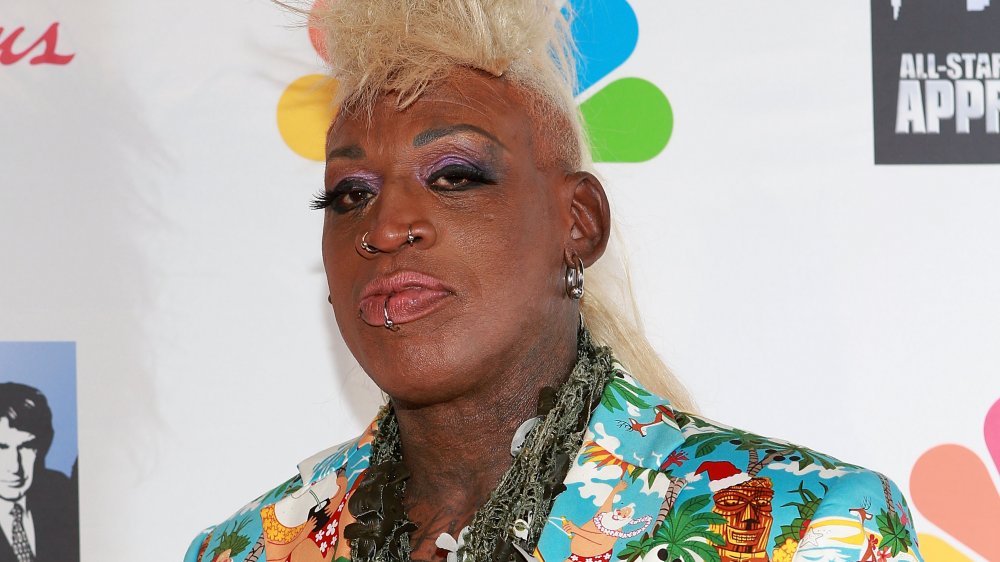 Robin Marchant/Getty Images
After the Detroit Pistons traded him to the San Antonio Spurs in 1993, Dennis Rodman struggled to connect with his new teammates. In a 1995 interview with The New York Times, former Spurs reserve center Jack Haley explained how he became The Rodman Whisperer. "Dennis will not speak," Haley said. "And when I say won't speak, I mean, he really won't speak to anyone else on the team, even in just any type of basketball question. Maybe just a one-word answer. He won't return their calls. They try to ask him things, and he'll just sit there. So, that's where I came in."
Haley didn't give up on the mercurial star, and after trying to speak to Rodman for three straight weeks in the locker room, they "slowly started to communicate" over their shared love of basketball during practices and games. "Then one night, he and his girlfriend asked my wife and I if we wanted to go grab a drink and he took us to a gay bar," Haley told the outlet, adding, "I think he wanted to try to shock me, see how straight and narrow I was. They had male dancers, you know? So I shocked him and slipped the guy a buck in his G-string."
The two then became inseparable and Haley helped their coach learn to communicate with Rodman: "I told him, the No. 1 way to deal with Dennis is just to be direct with him."
Penny Marshall was one of Dennis Rodman's good friends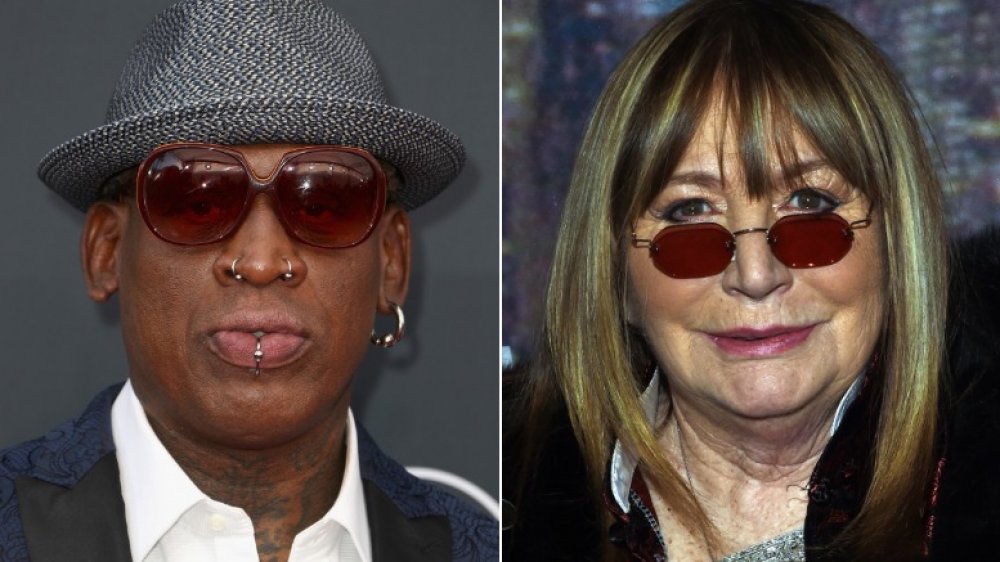 Frederick M. Brown, Larry Busacca/Getty Images
Who would have thought that Dennis Rodman and the director of Big and A League of Their Own would be good friends? But they were! Penny Marshall was actually such a big Rodman fan that she was working on a documentary about the legendary rebounder at the time of her death in 2018. 
According to The Hollywood Reporter, Marshall took over directing duties and shot the documentary "off and on" between 2012 and 2016, interviewing "scores" of people in Rodman's orbit. Ultimately, the project ran out of money and Marshall's health deteriorated. "Penny didn't want to just make a movie about this crazy guy who flew to North Korea," editor Keita Ideno said. "She wanted people to know who Dennis Rodman really was." Marshall reportedly agreed to helm the documentary after being worried about her friend's descent into alcoholism and increasingly unhinged television appearances.
The film's first director, Russell LaFreniere, who shifted to a producer role after Marshall replaced him, explained Marshall's decision to helm the project. "She always said she was addicted to crazy," he said. "I think she saw a little of herself in Dennis — she'd been through difficult times, too. She really cared about him. And once she came onto the movie, it opened doors." He also noted Marshall's access to Rodman's high-profile friends, which "wasn't something [he] could do."
The business side of the NBA was almost too much for Dennis Rodman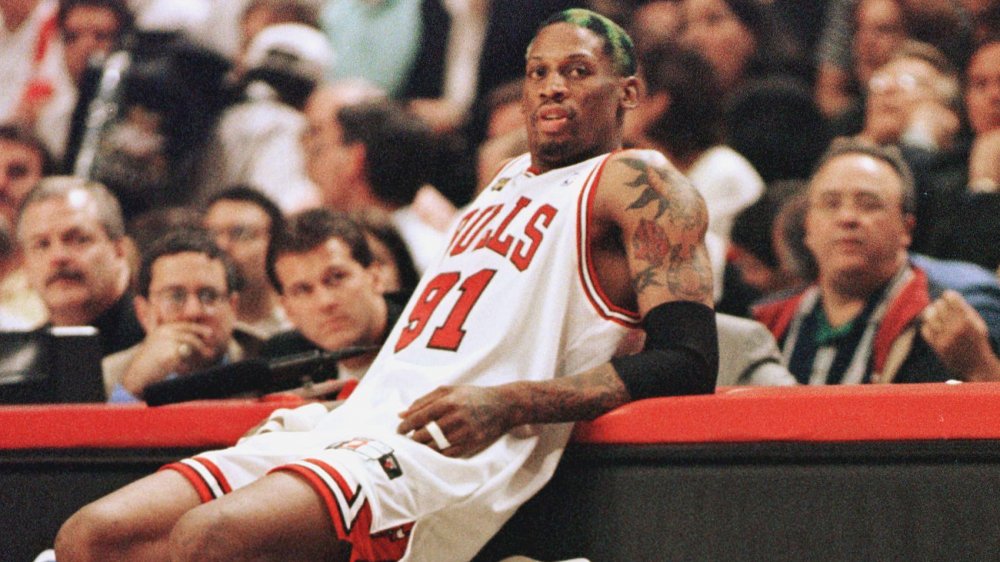 Jeff Haynes/Getty Images
In a 2019 interview with Bleacher Report, Dennis Rodman opened up about his struggles with depression and discussed his thoughts of suicide in 1993. "I wanted to be loved by somebody or someone because I was never loved by my mother or father because they were never there. So when I got to Detroit, they embraced me as one," Rodman explained. But after the Bad Boys team was "disassemble[d]" and his coach was let go, Rodman hit a low point. "I was all by myself. I had nobody to turn to," he said.
He then gave details about that fateful day. "I wrote a note and went to the parking lot of the Palace. I had a gun rack, and I had a gun in my car. I had it in my hand. But for some reason, I played this music," he explained. "It didn't have anything to do with basketball. It had to do with this love that I wanted, and it suddenly just left me."
Rodman fell asleep to the music and when he woke up, "all the cops and everyone" were surrounding him. "I didn't know what was going on. I totally forgot I had a gun in my hand," he explained. "I didn't expect the NBA to be like that," he continued. "I didn't expect teams to just trade players and you say, 'OK, this is a business,' and forget about it. That was what drove me to that point."
If you or someone you know is having suicidal thoughts, please call the National Suicide Prevention Lifeline at 1-800-273-TALK (8255) or text HOME to the Crisis Text Line at 741741.
Dennis Rodman has a lot of siblings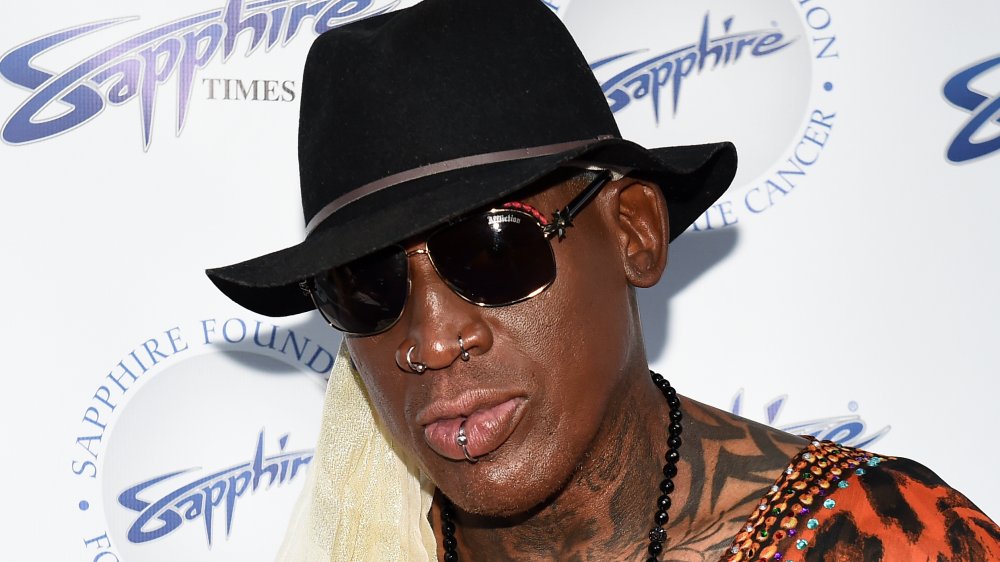 Ilya S. Savenok/Getty Images
"I haven't seen him in more than 30 years, so what's there to miss? I just look at it like this: Some man brought me into this world. That doesn't mean I have a father," Rodman wrote about his biological father, Philander Rodman, in his 1996 book Bad as I Wanna Be. Speaking with The Washington Post in 1996, the elder Rodman didn't do much to push back on that characterization. Then a bar owner in the Philippines, Philander claimed to have 27 children "from four different wives and extracurricular activities." 
By 2012, the number of both children and wives increased. According to the AP (via CBS News), Philander had boasted "29 children by 16 mothers" at the time. Philander also inferred that his infamous son was actually just a small chip off the old man's block. "They think Dennis is bad," he told The Washington Post, adding, "They ain't been around me. . . . They ain't seen nothin'. I'm the bad one." Yikes.
Dennis finally reunited with his then 71-year old father at a 2012 exhibition game in the Philippines. "It was great," Philander told reporters of the meeting (via CBS News). "I've been trying to meet him for years. And then last night, boom, I met him. I was really, really happy and very surprised." However, the reunion wasn't like something you'd see in a movie. Dennis spent barely three minutes with his father while signing autographs for fans.
Carmen Electra had a 'passionate' relationship with Dennis Rodman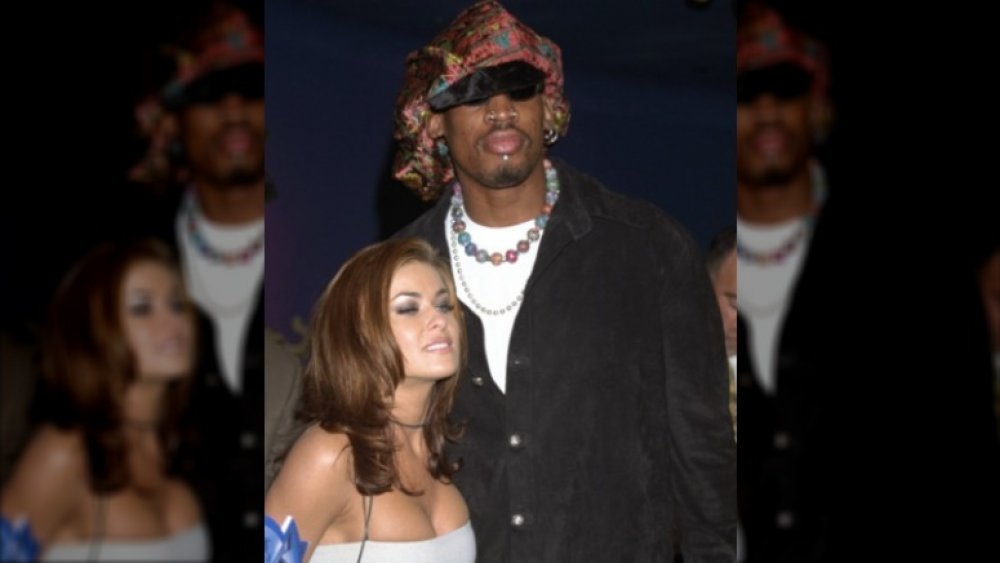 Steve W. Grayson/Getty Images
After a whirlwind romance (and an all-night bender in Las Vegas, Nev.), Dennis Rodman married model and Baywatch star Carmen Electra. Less than two weeks later, Rodman filed for an annulment and the couple finalized their divorce six months later. During a 2010 appearance on Oprah Winfrey's Where Are They Now?, Electra opened up about their romance and claimed she was in "self-destruction" mode after her mother passed away from a brain tumor.
She met Rodman shortly thereafter. "Dennis was the life of the party," she said. "He was fun. I started drinking. People couldn't understand why I loved him, because he had a reputation for being a bad boy. What I saw in the beginning was this sort of gentle giant." Then they got married and it was instant regret. "It happened so fast," she said. "And I remember right after, I felt like, 'Oh God, what did we do? What did we just do?'" She explained that their relationship was "very passionate" but that came with a downside. "So, when it was good, it was amazing," she said. "When it was bad, it was the worst."
Dennis Rodman endorsed Donald Trump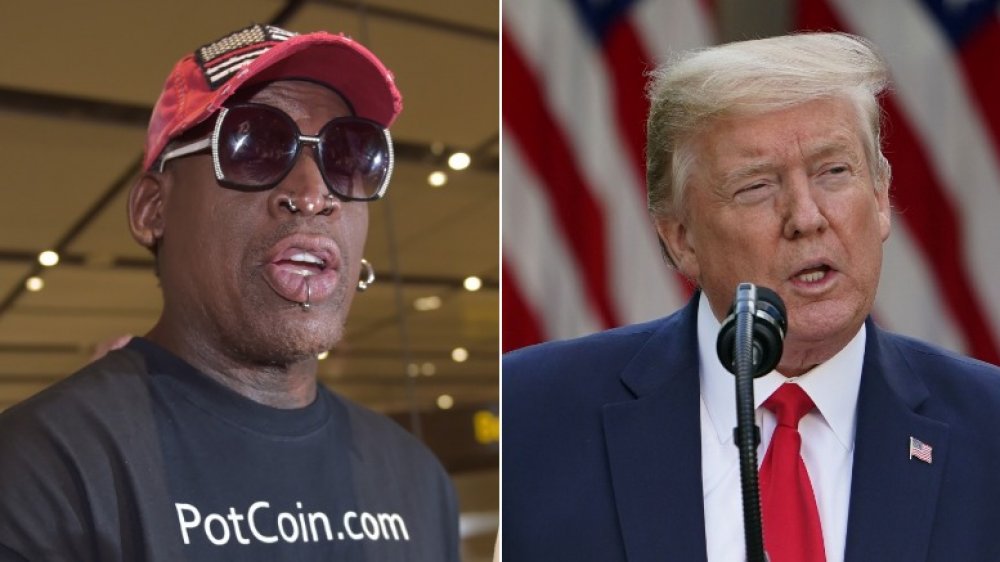 Adek Berry, Mandel Ngan/Getty Images
Dennis Rodman is #MAGA? That appears to be the case. In 2015, the Hall of Famer endorsed Donald Trump on Twitter, shortly after the then-reality-show-host announced his candidacy. "@realDonaldTrump has been a great friend for many years," Rodman wrote. "We don't need another politician, we need a businessman like Mr. Trump! Trump 2016." To which Trump replied, "Thank you @DennisRodman. It's time to #MakeAmericaGreatAgain! I hope you are doing well!"
This shouldn't come as much of a shock as Rodman appeared on the real estate mogul's show, The Apprentice. Trump also had nothing but praise for Rodman and his relationship with North Korean leader Kim Jong Un. Rodman befriended the despot, who famously loved the championship 90s Chicago Bulls, after a 2013 trip to North Korea "to host basketball exhibits" (per Clutch Points). During a 2013 interview on Fox News (via Politico), Trump said, "You look at the world, the world is blowing up around us. Maybe Dennis is a lot better than what we have. It's not an act. But he's a much different guy and this year on The Apprentice — it's amazing how sharp and smart. Dennis is not a stupid guy. He's smart in many ways; he's very street-wise." 
Fun fact: Rodman was fired on The Apprentice after his team spelled Melania Trump's name wrong.
Madonna made Dennis Rodman an offer he couldn't refuse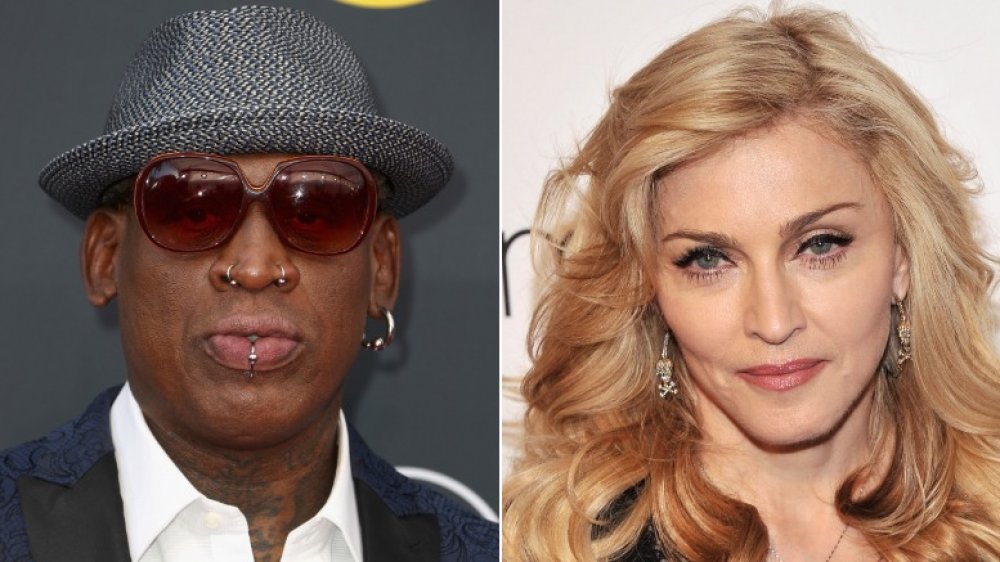 Frederick M. Brown, Stephen Lovekin/Getty Images
Dennis Rodman and pop icon Madonna had a brief fling in 1994, and while most people have wiped that from their memory, Rodman's time with Madonna gave us a story for the ages. During a 2019 interview on The Breakfast Club, Rodman claimed the "Material Girl" singer offered him $20 million if he could impregnate her.
"She said, 'Dennis, you know that I'm ovulating,'" Rodman said of the call he received while gambling in Las Vegas. "I said, 'What is that?' I was trying to f–k with her, right?" He then told the music legend, "I'll be there in five hours." Rodman flew to Manhattan on a private jet Madonna sent, did the deed, then immediately flew back to Vegas to finish his gambling. Imagine the numbers this man would have put up if Instagram was a thing then.
"She asked me that if I got her pregnant, she'd pay me $20 million," he told hosts Charlamagne tha God, DJ Envy and Angela Yee. "That's if the baby was born." When asked if he wanted to get Madonna pregnant, Rodman replied, "Oh, I tried."
Dennis Rodman went broke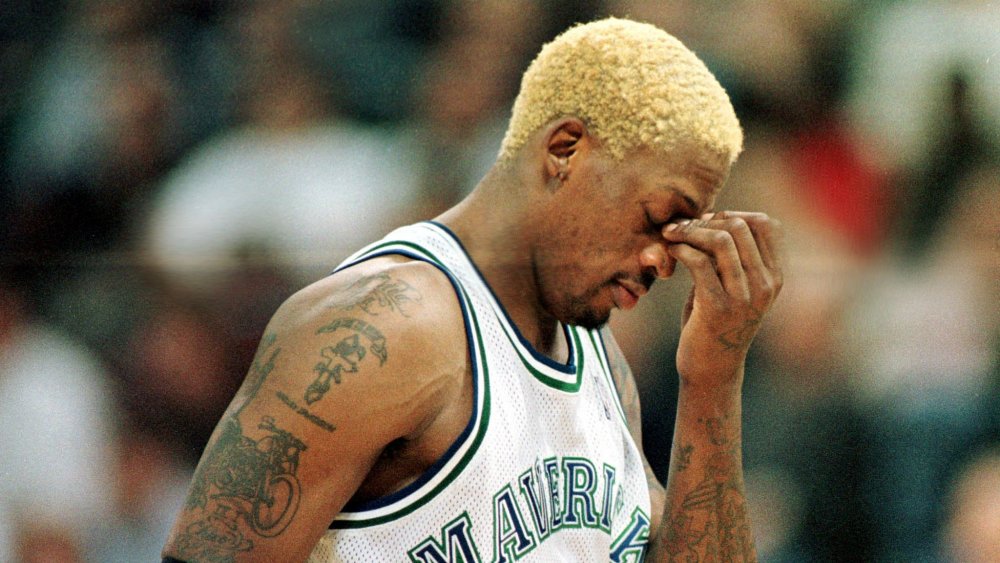 Paul Buck/Getty Images
In 2012, Dennis Rodman found himself in legal trouble after falling behind in his spousal and child support payments to his third wife, Michelle Rodman (via the Los Angeles Times). The amount? "$808,935 in back child support" and $51,441 "in back spousal support." Ouch. This was all after his child support liability was reduced from $50,000 a month to $5,000.
However, according to his attorney Linnea Willis (who was working pro bono), Rodman was barely able to cover his own expenses at the time. "Respondent Dennis Rodman is broke and cannot afford any additional fees," the court documents read. Willis also claimed that Rodman was "extremely sick." The sickness? Rodman's struggle with alcoholism. Rodman's manager, Darren Prince, told ABC News that the basketball legend had a "well-documented drinking problem" not helped by the divorce and the inability to see his children. "As people know, it's a daily struggle," Prince continued. "He has good days and bad ones and good weeks and bad weeks."
Willis said in a statement that not "even the wealthiest celebrities in the world" would be forced to pay $50,000 in child support and accused Michelle's lawyer of running "a smear campaign" against Rodman – who had never failed to pay at least some amount of support before. Without his NBA salary, Rodman generates income by endorsements and personal appearances. "He's not hurting, compared to retired athletes, with what he makes, but he's certainly not making what he made when he was paying with the Bulls," Prince said.
No sleep, no problem for Dennis Rodman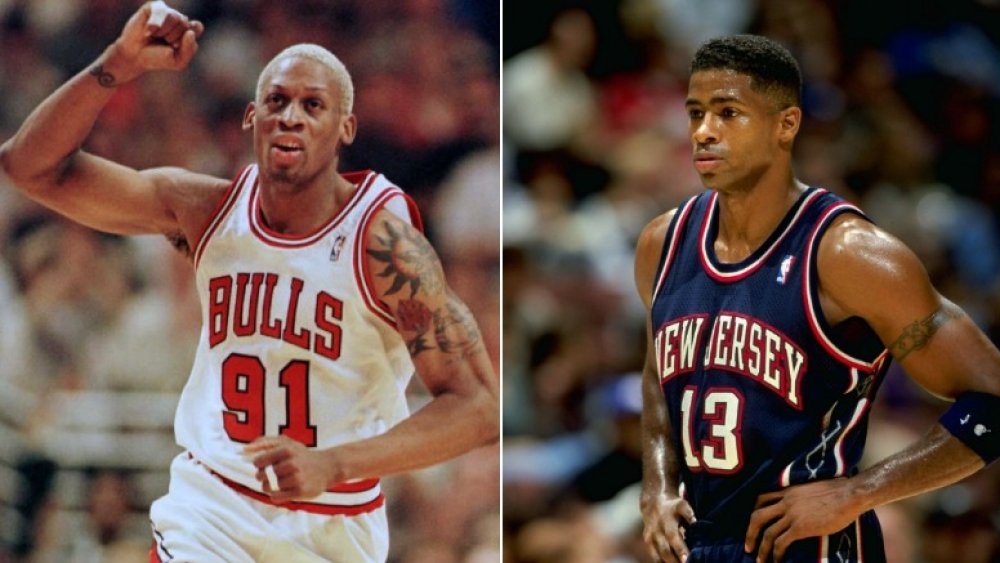 Brian Bahr, Todd Warshaw/Getty Images
ESPN's The Last Dance, the 10-part documentary about Michael Jordan's last season with the Chicago Bulls, is must-see television for sports fans and NBA alike. Or anyone really. One high-profile fan of the doc is former Charlotte Hornets' first-round draft pick, Kendall Gill. After the fourth installment of The Last Dance aired, Gill appeared on NBC Sports Chicago's Bulls Talk Pod, and told a story that added to the legend of Rodman.
While playing for the New Jersery Nets in the 90s, Gill ran into Rodman and Rodman's teammate Jack Haley at the NYC strip club Scores — the night before he would face them on the court. "I ended up leaving because we got a game the next day. I gotta get some rest right?" Gill recalled. "So I end up leaving about 12:30, which is kinda late for me, but I know one of the girls there. Actually, I knew several of them. ... But one in particular, I said, 'Listen, I'm gonna call you in the morning. I want to know what time Dennis left.'"
"So, I call her after shootaround, and she goes 'he was in there 'til 4-5 in the morning,'" Gill continued. "I was like, 'He won't be able to run with us tonight, we got him." So what did Rodman do after partying until almost dawn? "Dennis comes in that game and I believe he had like 20 rebounds, man," Gill said. "Runs like a racehorse."