The Untold Truth Of Michael Jordan's Security Guard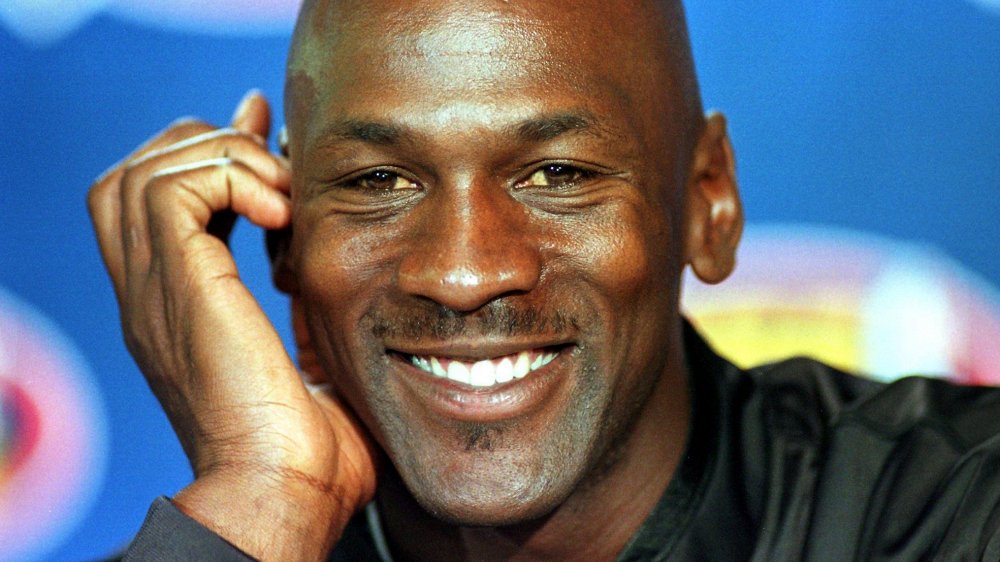 Daniel Lippitt/Getty Images
Michael Jordan is the star of ESPN's Last Dance documentary, but there's one endearing character that stole the show during one of the episodes of the ten-part series. Jordan's security guard, John Michael Wozniak, immediately stood out, in part because of his curly mullet. His son, Nicholi Wozniak, told Yahoo! Sports that he encouraged his dad to change his hairstyle. "It's like a lion's mane. This is my look, my mark," he told his son. "One day people are going to know me because of it." He was absolutely right.
Viewers will never forget John Michael's hair or his now-legendary quarter toss depicted in the documentary. While many seemingly walked on eggshells around His Airness, Jordan's security guard was not one of those people. When Jordan challenged him to throw a quarter farther than he did without hitting the wall, John Michael won, and he hit Jordan with his own signature move — the shoulder shrug. That wasn't the only time that Jordan challenged John Michael. "One time during a Christmas party, my dad beat Michael at pool," Nicholi recalled. "He kicked my dad out of the Christmas party." 
As harsh as that seems, Jordan was reportedly very good to John Michael when they weren't competing against each other. M.J. employed John Michael for the rest of his life. The former security guard and friend passed away in January 2020, at age 69, after a battle with colon cancer. When his health started to decline, Jordan urged him not to work and promised to pay him regardless. When he died, Jordan kept in touch with Nicholi.
Michael Jordan and his security guard had a close bond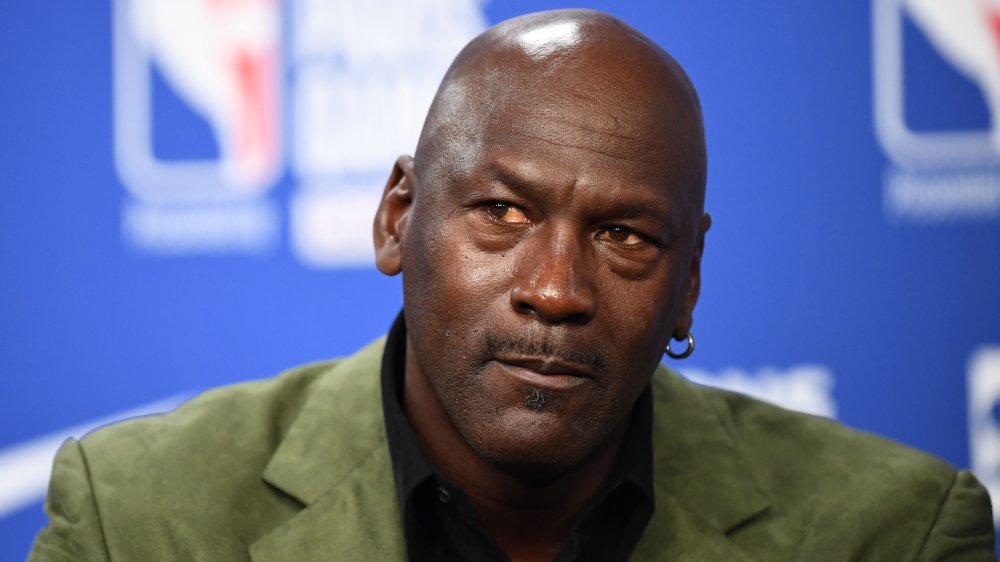 Franck Fife/Getty Images
Nicholi Wozniak told Yahoo! Sports that his dad, John Michael Wozniak, was a U.S. Army veteran. He worked in the Chicago Police Department narcotics division in addition to working security at the Chicago Bulls stadium. When Michael Jordan left the NBA to play baseball in 1993, he asked John Michael and two other security guards to quit their jobs at the stadium and work for his personal security detail. They all obliged, and Jordan reportedly made sure they got their jobs back at the stadium when he returned to the league two years later.
During a 2016 interview with Complex, John Michael talked about his adventures with Jordan. "I traveled with Michael to every major city in the U.S., but I also went along with his family on vacations, to events, even all the way to Paris. All over the world. A tremendous bond was formed, and we took it seriously. I have a special relationship with Michael that I share to this day."
John Michael also made it clear that he and the other security guards "never sought fame" from their job, reiterating that Jordan was the real star.
"I can call Michael anytime," added John Michael, who was in charge of security at one of Jordan's homes in Chicago at the time of the Complex interview. He revealed that fans "come there at 3 a.m. to just take a picture of the gate."
Michael Jordan sold jackets inspired by his security team
"We never sought fame being around Michael Jordan," John Michael Wozniak told Complex. Even so, he and the rest of Jordan's security team did make its mark on sports history, long before the Last Dance documentary. 
In 1992, Sports Illustrated captured a photo of Jordan arriving at the stadium in a black Ferrari. He was surrounded by five security guards wearing bright yellow jackets. While Jordan always made sure to have security, Wozniak claimed "there was never any real harm towards" the basketball great. He did admit that the work was "hectic" at times. "People were in such admiration for what he had done for the city. He gave them a winning attitude. People just wanted to touch him."
Admiration for Jordan translated to an appreciation for his security team as well. That aforementioned photo of Jordan and his security team arriving at the stadium became so iconic that Jordan sold replicas of the security jackets as part of a special collection in 2016. 
Jordan and the members of his security team forged a tight bond. Wozniak told Complex that they got the Jumpman logo inked on their arms with Jordan by their side. 
Sadly, John Michael Wozniak is not here to watch Last Dance, but his son, Nicholi Wozniak, insists that his dad would have loved it. He told Yahoo! Sports, "If he was still around, I wouldn't hear the end of it."