The Truth About 50 Cent's Relationship With Jamira Haines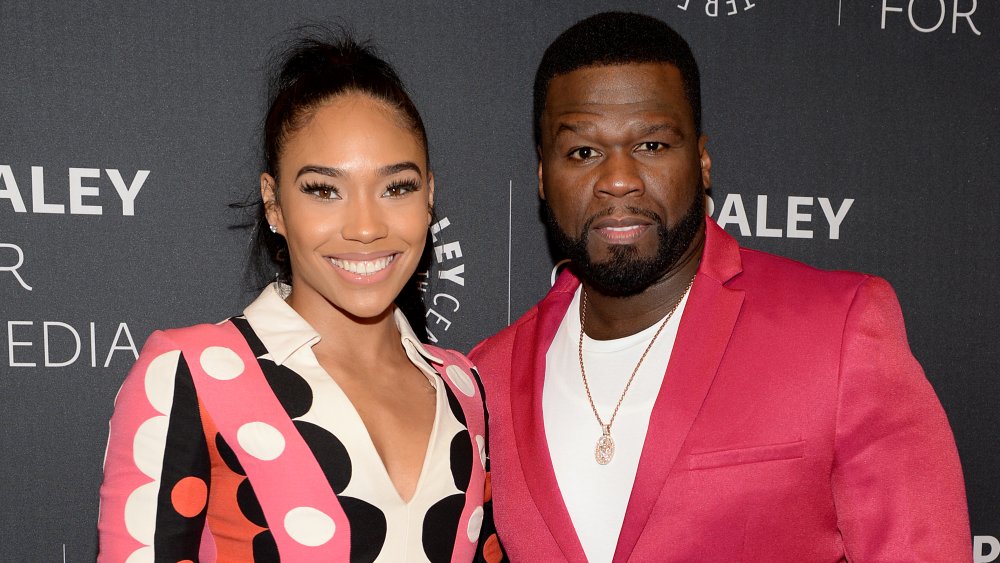 Brad Barket/Getty Images
Rapper and television producer Curtis "50 Cent" Jackson can be a very private person, but he's opened up about his relationship with Jamira Haines and it's actually kind of sweet. The couple first stepped out in public together at the Power Season 6 premiere in August 2019, though it's unclear how long they were dating before then. Even so, they're really into each other. Jackson, 44 years old, says that Haines, a 24-year-old law student and trainer, "has her own ideas and direction," per People. That kind of mutual respect is key in a relationship. 
They seemingly motivate each other, too. He told People in May 2020 that he and Haines made vision boards together to get to know one another. The rapper explained, "For 30 days, I [told her], 'Send me a picture of something you want. Then after the 30 days, I did the same. At the end of it, we put the two vision boards together and talked about the things that don't match up. It sparked conversations that we probably wouldn't have gotten to randomly, and it was easier for us to express it because it's so early."
It's an unexpectedly cute way to get to know each other and make sure everyone is on the same page before things get too serious. And so far, so good. 
Jamira Haines is an aspiring lawyer
Jamira Haines, who also goes by Cuban Link, came into the spotlight when she was first spotted with 50 Cent at the Power Season 6 premiere in the summer of 2019, but she's way more than just arm candy. She used to be a model, but quit to focus on her fitness and activewear brand called Cuban Fit, per TV Over Mind. One of her hoodie's has the lyrics to Your X Lover's song "Good Sex," with the words, "Good sex/No stress/One boo/No ex/Small circles/Big checks," which shows that she and 50 Cent likely share the same sense of humor as well as business acumen. In addition to running her brand, Jamira is an aspiring lawyer, studying at Rutgers University. 
50 Cent seems to be really into the fact that Haines has her own hustle and goals. As per the same outlet, he posted an Instagram pic of her looking "lawyerly" and joked that if anyone owed him money, they would have to go through her eventually. This was around the time of the social media fight he had with Bravo's Randall Emmett about money the producer allegedly owed him, so it's possible that he was referring to that... but he also talks about people owing him money all the time, so it's best not to really read into it. 
50 Cent and his girlfriend aren't afraid to joke around with each other
In fact, 50 Cent and his girlfriend Jamira Haines, or Cuban Link, seem to have a lot of fun together. Per UrbanIslandz, for example, 50 Cent jokingly commented on a picture she posted of herself working out in $950 Chanel sneakers. The rapper teased her, commenting, "Who told her azz to work out in Chanel sneakers. What's wrong with Nike's [Cuban Link] they come in every color."
The two are also spending a lot of time together — and joking, too. 50 Cent posted a video to Twitter mocking her cooking skills — it's a little girl trying her best to swallow something down and a cute dog. Haines also posted a mirror selfie presumably from his house and wrote that she misses her mirror. 50 Cent commented that she should just go home then, which may sound harsh, but it does genuinely feel like they're both laughing and enjoying trolling each other on social media. Hopefully, the world will get to know Haines even more as she and 50 Cent continue to date.