The Reason David Bowie's Daughter Hasn't Seen Her Mom For Six Months
Social distancing is not an easy thing to do as David Bowie's daughter, Lexi Jones, is finding out. On Mother's Day in 2020, Lexi revealed that she hadn't seen her mom in over six months due to the coronavirus pandemic and resulting lockdowns and travel bans. Jones, who was born in 2000, is the daughter of Bowie and supermodel Iman, who lives primarily in New York City. Lexi, on the other hand, lives in Los Angeles, where she sells art and clothing that she makes on Depop, a website for budding millennial artists, per The Sun.
Bowie passed away in January 2016 due to liver cancer and although it's been a few years now, fans are still mourning the loss. And if fans who never met the guy are still hurting, it can't be easy for Jones and her mom, Iman, so not being able to see each other in a time like this is likely extremely hard. That being said, Bowie and Iman's daughter did not hold back on Instagram when it came to expressing how she feels about being separated from her mom for so long during these uncertain times.
David Bowie's daughter and Iman see each other every couple of months
On May 10, 2020, Lexi Jones took to Instagram to post some throwback pics of her and her mother, Iman. In one of them, she's eating a chicken nugget as her mom kneels on the floor to pose with her. Jones captioned the pic, "everyone pls stay inside I haven't seen my mom for 6 months because we live on opposite coasts and it is very difficult to leave ny right now but I'm a child and i miss her dearly so pls be party poopers this one time so it doesn't take 2 f***ing years to see her again thank you!" 
Some of her followers attempted to "call her out," writing that coast-to-coast travel hasn't been slowed due to coronavirus for that long and questioning what she meant. In the comments, Jones explained that "it had already been a good couple months since [she] saw her when this whole thing happened." She added, "So yeah it has been 6 months and it could end up being way longer." Jones really does seem worried that it will be some more time before she gets to give her a mom a hug. And who could blame her?
Iman and her daughter are very close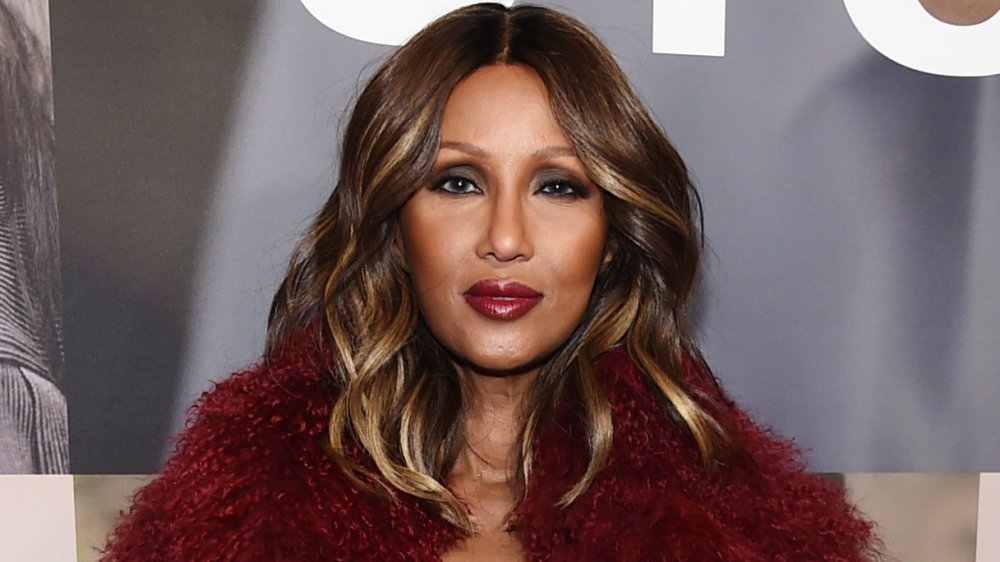 Jamie Mccarthy/Getty Images
Lexi Jones and her mom, Iman, seem to be really close judging by how much she wants to see her. How many 19-year-olds are that excited to be with their parents? Iman is protective of that bond, too, holding on to the fact that — at least, for now –  Jones lives a fairly private life despite being the daughter of two of the most iconic people in the history of pop culture. 
In October 2018, Iman told Porter magazine that she's glad her daughter is doing her own thing as an artist and not diving into modeling or fame (although there's nothing wrong with that either). That being said, after Iman posted some pics of daughter online, tons of modeling agencies reached out. She explained that Jones told her she's "overprotective." 
"But I told her, this can all wait, it isn't going anywhere. Have a life that is private while you can, because one day soon it is going to be public, so enjoy this," the supermodel said. While modeling and public life might be able to wait for Lexi, the end of the coronavirus and a chance to see her mother surely cannot come soon enough. To which we can only say same, girl, same.