Shannen Doherty Told Husband: 'I'm Going To Be Dead In Five Years'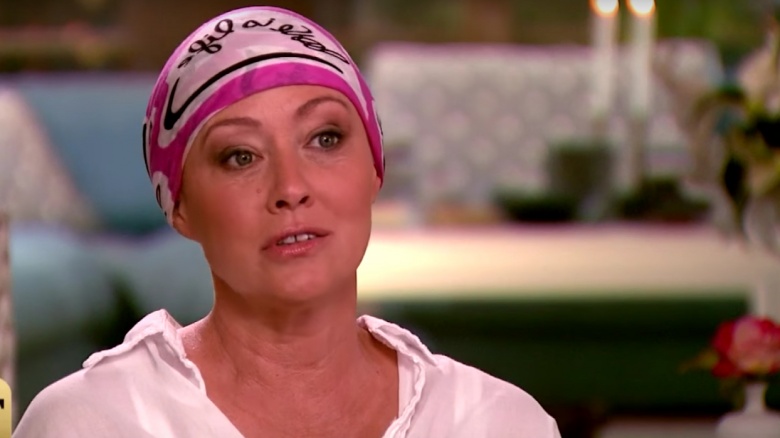 Entertainment Tonight
Actress Shannen Doherty is revealing more heartbreaking details about her ongoing battle with breast cancer.
Speaking to Entertainment Tonight on August 2, 2016, the former star of Beverly Hills, 90210 admitted the disease has taken such a toll on her emotions that she at one point told her husband, photographer Kurt Iswarienko, she'd be "dead in five years."
"I remember we were in New York together, we were at this Italian restaurant in Brooklyn, and I looked at him and I said, 'You better enjoy every single second that you have with me...'cause I'm going to be dead in five years,'" Doherty said. "He just burst out crying and was like, 'You can't say that.' That phase was short, thank God. That was a short, short phase that I think my family and my friends got me through."
Doherty, 45, was first diagnosed with breast cancer in March 2015. She said battling the disease has made her marriage "a thousand times stronger," adding, "I could not have gotten through this without my husband."
As for how she broke the news to Iswarienko—whom she married in October 2011—Doherty said, "I called him, which was horrible of me. I was in the car. I was with my mom, and the doctor called me and I'm, you know, 'I'm going to wait until I see him,' and I just couldn't. So I picked up the phone and I called him and he was like, 'Where are you?'" When she got home, Doherty said Iswarienko was waiting for her in the driveway. He hugged her and said: "'We are going to get through this. You are going to be okay. We are going to get through this, you're strong and you're powerful and you're not going anywhere. You have so much to do in your life. We are going to get through it as a family.'"
Doherty confirmed to the public that she had breast cancer in August 2015 after her diagnosis was revealed in an ongoing lawsuit. In recent interviews, Doherty—who had a single mastectomy in May 2016—has been very open about her treatment. She recently made headlines for chronicling the step-by-step process of shaving her head after chemotherapy on Instagram.
"The unknown is always the scariest part," she told Entertainment Tonight. "Is the chemo going to work? Is the radiation going to work? You know, am I going to have to go through this again, or am I going to get secondary cancer? Everything else is manageable. Pain is manageable, you know living without a breast is manageable, it's the worry of your future and how your future is going to affect the people that you love."