The Surprising Reason Behind Aaron And Jordan Rodgers' Feud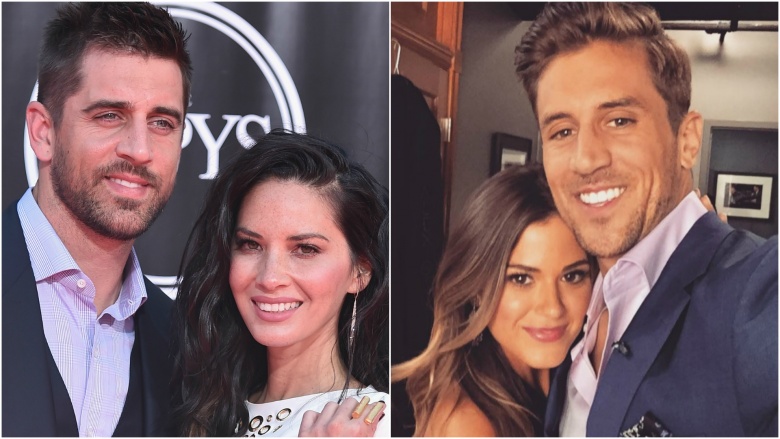 Getty Images
Is actress Olivia Munn to blame for the estranged relationship between her boyfriend, NFL quarterback Aaron Rodgers, and his brother, Bachelorette winner Jordan Rodgers?
Heck yeah, claim sources for Us Weekly. "[Munn] has a strong personality and every meeting she has had with them has gone badly," a source told the magazine on Aug. 3, 2016. The source claimed family members disagree over who actually stopped talking to whom. "The family says Aaron stopped talking to them. While Aaron says they don't talk because his family doesn't like Olivia."
Whatever the case may be, the relationship between Aaron and Jordan has been strained for quite some time, as detailed on the most recent season of The Bachelorette. During a June 2016 interview with the podcast Garbage Time (via People magazine), Jordan awkwardly claimed that he had a relationship with his pro football brother, but admitted it was "complicated."
Things got even more uncomfortable during Jordan's hometown visit episode with his now-fiancée, JoJo Fletcher, when the subject of Aaron inevitably came up. "It's something we don't really like to talk about a whole lot," another brother, Luke Rodgers, confessed (via People). "It pains both of us like, not to have that relationship [with Aaron] we miss our brother. I trust that God brings things full circle and that everything would just get back to us being a family."
"It would have been nice to share JoJo with not only my parents and my brother Luke, but my brother Aaron as well," Jordan said during a confessional interview (via People). "I miss [Aaron] a lot," he added. "Especially in moments like this because my family means so much."
The subject was revisited by Bachelorette host Chris Harrison during the show's After the Final Rose special on Aug. 1, 2016. "It's the same situation that it's been, but it's not something that we—it's not the focus for us right now, it's about us," Fletcher said, according to People.
Aaron awkwardly addressed his brother's appearance on the reality show competition during a July 2016 interview with WISN. "I haven't seen the show, to be honest with you, so it hasn't really affected me a whole lot," Aaron said. "As far as those kinds of things go, I've always found that it's a little inappropriate to talk publicly about some family matters, so I'm just—I'm not going to speak on those things, but I wish him well in the competition."
For what it's worth: a source for Munn told Us Weekly that allegations claiming she's the cause of Aaron and Jordan's riff is totally BS. "Aaron makes his own decisions and wouldn't be swayed by Olivia," the source said.
Well, there you have it.