The Untold Truth Of Dwayne Johnson's Daughter, Simone Alexandra Johnson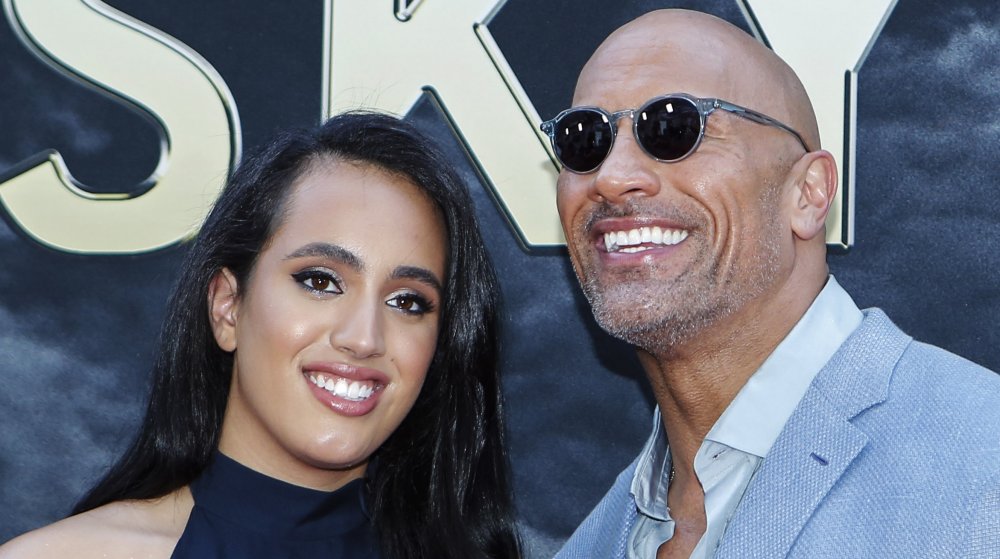 Kena Betancur/Getty Images
Dwayne "The Rock" Johnson has completely shifted his image over the years. In his early days of fame, he was an impressive wrestler with a serious eyebrow arch. Now, he's a family-friendly movie megastar. The multi-hyphenated Hollywood star has mastered multiple industries and continues to add to his growing resume.
"The Rock" occasionally shares his personal life with the public, including his wife, his young daughters, and his outrageous cheat day snacks (12 pancakes, wow!). Recently, his oldest daughter was ready to step into her own light and make a name for herself as well.
Simone Alexandra Johnson is the daughter of Dwayne and his former wife of 10 years, business magnate Dany Garcia. At 18 years old, Johnson is following in her father's path by making a name for herself in wrestling. In February 2020, WWE reported that the college student had officially begun her WWE training and signed a wrestling contract. With that major leap into her future, the Florida native is already making history. Here's everything you need to know about the budding young wrestling pro.
Simone is a former model and Golden Globe Ambassador
Matt Winkelmeyer/Getty Images
Simone Alexandra Johnson first entered the spotlight as a model, per Popsugar. She was previously signed to IMG Models, the same agency that has represented modeling giants like Kate Moss and Chrissy Teigen. Johnson has also been seen on red carpets next to her father, especially during his Blockbuster movie and TV show premieres — she was by his side at the People's Choice Awards in 2017, when he won an award for Ballers (via People).
Johnson was the 2018 Golden Globe Ambassador, making her the first person in history to hold the new gender-neutral title after the retirement of "Miss Golden Globe," per The New York Times. "I'm so happy about the change because it's more inclusive and it promotes equality," she said at the time. "I'm really passionate about those things."
She also celebrated the honor on Instagram after it was announced in 2017. "Finding words to describe exactly how I feel right now is a bit hard. Thank you thank you thank you. Thank you to the HFPA, my parents, and everyone else who has helped this all come together," she wrote. "I feel so blessed to be a part of this incredible journey and be known as the first Golden Globe Ambassador."
Simone is a fourth-generation wrestling pro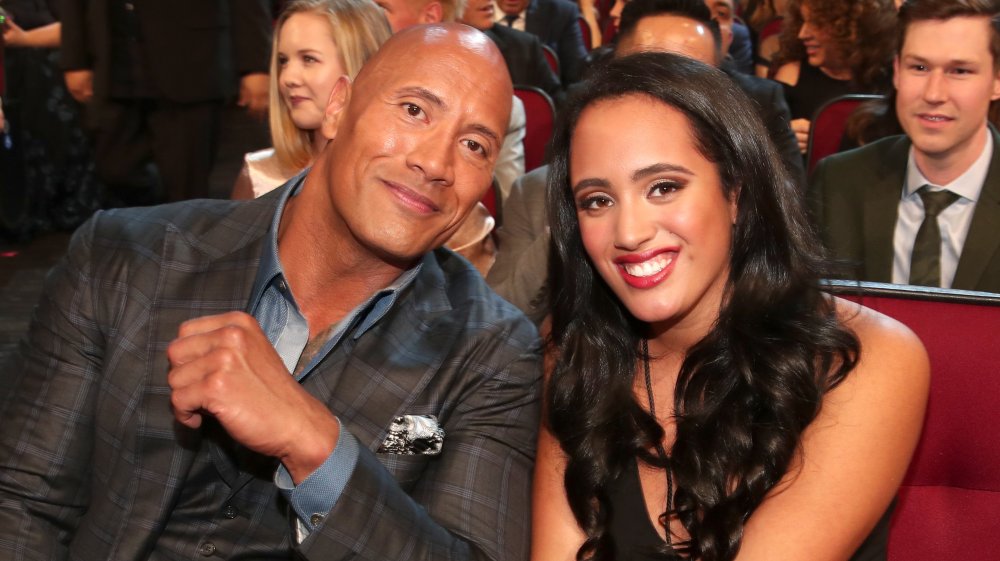 Christopher Polk/Getty Images
Simone Alexandra Johnson comes from a long line of wrestling greats. Her great-grandfather, Peter "High Chief" Maiva, and grandfather Rocky Johnson were both WWE Hall of Famers. Her father, Dwayne "The Rock" Johnson, was a 10-time WWE world champion, according to CNN. Given the Johnson family's history, Simone will be a fourth-generation wrestling star. She's also the youngest person to sign a WWE contract in the organization's history.
In a February 2020 statement about her wrestling aspirations, Johnson said, "It means the world to me. To know that my family has such a personal connection to wrestling is really special to me and I feel grateful to have the opportunity, not only to wrestle but to carry on that legacy."
Dwayne revealed in a virtual interview on The Tonight Show Starring Jimmy Fallon that it "blows his mind" that his daughter is taking this step and that she "worked her a** off quietly under the radar" since the age of 16. "She hung in there and I'm very, very proud of her," he said.
"First of all, what an honor that my daughter wants to follow in my footsteps but more importantly — follow in my footsteps sounds cliché — but she actually wants to create and blaze her own path, which is just so important," he said.
We can't wait to see what the future holds for this brave, history-making young woman.