Here's How Much Steve Kerr Is Really Worth
Ezra Shaw/Getty Images
Steve Kerr has been a part of the NBA for decades in various roles. From 2007 until 2010, Kerr served as "president of basketball operations and general manager for the Phoenix Suns," per the Golden State Warriors website. He also owned a small percentage of the team. According to a 2014 New York Post article, Kerr helped Robert Sarver buy the team in 2004 before he was hired as the general manager.
In 2014, Kerr gave up his ownership of the Suns when he decided to pursue his first position as a head coach. At the time, positions with the New York Knicks and the Golden State Warriors were on the table. Ultimately, he decided to go with the Warriors, which has worked out very well for everyone involved. As of this writing, Kerr has won three championships with the team. 
As a player, he won championships with the San Antonio Spurs and, of course, the Chicago Bulls — an experience fans were able to relive thanks to ESPN's Last Dance documentary. Aside from his official roles with the NBA, over the years, Kerr has also worked as a broadcaster for TNT and provided game commentary for the NBA Live video game series. Obviously, Kerr didn't do all of that work for free. 
According to a Celebrity Net Worth article updated in 2020, he earned $15.8 million during his 14-year career as a player. Adjusted for inflation, that would equate to $24 million today. Celebrity Net Worth reported that Kerr took home $2.625 million during his 2002-2003 season with the Spurs.
Steve Kerr reportedly earns $5 million a year as a coach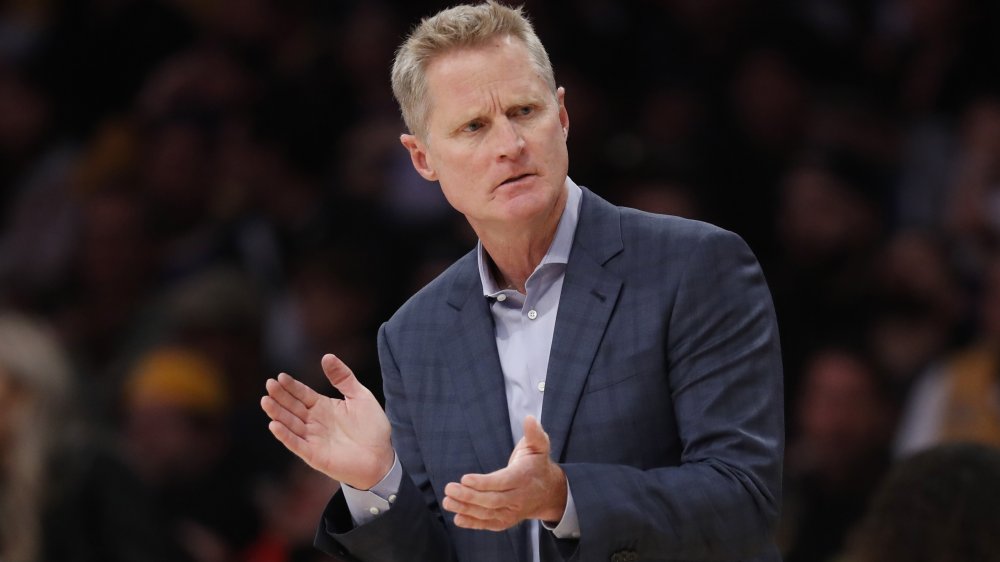 Sean M. Haffey/Getty Images
During the 2015-2016 season, Steve Kerr won the NBA Coach of the Year Award because of his success with the Golden State Warriors. In 2020, Celebrity Net Worth reported that Kerr signed a $25 million deal for five seasons back in 2014, which breaks down to $5 million a season. He signed a contract extension in 2018, but the terms of that deal have not been released, according to ESPN. The Warriors weren't the only California-based team to make major coaching decisions in 2018. The same year, the Oakland Raiders — now the Las Vegas Raiders — signed Joe Gruden to a $100 million contract. 
Business Insider reported that Kerr joked about the difference in their salaries, saying "I'm actually thrilled [about it] because [Warriors GM] Bob Myers and I had a conversation this morning and I said, 'You know, Bob, Gruden's got one title and I've got two,'" he said referencing his number of championships at the time. Kerr continued, "And a hundred mil over 10 years? I don't know. Maybe we need to talk, Bob."
In addition to making less than Gruden, Kerr is also making significantly less money than Warriors star Stephen Curry. In May 2020, IB Times reported that Curry makes seven times the amount that Kerr does, taking in at least $34 million annually. 
While the exact details of Kerr's coaching salary have not been verified publicly as of this writing, Celebrity Net Worth has reported that Kerr's net worth is an estimated $35 million, which is certainly nothing to joke about.