Rob Kardashian And Blac Chyna's Reality Show May Never Happen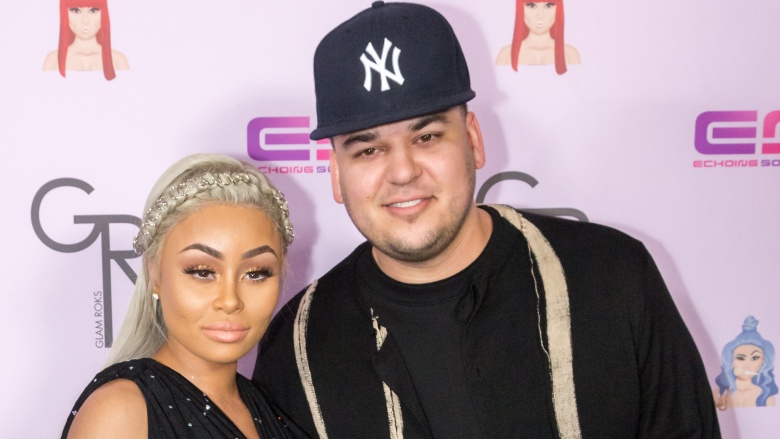 Getty Images
Rob Kardashian and Blac Chyna's reality show may be over before it even debuts. Sources close to the couple said the pair's relationship troubles are causing issues with their upcoming reality series. Reportedly, many of the issues stem from Kardashian's personal struggles with fame, privacy, and mood swings.
TMZ reported that Kardashian has been skipping filming over the last month, sending producers into a tizzy and leading Blac Chyna to go to filmed events, including a birthday party for Kardashian's grandmother, solo. A source told TMZ that Kardashian believes Keeping Up with the Kardashians ruined his family's lives and fears that his own show will do the same to his relationship with Chyna and their unborn daughter.
"Rob just got super emotional and felt too overwhelmed. He lashed out from being frustrated, and they broke things off while they were filming," a source close to the Kardashian clan told People. "They got back together hours later." The source added, "Getting back in front of the cameras has been hard on Rob as he hasn't been doing anything for a really long time now. Being in the limelight all of a sudden again is a big deal for him. He's working on himself and getting re-adjusted and taking things one step at a time, but things are definitely on the upswing for them."
An insider at Entertainment Tonight echoed that sentiment. "He is just going through one of his mood swings, which is common for him," the source said. "But he is still filming...He goes through his dark periods. He gets depressed and doesn't want to really do anything, doesn't leave the house. It got better for a bit when he first started dating Chyna, but he's in a rut now. He'll snap out of it."