The Untold Truth Of Clint Eastwood's Ex-Wives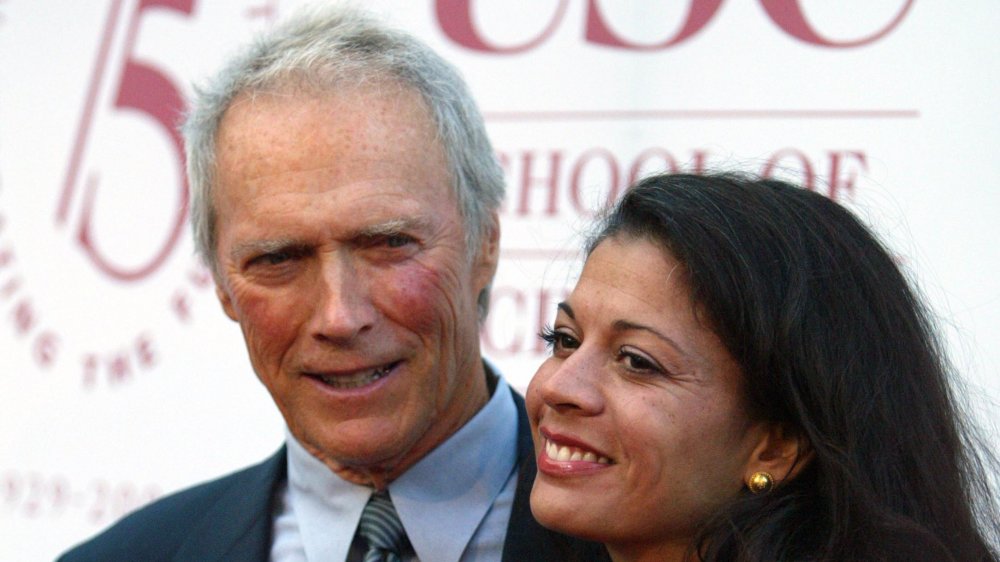 Frazer Harrison/Getty Images
What a life Clint Eastwood has had! He's left his mark on Hollywood both as an actor and director, charming the camera with such skill that Rolling Stone said of him: "There has only been one Eastwood." Along the way, Eastwood has amassed a remarkable fortune, with some wild real estate to boot. Not only that, but someone as suave and cocky as Eastwood doesn't get by without making a few enemies. In fact, it seems there's a long list of celebrities who can't stand him.
Still, there has always been something about Eastwood. According to Rolling Stone, Pauline Kael described him as "six feet four of lean, tough saint, blue-eyed and shaggy-haired, with a rugged, creased, careworn face that occasionally breaks into a mischief-filled grin." The outlet added that he's "the last movie star standing."
If that ain't heartthrob material, we don't know what is. As you might expect, Eastwood's irresistibility has meant he's had his fair share of relationships, including partnerships, marriages, and also affairs. Here's everything we know about the romantic history of our Spaghetti Western hunk, Clint Eastwood.
Clint Eastwood cheated on his first wife before they were even married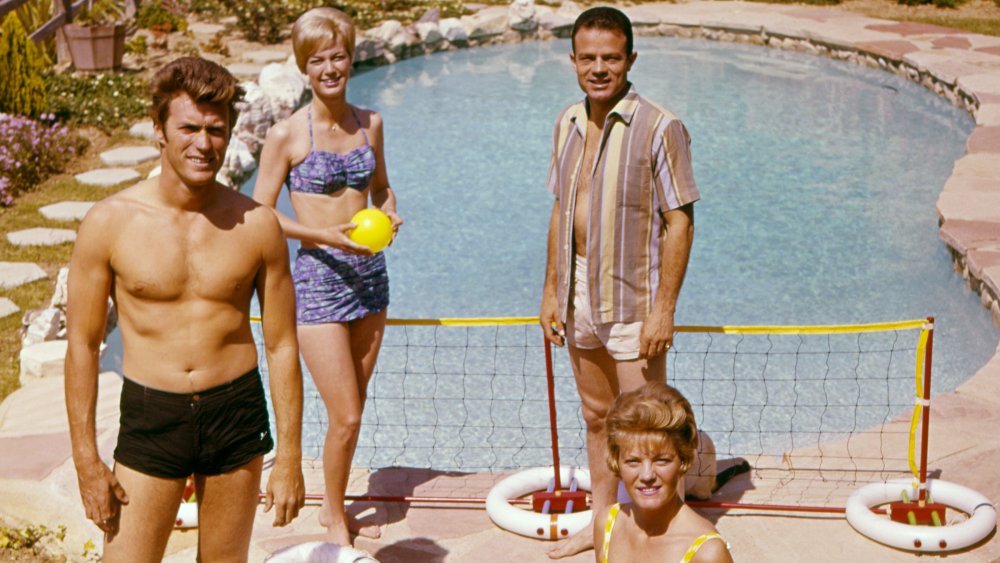 Silver Screen Collection/Getty Images
Even before Clint Eastwood married his first wife, Maggie Johnson (pictured, kneeling in foreground), he began having affairs. According to the Mirror, when Eastwood was engaged to Johnson, he had a passionate relationship with an unnamed woman and when she became pregnant, she gave the child up for adoption without telling Eastwood. The daughter, Laurie Murray, was shocked to discover Eastwood was her father when she began looking into her biological parents as an adult.
Then, from 1959-1973, Eastwood had a long term affair with stuntwoman and actress Roxanne Tunis while he was still married to Johnson. They met on the set of the TV western Rawhide. According to the Independent, this affair also resulted in a child who was kept secret from Eastwood: "In 1964, Eastwood was unaware that Roxanne Tunis had given birth to his daughter that June." Tunis wanted to keep her pregnancy a secret from Eastwood, according to the outlet, because he was still married.
The child, a daughter named Kimber, has had a difficult relationship with her father. According to the Independent, "Kimber has made conflicting statements about her father: once, that he has always been there for her; another time, that she 'tried to make an appointment to see him, but he always has other commitments.'" Meanwhile, the outlet points out that Eastwood "has said precious little about her."
Clint Eastwood's many affairs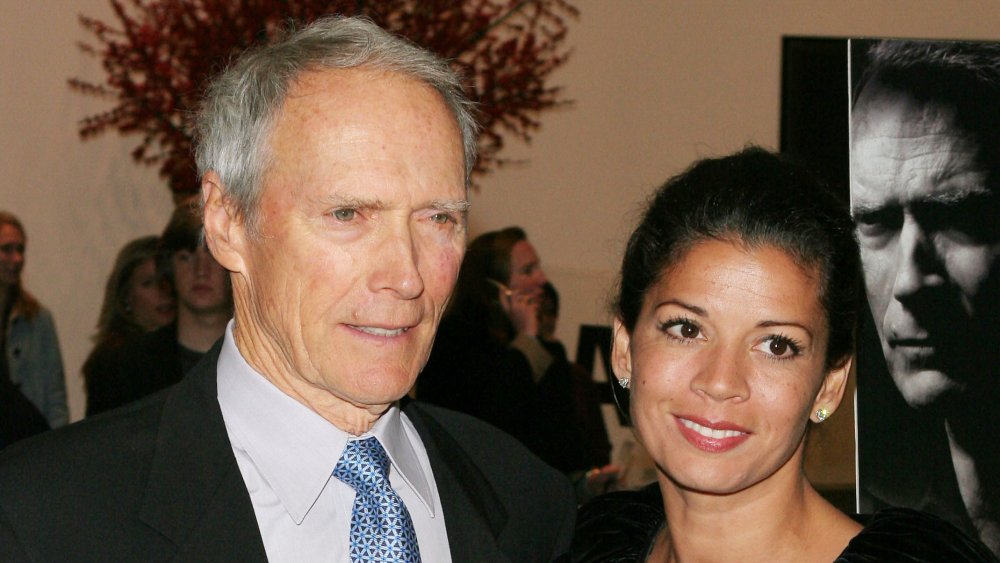 Peter Kramer/Getty Images
Clint Eastwood didn't stop having affairs while married to Maggie Johnson, though he and Johnson had two children together. According to Inquisitr, Eastwood met actress Sondra Locke in 1976 while filming The Outlaw Josey Wales. They began dating right away in what Locke described to The Wandrin Star as "love at first sight."
Like Eastwood, Locke was also married except her husband, Gordon Anderson, was her lifelong best friend. He was openly gay and their marriage was not a romantic one, per Inquisitr. They moved in together and Eastwood eventually divorced Johnson, spending the last five years of their marriage living with Locke, according to the Independent. Eastwood had to pay Johnson $25 million, according to Radar Online, in their divorce.
Meanwhile, in a very private affair, Eastwood fathered two children with a flight attendant, Jacelyn Reeves. The year before Eastwood and Locke parted, Eastwood began dating actress Frances Fisher and together, they had a daughter, Francesca, according to the Independent. Locke and Eastwood parted ways in 1989. Eastwood and Fisher lived together for six years but during that time, he started seeing Dina Ruiz (pictured), whom Eastwood ended up marrying. Together, they had a daughter named Morgan. According to Radar Online, Eastwood and Ruiz divorced in 2013 and he has been spotted dating other women.