Tyga's Legal Issues May Hurt The Kardashian Brand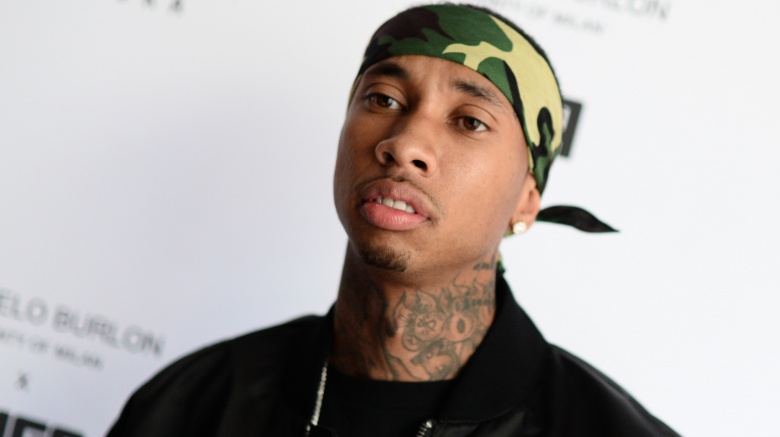 Getty Images
Tyga is in hot water with the law—and with his girlfriend's family.
A bench warrant was issued for the rapper's arrest on Aug. 9, 2016 when he was a no-show in court. TMZ reports that Tyga was supposed to appear for questioning from his former landlord's attorneys. Said landlord sued him in 2012 for back rent and property damage for a Malibu apartment and won a $480,000 judgment. Tyga never paid up, despite reportedly blowing $220,000 on a Maybach for girlfriend Kylie Jenner's birthday. Tyga's landlord claims the new whip is a fraudulent transfer of funds that could have gone toward paying the judgment.
Tyga reportedly missed court because he was vacationing with Kylie in Turks and Caicos.
TMZ said Kylie's family—the Kardashian brood—is furious with Tyga for potentially damaging their brand. Family members allegedly fear that if Tyga gets pulled over and arrested while with Kylie, the press will have a field day. Tyga reportedly hired an attorney to deal with the mess he's made, but he may want to hire an accountant, too, because he has more financial problems than just this one.
Page Six reported in February 2016 that yet another landlord was evicting Tyga from a house in the Hollywood Hills, and he reportedly owed $70,000 and $80,000 to two different landlords for two different rental properties in California. Brian Warner of Celebrity Net Worth told Page Six, "I would estimate [Tyga] has about $1 million in cash in the bank, but everything else is on credit. He is a potentially high-earning person who has a lot of singles and can tour and make a lot of money, but he's not doing intelligent things with it." Warner also noted that Tyga was previously worth about $5 million, meaning he's been losing, not making, money in the last few years.
Bear in mind, this is the same man who dumped his fiancée and mother of his child, Blac Chyna, to be with Jenner; who may face a lawsuit for his team allegedly assaulting two members of EDM band Cash Cash; who faced legal action for the unlawful possession of a tiger; and whose toddler son learned the b-word from him...yet a missed court date is what the Kardashians supposedly fear will damage their brand—a brand launched by Kim Kardashian's sex tape? Right.