The Truth About Alicia Silverstone's Parenting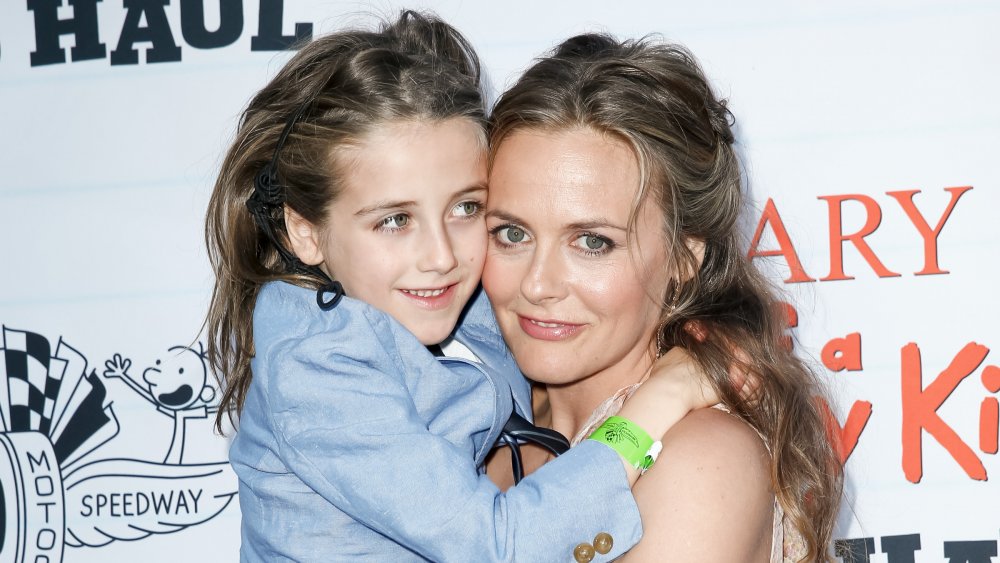 Michael Hickey/Getty Images
For actress Alicia Silverstone, peace in the time of coronavirus means focusing on the activities that offer comfort. From cooking and yoga, to journaling and meditation, the Clueless actress embraces "sensible self-nourishment" at every turn. But apparently Silverstone's favorite pastime happens to be her most controversial, too, as it involves her 9-year-old son Bear Blu.
"My son and I take baths together," Silverstone revealed to the New York Times in an interview published May 31, 2020, "and when he's not with me, I take a bath and that really feels nourishing and comforting." Since Silverstone and ex-husband Christopher Jarecki welcomed Bear Blu in May 2011, the 43-year-old's parenting techniques have attracted public criticism on numerous occasions. Silverstone first faced scrutiny after posting a video of her son eating pre-chewed food directly from her mouth, and after an appearance on The Late Show with Stephen Colbert, Silverstone came under fire again when she admitted Bear tried to French kiss her upon seeing Clueless for the first time.
But as Silverstone told People in January 2020, Bear's birth taught her to "be right there in the moment" — and that's one truth naysayers can't deride. "I had so much going on in my world and in my emotions, and when he was born it was like the whole world stopped," the Beauty Shop star explained. "Everything froze, and it was just absolute bliss being with him... Just taking care of him was just such a pleasure." And this bond has only gotten stronger.
Alicia Silverstone credits her family's healthy lifestyle for her son's good behavior
As author of The Kind Diet and The Kind Mama, actress Alicia Silverstone has raised son Bear Blu to eat "clean" foods because, as she told Us Weekly in August 2019, "when your kid feels good, they act well." Critics chastised Silverstone for her son's vegan diet, but she attributes the fact that she "never had to raise [her voice]" to the fact that his body has always been well nourished.
"Because of the healthy lifestyle that we lead, he didn't go through terrible twos and terrible threes," she explained to People in a January 2020 interview. "There wasn't really much of that. When you're really meeting their needs, and you really understand what they want and need... I didn't find any of that." And when you pause to consider that Bear's favorite food happens to be kale, it's hard to deny that Silverstone might be onto something.
"The food I choose for myself and for him keeps us calm and centered," Silverstone similarly told TODAY in May 2020. "That is my parenting trick, that's my tool. When I eat well, I sleep well and then I can be really really patient for each little morsel of his being. We only have so much time with these monkeys." Sure, her parenting approach may not be conventional, but when it comes to raising children, it's all about finding that balance that works for you and your family.
Alicia Silverstone's 'no, thank you' method laid the foundation for mutual respect
Punishment might seem par for the course when it comes to raising a child, but Alicia Silverstone never reprimands her son Bear. Instead, the dedicated mother has established an approach that prioritizes respect. "There [have been] moments where there were things we had to redirect and correct, of course, but it just wasn't the fight that you hear about," she told People. "The most I have to say is, 'No thank you, Bear.' And he goes, 'Okay.' That's my reprimanding. And he's got it. Because he respects me and I respect him."
Silverstone prefers to focus on the fact that her son "reminds [her] to be absolutely present, because [she doesn't] want to miss a moment of him, and [she doesn't] want him to feel like anything is more important than him." While she ensures that he knows there are times when she has to work and the world doesn't always revolve around him, the actress recognizes it's important to spend as much time together as possible.
"It's not some kind of spoiled thing. It's just that when you love someone, you want to take them in and soak them in. And many of us didn't get that," Silverstone added. "If he starts to cry, I listen. If he's upset about something, I stop and I talk to him about it. You'd be surprised [at] how much [you notice] that other people don't." What a sweet relationship!