Whoopi Goldberg's Granddaughter Takes After The Legend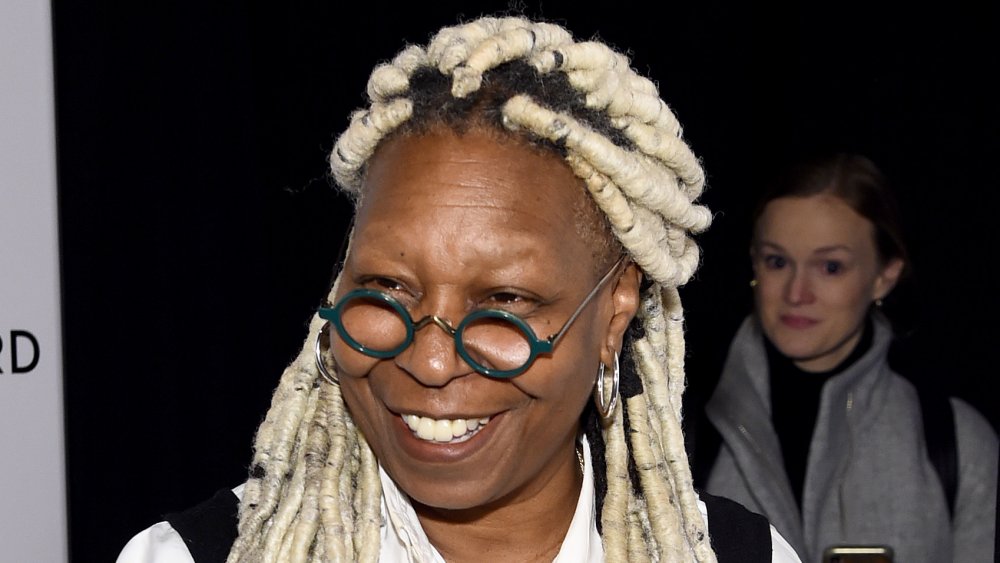 Jamie Mccarthy/Getty Images
Whoopi Goldberg — born Caryn Elaine Johnson — is a leading name in comedy and film. Her iconic roles have shifted cultural conversations, especially in relation to the black American perspective during a time when many didn't have any other representation. Her lead role in the 1985 film adaptation of Alice Walker's novel The Color Purple is still discussed in academic settings today, so to be able to say you personally know the award-winning legend — EGOT winner, to be exact — is called, as the kids say today, "a flex." 
Actress and producer Alexandrea "Alex" Martin is Whoopi's only child with first husband Alvin Martin. Through Alexandrea, Goldberg's lineage has continued through her three grandchildren (Amarah Skye, Jerzey, and Mason Dean) and one great-grandchild. Granddaughter Amarah Skye clearly has talent built into her bones and is drawing artistic inspiration from her legendary grandmother.  
Whoopi Goldberg's granddaughter is a talented artist
Whoopi Goldberg's granddaughter, Amarah Skye Martin, inherited her grandmother's infectious smile and flair for the arts. Martin is making a name for herself as a visual artist specializing in acrylic and spray paints and mixed media.
In a 2018 interview with The Knockturnal, Martin talked about her art career and her famous family tree. "Having Whoopi as my grandmother definitely influenced me a lot to be creative, I used to want to act but I wasn't that great at it. So I took art classes instead and found that I like doing that more," she said. "Also, my mom [Alexandrea "Alex" Martin] can draw and I used to try to mimic her drawings. I wanted to become an artist because I felt it was a great way to express myself therapeutically."
Martin said she draws inspiration from her personal obstacles. "I illustrate my feelings similar to writing in a diary," she said. "I've had a crazy past and the experiences I've had, those times are what inspires me the most."
Whoopi Goldberg became a great-grandmother at 58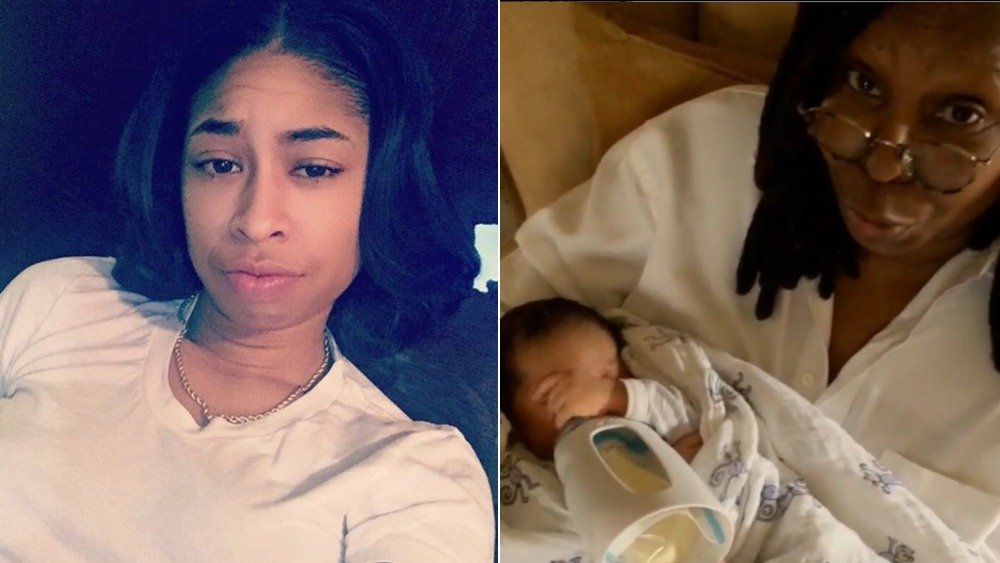 Instagram
Amarah Skye Martin gave birth to her first child in 2014, making Whoopi Goldberg a great-grandmother at age 58. Goldberg shared the happy news on Instagram with a video of her feeding the little bundle of joy. "This is Charli Rose, and I'm doing something I probably haven't done in — I don't know — 40 years?" the smitten great-grandma said. She added the hashtag: #thankGod4newlife!" 
About three years later, Goldberg gushed about Charli to talk show host Rachael Ray, explaining that the little one has been very dramatic from an early age and even picked up an adorable Spanish accent from one of Goldberg's long-time Honduran employees. Goldberg said "Chuck" is "very direct and calls her "Oopi" (Who needs that "W" anyway?) Goldberg said Charli "doesn't like to be babied." In fact, the legendary entertainer has gotten a kick out of comparing her experience with her great-granddaughter to her prior experiences with her own daughter. "Babies now, they come out; they're looking at things; they're swiping," Whoopi mused. "They're two days old [and] they're looking for their favorite YouTube channel." 
Grandmothering looks good on Goldberg, and it will be exciting to watch this family tree continue to grow and evolve.