Inside The Tension Between Melania And Ivanka Trump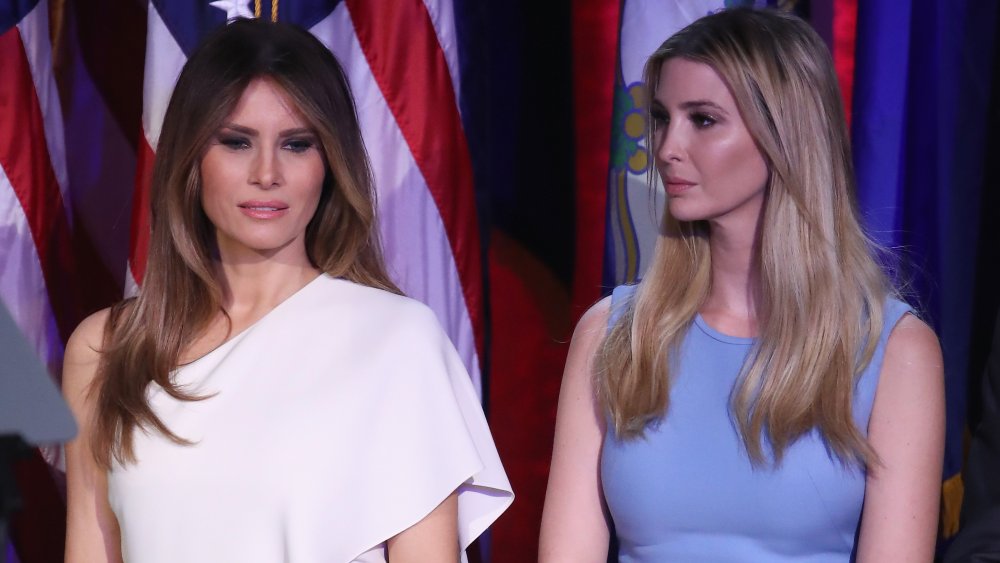 Mark Wilson/Getty Images
In front of the cameras, First Lady Melania Trump and First Daughter Ivanka Trump defy the stepmother/stepdaughter stereotype, as they've always appeared friendly. However, these two might not be as cordial as it appears. According to an excerpt from Mary Jordan's new biography about Melania, The Art of Her Deal, Ivanka tried to step on the first lady's toes during the earliest days of Donald Trump's presidency.
The snippet from Jordan's book alleges that Ivanka tried to put her own personal touch on the White House while Melania initially remained in New York City (via The Washington Post). During this interim, the first lady lost out on some of her own budget as funds were "diverted to support those in the West Wing, including Ivanka." Ivanka even wanted to rename the "First Lady's Office" to the "First Family Office." But Melania "did not allow that to happen," and established "firm boundaries" so Ivanka wouldn't get too comfortable at the White House.
"[Ivanka] treated the private residence as if it were her own home," Jordan wrote. "Melania did not like it. When she and Barron finally moved in, she put an end to the 'revolving door.'"
Sean Spicer, Donald's former communications director, also told Jordan that Melania has become Donald's greatest adviser, saying, "Melania is very behind-the-scenes but unbelievably influential... she lets the president know what she thinks, and he takes her views very seriously."
But what do these women really think about each other?
Their relationship changed after President Trump's election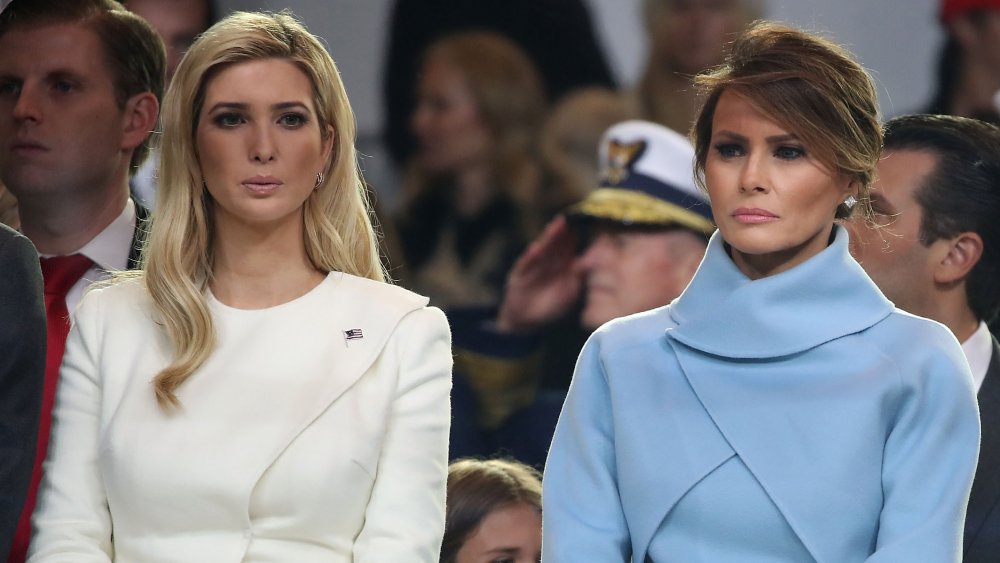 Mark Wilson/Getty Images
According to CNN, Donald Trump's election altered the relationship between First Lady Melania Trump and her stepdaughter Ivanka Trump. While Melania typically prefers to remain private and stay out of the limelight, Ivanka has stepped in as Donald's senior adviser, taking on many of the duties a first lady would normally tend to. 
While there's an obvious awkwardness to this arrangement, the two appear to like and respect one another. As Ivanka's mom, Ivana Trump, told The Atlantic, both women get along "because [Melania] didn't cause me to break up the marriage like the other one—I don't even want to pronounce her name," she said, referencing Marla Maples, the woman with whom Donald cheated and ultimately married.
And despite reports of tension, Melania's spokeswoman wrote Mary Jordan's book off as "fiction."
"Yet another book about Mrs. Trump with false information and sources," Stephanie Grisham said, per People. Grisham also told The Atlantic that Ivanka and Melania have always had a "close relationship."
Ivanka even praised her stepmom in the dedication section of her book Women Who Work. "Melania, you are an unbelievable mother with a heart of gold," Ivanka wrote. "You give generously of your time and attention and I appreciate your support and friendship." Melania also told Harper's Bazaar that she does not see herself as a mother to Trump's adult children. Instead, she considers them friends and she's "here when they need me."
Case closed!