The Untold Truth Of Kelly Dodd
Jerod Harris/Getty Images
Real Housewives of Orange County star Kelly Dodd never disappoints when it comes to bringing the drama, whether she's feuding with her co-stars or stirring the pot on social media. Dodd, who joined RHOC in 2016 for Season 11, mostly butted heads with Tamra Judge and Vicki Gunvalson, who exited the show in January 2020. But just because Vicki and Tamra no longer hold the coveted orange, it doesn't mean their beef with Kelly has ended — in fact, some might argue it's just getting started.
Case in point: In June 2020, Tamra called for Bravo to fire Dodd after a problematic interview she did with TMZ in 2016 resurfaced. "I don't like black guys," she said in the clip. I don't even know any black guys." Kelly told TMZ in a follow-up statement, "That video does not represent who I really am and I apologize for acting irresponsibly."
In an Instagram chat with fans, Tamra argued that Kelly should have been fired along with Vanderpump Rules stars Stassi Schroeder and Kristen Doute, who were axed for racist behavior, E! News noted. 
However, Tamra caught heat when she called her Mexican-born husband, Eddie Judge, a "beaner" (an offensive slur) during a 2013 episode. "If I was racist I wouldn't be getting married to @eddiejudge," she tweeted about the criticism. "Beaner & cracker....those are our nicknames. Relax!"
So who is Kelly outside of this drama? Let's take a deep dive into her complicated background.
Kelly Dodd reminds fans she's a 'woman of color'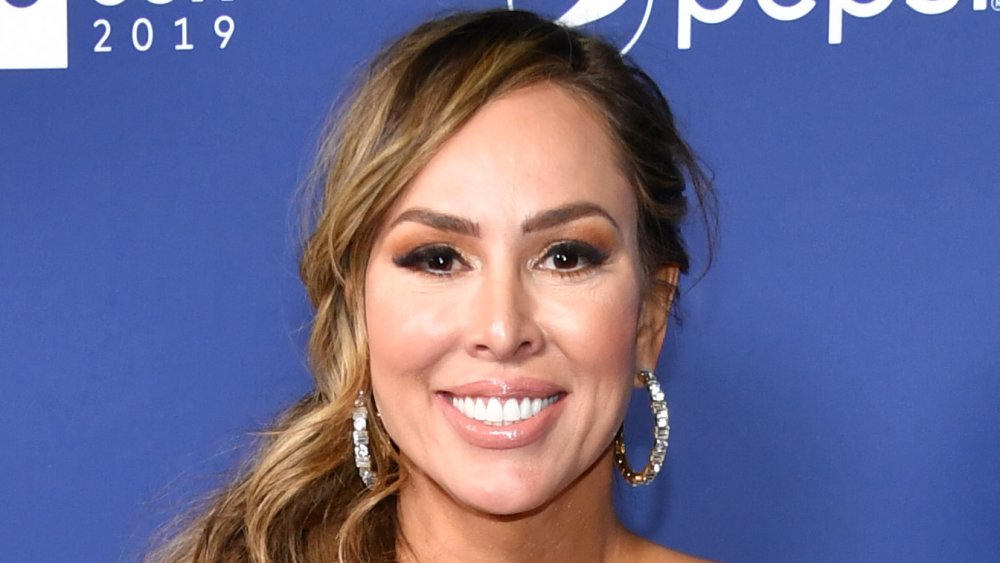 Dimitrios Kambouris/Getty Images
Kelly Dodd's beef with Tamra Judge has brought renewed interest in her life and background, topics the Arizona native is more than happy to discuss with fans. A perfect example of this? When a fan asked Dodd via Instagram whether she believed her being of Mexican descent made her innocent of racist behavior, she replied (via People), "I've experienced racism personally .. I'm a woman of color and love everyone!" She reiterated this sentiment in 2019, telling a fan on Twitter, "I'm Mexican... I'm of color."
As for Kelly's upbringing, she lived in Scottsdale, Ariz. until she was 5, and then moved to "North Phoenix," as she revealed on Twitter. She then went to college at Arizona State University (ASU). "Nothing beats the sunsets like in Arizona," she said in a 2017 interview with ABC15's Nick Ciletti.
It's clear Kelly's childhood in sunny Arizona played a role in why she didn't like living in San Francisco with her ex-husband, Michael Dodd, who she married in 2006 and welcomed a daughter with that same year. "The weather was horrible," she revealed to Glamour. "I didn't want my daughter to grow up there. I did not want my daughter to have that childhood-in-the-city life."
Kelly and Michael later moved to Orange County, Calif., and the rest is history.
Where does Kelly Dodd stand with her mom?
Not only has Kelly Dodd feuded with her RHOC co-stars, but she has also clashed with her mom, Bobbi, and brother, Eric. Both family members were featured on the show as they lived with Kelly for a few years before moving back to Arizona following a blowout. So what went wrong? 
"My mother and my little brother, Eric, used to live with me a couple of years ago," Kelly explained during a Season 14 episode of RHOC (via The Daily Dish). "They said, it'll only be a few months. Well, those few months turned into a year and a half and I felt like my mom and Eric were taking advantage of me, and it caused my mom and me to get in a big, huge fight."
Kelly gave an update on her family sitch in September 2019, telling ET Online, "I'm on really good terms with my brother and my mom. They were at my house all weekend, for a week. They've come twice this summer, 'cause they live in Arizona. So, yeah, I mean, we are back to where we were before. So, you know, there's this really good thing about the show is that it really brought my mom and my brother [and me] back together."
Bobbi visited Kelly in December 2019, so it looks like they're continuing down a good path.
Now that we've looked into Kelly's life, let's examine the untold truth of Vicki Gunvalson.