The Truth About Guy Fieri And Anthony Bourdain's Feud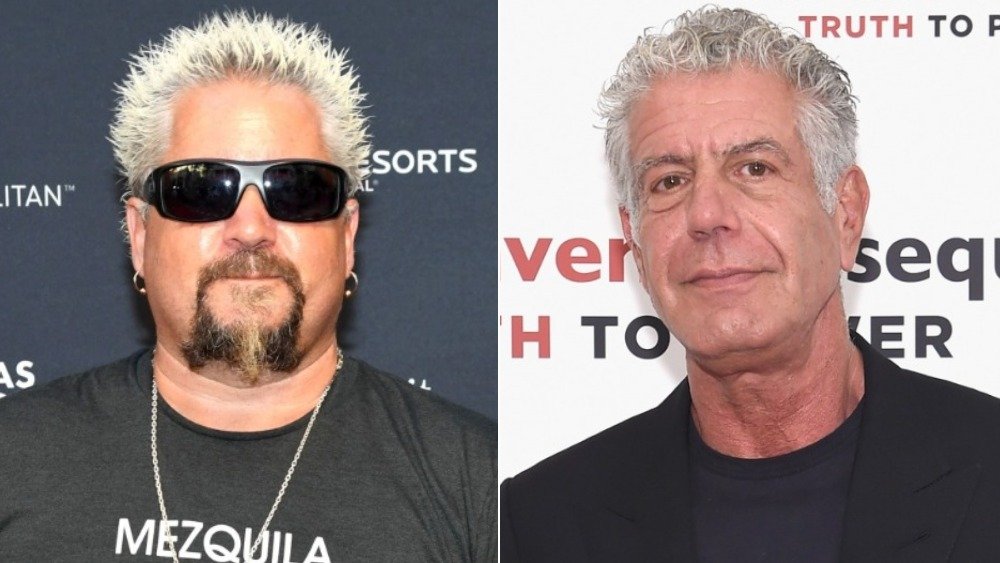 Ethan Miller, Jamie Mccarthy/Getty Images
Celebrity chef Guy Fieri and the late chef Anthony Bourdain never really got along, despite running in the same famous food circles. Their feud dates back to 2008 and lasted for a handful of years. The two were wildly different when it came to their careers — Fieri being more off-the-cuff and casual compared to Bourdain's refined, upscale tastes.
In 2008, when the drama began, Bourdain said in an interview with TV Guide that the Diners, Drive-Ins, and Dives host reminded him of a Simpsons character. Not too bad of a dig, but a dig nonetheless. Fieri was pretty fresh off his win of Food Network Star in 2006, so that might be why he chose not to respond to the remark for quite some time.
In fact, Bourdain came for Fieri a couple more times before the mayor of Flavortown ever fired back. During a 2011 TV Guide story, Bourdain laid out which celebrity chefs he doesn't care for, and naturally Fieri was on that list. He said, "I look at Guy Fieri and I just think, 'Jesus, I'm glad that's not me.' You work that hard and there's not a single show of yours that you'd want to sit down and say, 'Hey, I made that last week. Look at that camera work. It's really good, huh?' I'm proud of what I do."
So, what happened next between these two foodies?
Guy Fieri might've gone too far at Anthony Bourdain's roast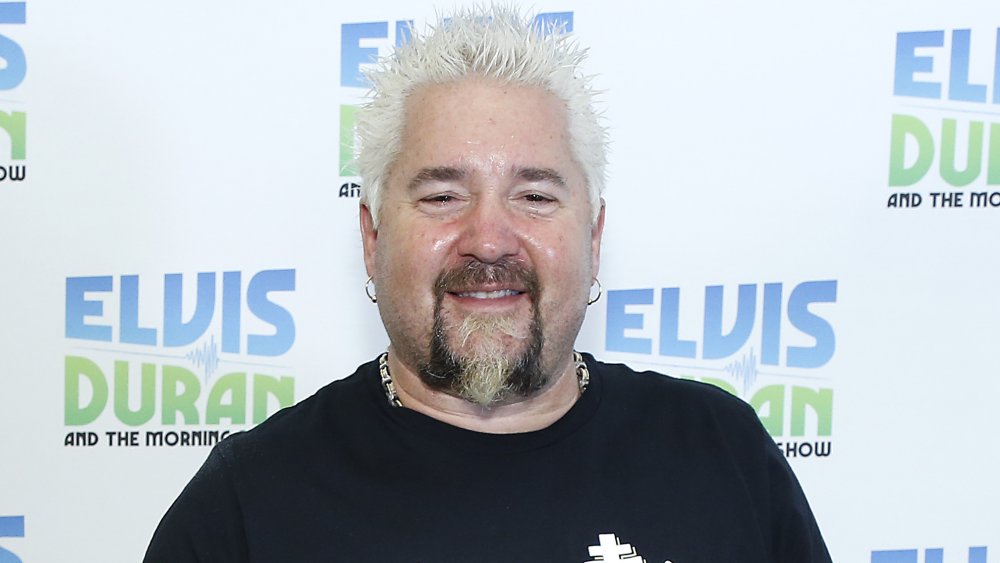 John Lamparski/Getty Images
Perhaps Guy Fieri took things a little too far during Anthony Bourdain's roast in 2012. This was when Fieri finally addressed Bourdain's near-constant ribbing, according to Thrillist. At a roast of the popular chef, Fieri said, "I want everyone to understand that I'm going to be the bigger man. I'm going to take the high road. I wouldn't dare come up here and call Anthony Bourdain any of these things that people have called him: No-good, loud mouth, jerkoff, wannabe authority, pseudo rebel, nerd, s***-talking, blow hard, celebrity-seeking, Eric-Ripert coattail, Mario Batali ass-kissing hate monger... Jose Canseco of the food world, snaggle tooth, Lurch-looking motherf**ker. No, I'm here to take the high road."
But Fieri went one step further and mentioned Bourdain's drug use as a joke. "Anthony, I gotta ask a question, why do you hate me so much brother? ... Is it because you went to a fancy culinary school and I didn't? I hear you're the only one in class who did most of his cooking with a spoon and a Bic lighter," Fieri said, per Thrillist.
While Bourdain had been very open about his mental wellness and drug use, it's different to have someone else (especially someone you don't really like) turn it into a joke.
Guy Fieri's feud with Anthony Bourdain petered out before Bourdain's death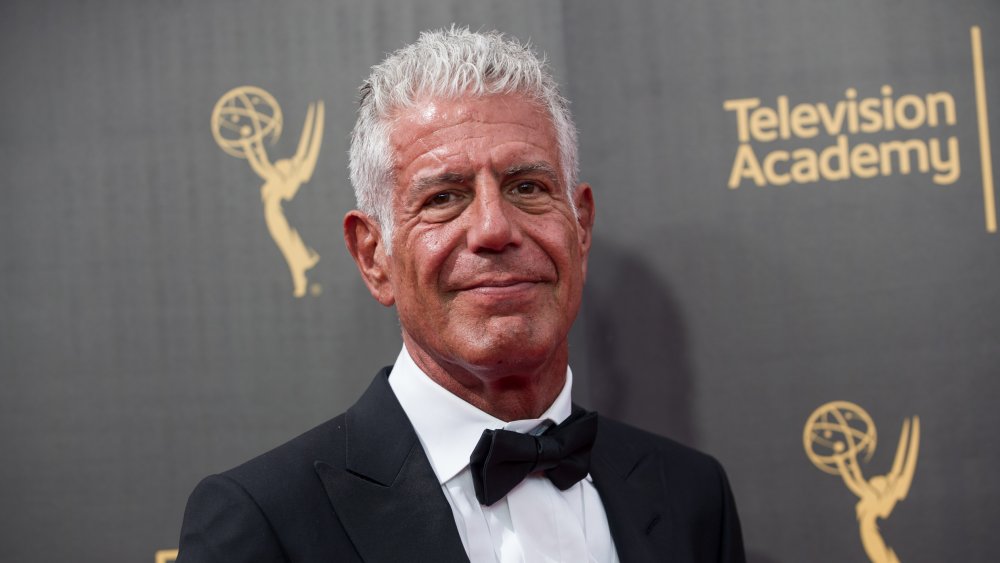 Emma Mcintyre/Getty Images
Both chefs had a few other smart-mouthed remarks to say about one another for the next few years, including Guy Fieri telling GQ in 2015, "I don't like him making fun of people, and I don't like him talking s**t. And he's never talked s**t to my face." The feud petered out, however, shortly before Anthony Bourdain passed away in 2018 at age 61.
When Bourdain died by suicide in France, Guy Fieri chose not to address his death. Cheatsheet noted that while some fans took that as a negative remark from Fieri, it's possible that he believed his silence is what Bourdain would have wanted. After all, Bourdain did most of the ribbing in their feud, and Fieri mostly sat back and took it. Whatever the case, the two shared a lively — though pretty harmless — battle of wills for years. And throughout it all, both remained highly popular and well-respected by both their fans and the food industry as a whole.
If you or someone you know is having suicidal thoughts, please call the National Suicide Prevention Lifeline at 1-800-273-TALK (8255) or text HOME to the Crisis Text Line at 741741.
If you or someone you know is struggling with substance abuse and mental health, please contact SAMHSA's 24-hour National Helpline at 1-800-662-HELP (4357).