The Truth About Chris Evans And Lily James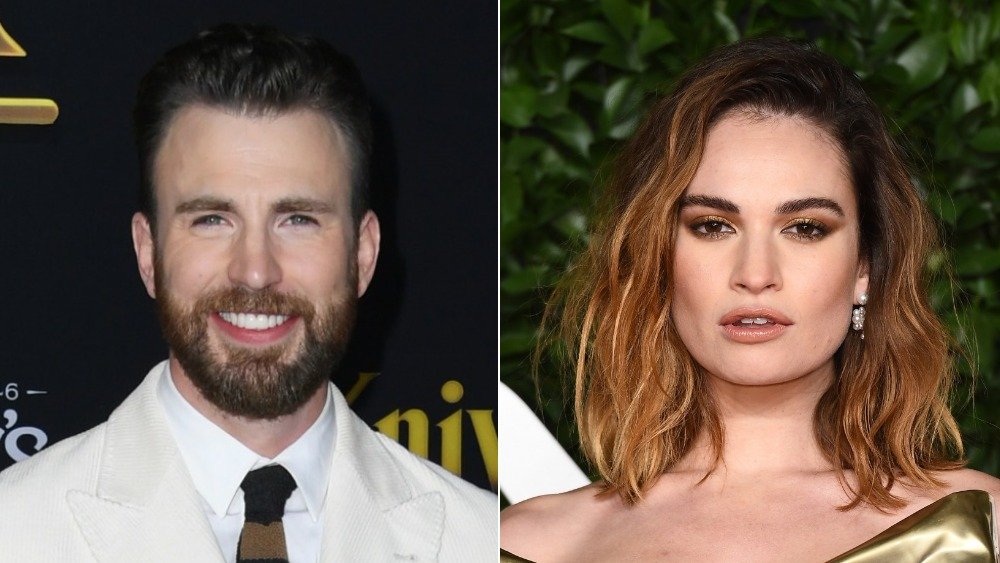 Jon Kopaloff, Jeff Spicer/bfc/Getty Images
It's arguably safe to say Chris Evans is a hot commodity in Hollywood. Not only does Evans portray Captain America in the Marvel universe, but he has also starred in other successful movies, including Knives Out, The Avengers, Gifted, and Snowpiercer. What's more? The Massachusetts native is making waves in AppleTV+'s hit series, Defending Jacob, in which he plays a district attorney who tries to protect his 14-year-old son after he is accused of murdering his classmate.
Evans has been in the spotlight for quite some time, but one question remains: Who is he dating? The actor is rather private about his personal life (although he does love posting pictures of his dog on his Twitter account) since his last public relationship was with comedian Jenny Slate in 2016. The former flames called it quits in 2017 after dating for almost a year, but they later rekindled their romance for a short while, per Us Weekly. Ultimately, the pair broke up for good in March 2018, Evans confirmed to The New York Times. 
However, the heartthrob might be off the market once again since he was spotted with Mamma Mia star Lily James in London on July 4, 2020. Talk about fireworks! The U.K. native is seemingly single, as she and Matt Smith, her boyfriend of five years, sparked split rumors in December, E! News noted. So the timing would be perfect. 
So, what is going on between the two A-list stars? We get to the bottom of it below.
Chris Evans and Lily James enjoyed a night out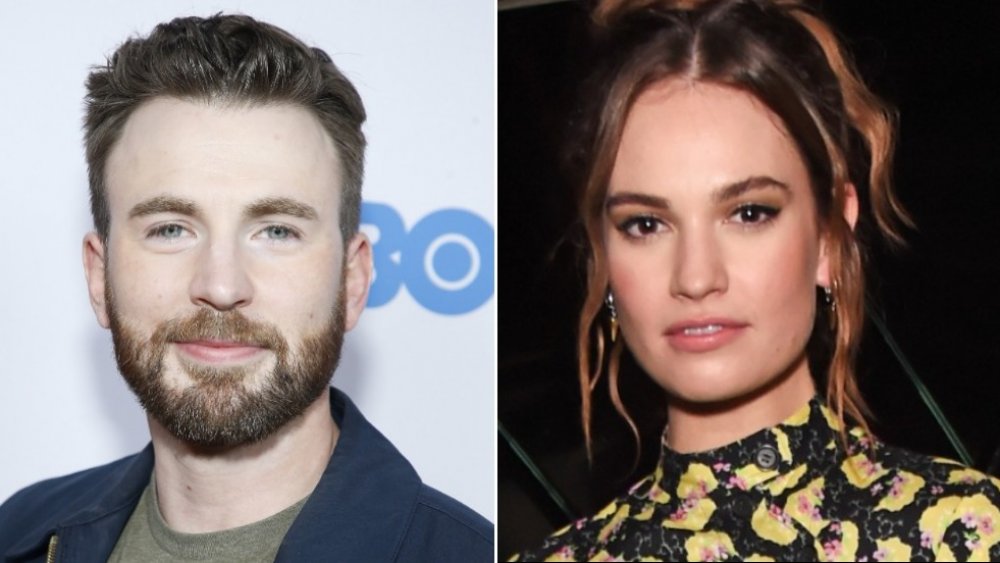 John Lamparski, David M. Benett/Getty Images
Chris Evans and Lily James were spotted out together in London on the evening of July 4, 2020, photos published by the Daily Mail show. The Yesterday actor stunned in a red gown with heels, while Evans looked dapper in a black suit with gray suede shoes. After the A-listers attended a party at Mark's Club in the Mayfair neighborhood of the city, they supposedly shared a cab to Evan's hotel, The Corinthia, where they arrived "just before 1 a.m.," the outlet reported. However, the pair reportedly entered the building through different entrances — Evans used the main door, while James walked to the back of the hotel — according to the British tabloid. 
It's unclear how the two first met since James lives in North London. What we do know? Evans might be spending more time across the pond as "large-scale film and TV production is set to resume" in July 2020 following a pause due to the coronavirus pandemic, per ScreenDaily.com. 
So, we should be coming up with a nickname for these two just yet? (For the record, we like #Chrily or #Lilis.) Well, the answer is unclear at the moment, but one thing is for sure: Many fans ship this potential new couple. 
Chris Evans seems to have a type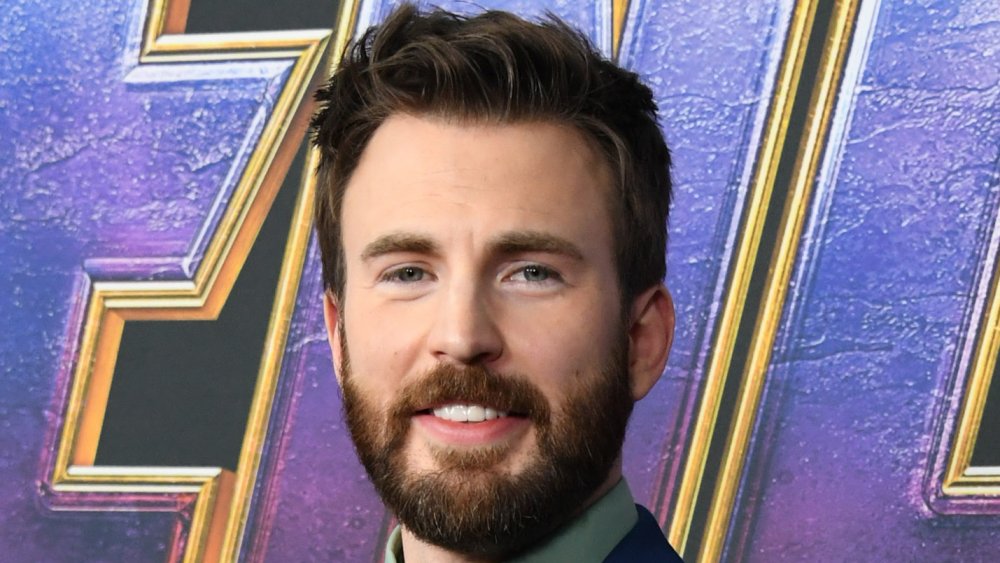 Jon Kopaloff/Getty Images
After the Captain America star was spotted with Lily James in London, rumors swirled that the two might be the new "it" couple in Tinseltown. Even though Evans hasn't settled down with someone special in the past few years, he has reportedly dated his fair share of Hollywood actresses — Jessica Biel, Minka Kelly, and Jenny Slate, to name a few stars, per Us Weekly. And if you didn't catch the drift from that list, it seems like Evans prefers to romance people in the entertainment industry.
"There's a certain shared life experience that is tough for someone else who's not in this industry to kind of wrap their head around," Evans told Esquire magazine in 2017 about why he finds comfort in dating other stars in the entertainment business. "Letting someone go to work with someone for three months and they won't see them. It really, it certainly puts the relationship to the test."
But is Evans — who has never been married — ready to settle down once and for all? It sure sounds like it! "I really want kids," he told Men's Journal in May 2019. "Yeah, I do. I like pretty pedestrian, domestic things. I want a wife, I want kids. I like ceremony. I want to carve pumpkins and decorate Christmas trees and s**t like that."
Could James be the perfect lady for Evans? Only time will tell.