Bindi Irwin Has Grown Up To Be Gorgeous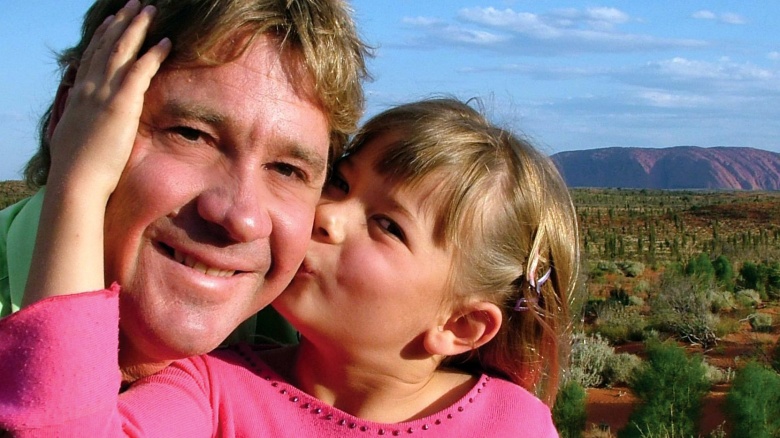 Getty Images
Bindi Irwin was already following in her crocodile-hunting father Steve Irwin's footsteps long before he suddenly passed away at the age of 44 in 2006. The world-renowned nature lover has since been gone for about a decade, and his daughter has grown up to be a true chip off the old block while continuing his legacy.
She starred in her own nature show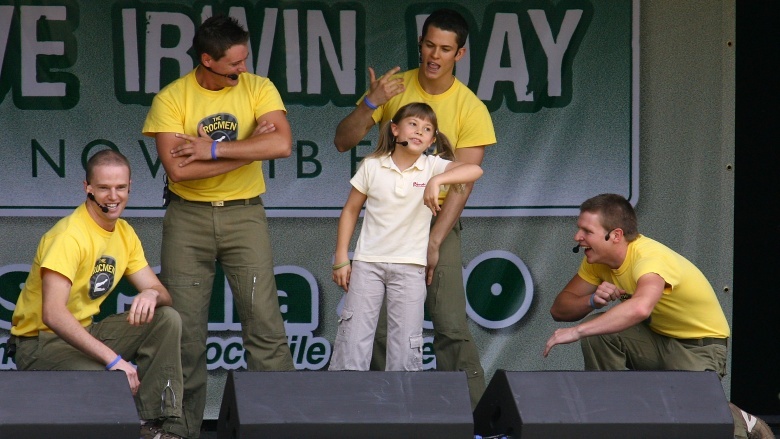 Getty Images
Irwin was just three when she started proving she had the chops to handle croc chompers too, and she was given her own animal-centric docuseries, Bindi the Jungle Girl, when she was eight. Her father recorded appearances for several episodes of the show (as well as her exercise video Bindi KidFitness) before his untimely death and had big hopes for his little girl's on-screen success. He was once quoted as saying he "just wanted to be co-star to my daughter."
As a tribute to Steve's life's work and message, Bindi and her mother, Terri, decided to carry on with her TV series after his death and continued spreading their family's love for all living things. The show, which premiered the summer after his passing, earned her a Daytime Emmy Award for outstanding performer in a Children's Series at just nine (a record-breaking age for the prize). She and the show's musical performers—the Crocmen and the Jungle Girls—also released an album called Trouble in the Jungle.
She vowed to pick up her dad's torch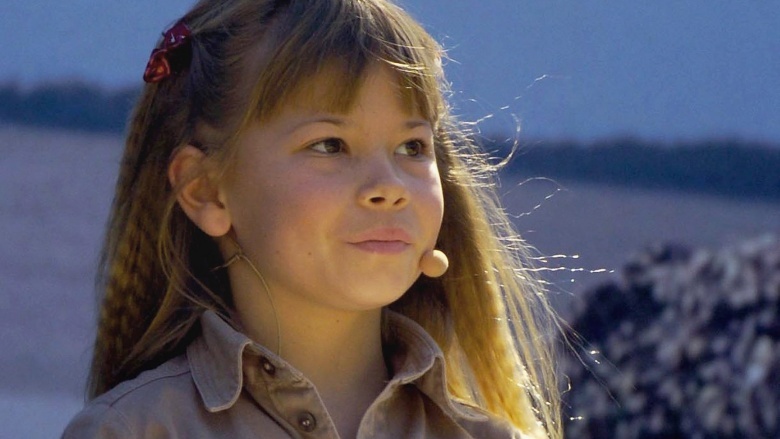 Getty Images
When Steve Irwin was fatally wounded by a stingray barb while filming another show, it was his daughter who braved the big crowd during his memorial service at the Australia Zoo, which the Irwin family founded and Steve and Terri had improved. She delivered a touching spoken tribute to her father, championing his lifelong effort to "change the world" and encouraging others to cherish and protect wildlife. It was during her celebrated speech that the then-pint-sized Bindi Irwin announced her own intention to carry on his mission, saying, "I don't want Daddy's passion to ever end. I want to help endangered wildlife, just like he did." And indeed, much of what she's done since has reflected that pledge in some way.
She was named tourism ambassador for Australia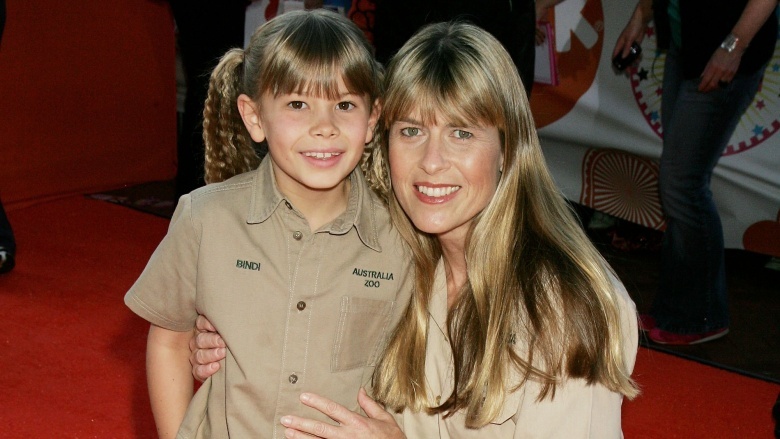 Getty Images
Shortly after her moving speech, Bindi and her mother were chosen to represent Australia's tourism interests abroad. They appearanced on The Late Show with David Letterman, Larry King Live, and singing at the Macy's Thanksgiving Day parade to tout the outback. Bindi's promotional rounds would hardly end there, but it was an important step in proving that the Irwin legacy would live on.
She's tried her hand at a few other careers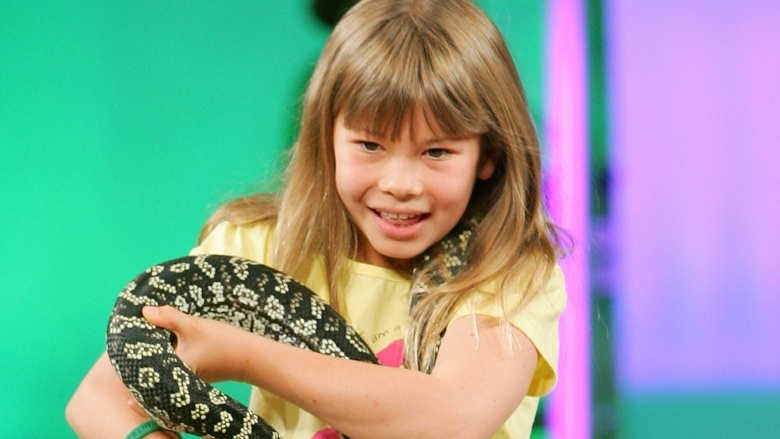 Getty Images
Another way Bindi promoted the Australian Zoo was by hosting an on-site reality competition called Bindi's Bootcamp. The show challenged young teams to test their knowledge of nature with challenges involving real-life creatures, wilderness settings, and obstacle courses. She also served as the small-screen face of the zoo on other shows, such as Jon & Kate Plus 8, The Oprah Winfrey Show, Live! With Kelly, The Bonnie Hunt Show, Today, and The Ellen DeGeneres Show to talk about her family's work.
Bindi also launched her own clothing line for the zoo called Bindi Wear, and, as an avid reader, she began to document her many global experiences in a co-written young reader book series called Bindi Wildlife Adventures. The stories launched in 2010 and resulted in 20 individual installments, a standalone autobiography called A Year in the Life of Bindi, and a spin-off series called Bindi Behind the Scenes—all in the span of just a few years.
She also did a little acting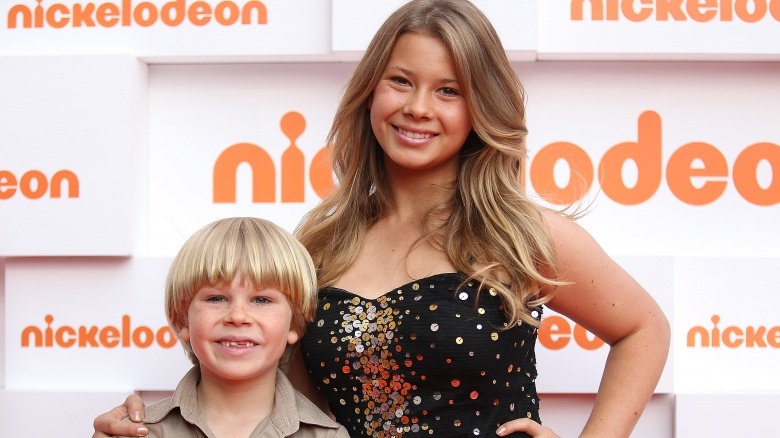 Getty Images
Considering her proven charm and grace on-screen, it wasn't long before Hollywood started setting its sights on Bindi, recruiting her for small acting roles in a number of movies and TV shows, most of which were still on-brand with her conservationist endeavors. First came the straight-to-DVD production of Free Willy: Escape from Pirate's Cove; then she appeared in an episode of My Babysitter's a Vampire, and she voiced a similar-to-self character in an Australian-set episode of Curious George. Her first full-length feature film was 2013's Return to Nim's Island, a sequel to the 2008 original in which she took over for Abigail Breslin as Nim. The movie's premiere, of course, took place on her home turf at the Australia Zoo.
She caused a row by sticking up for Sea World
While Bindi supports several ecological organizations, primarily her family's own Steve Irwin's Wildlife Warriors, she came under fire after announcing she'd work on kids programs with the U.S.-based aquatic theme park Sea World in 2014. The park has come increasingly under fire since the 2013 documentary Blackfish exposed the hidden dangers of keeping killer whales in captivity. People for the Ethical Treatment of Animals (PETA) even spoke out against the entire Irwin family for her association with the company, blasting them for "exploiting animals for years." Even her own grandfather spoke against the company after her association was announced. Despite the media melee, Bindi has since done educational webisodes and personal appearances at the parks as planned.
She also boogied her way to a big W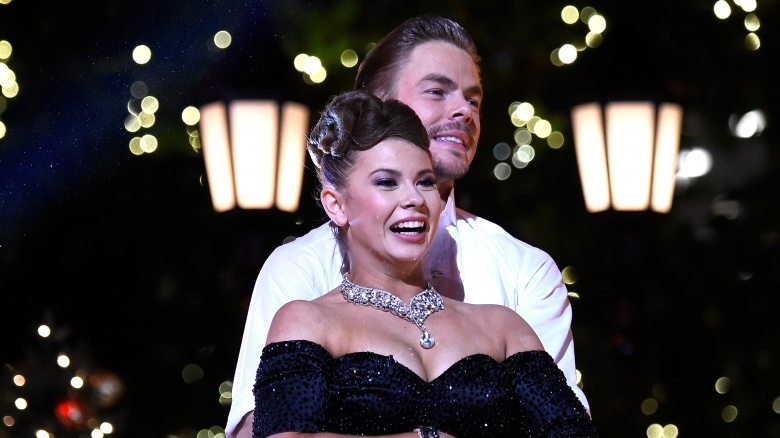 Getty Images
Bindi's flair for the crocodile rock was apparently programmed at birth, but that wasn't the only dance she mastered during her stint opposite Derek Hough on the 21st season of Dancing With the Stars. Bindi, who was still a minor at the time and had to get a parental waiver before she could compete, ended up winning the show. She crediting her love for moving and grooving to—who else?—her dear old dad. "My mom says anytime Dad would watch me dance around the zoo he would cry," she told The Washington Post. "I think the real reason I'm doing this is to make him proud and everyone back at home in Australia proud." She even chose one of their favorite dancing songs (AC/DC's "You Shook Me All Night Long").
Her boyfriend is also outdoorsy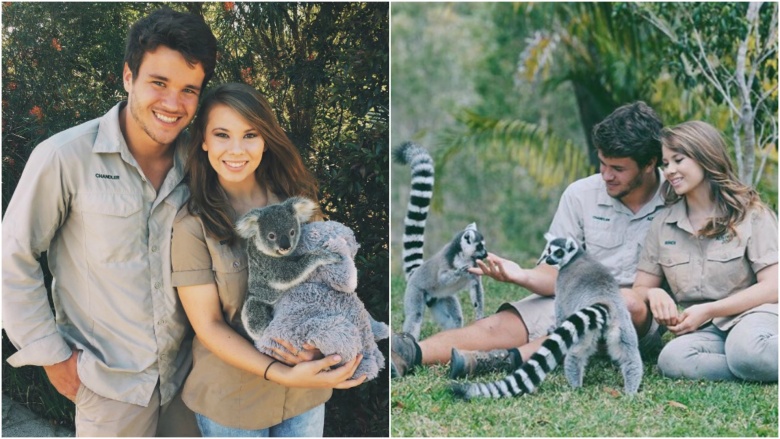 Bindi's long-term boyfriend, American Chandler Powell, is a professional wakeboarder who has no shortage of respect for her father's legacy. He's even coined Steve "the greatest wildlife warrior to ever have lived" and regularly promotes the family's wildlife work on his social feeds. Plus, they both seem to love being one with nature, so it's literally a picture perfect pairing.
To celebrate Powell's 20th birthday in November 2016, Bindi posted a heartfelt tribute to her Instagram. '"I am thankful every day to have you in my life. We've travelled the world together and had some of the most extraordinary adventures. I'm so excited to continue on this beautiful journey with you," she said. "Your kindness and strength is inspiring, and your smile will always be my favourite. Happy birthday my sunshine, you're amazing."
The Daily Mail reported that Powell, who met Bindi during a 2013 family visit to the Australia Zoo, has been ring shopping, but "Bindi dismissed the rumours," at the time. She told Entertainment Tonight in 2016, "I don't think I'm at a point in my life where marriage and getting engaged is really a huge priority right now for me. Maybe in five years, but right now I'm really happy with where I'm at."
She continues her inspirational quest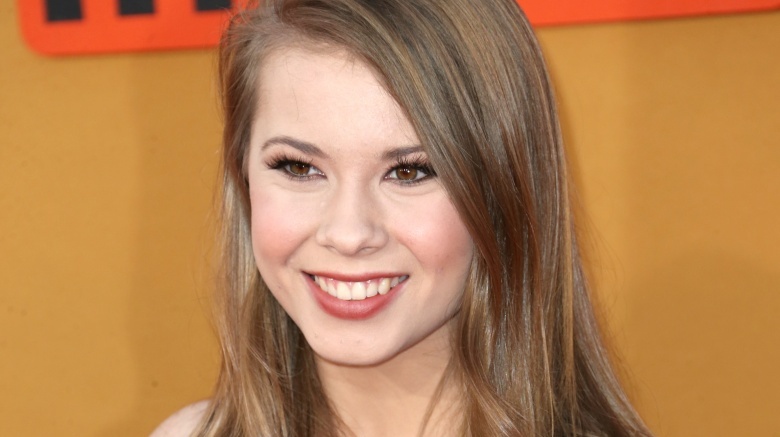 Getty Images
Bindi, who celebrated her 18th birthday in 2016, continues to passionately promote conservation and positivity. Even a casual glimpse at her Instagram feed reveals a ton of thoughtful, inspirational, and ecological messages, such as this one: "we have one planet, one chance to create a beautiful future for those yet to walk in our footsteps." Like father, like daughter.