Here's How Much The Chrisley Family Is Really Worth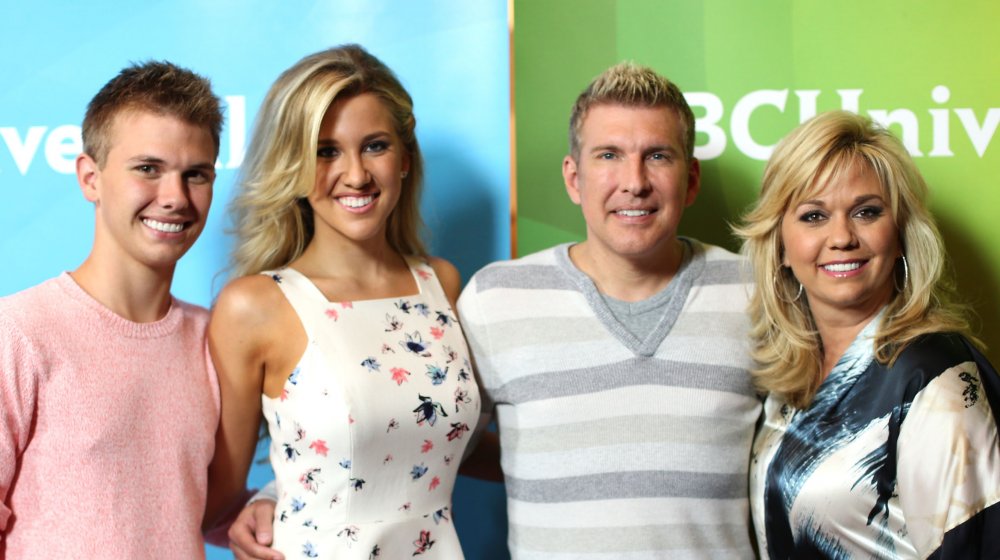 Mark Davis/Getty Images
The Chrisley family first made waves in 2014 when they magically appeared on the reality television circuit with the premiere of their own series, Chrisley Knows Best. The initial premise of the show was to showcase patriarch of the family, Todd Chrisley, fearlessly leading his flock while also providing loads of comedic relief with his quick wit and exuberant Southern charm. 
An added bonus of tuning into the USA Network hit? Witnessing the Chrisley clan living a high-rolling lifestyle that most can only dream of — we're talking a massive mansion, plus luxury cars and loads of designer clothing. According to People, Todd unapologetically admitted in a promo to spending six figures on the family's wardrobe alone: "In a year, we sometimes spend $300,000 or more, just on clothing." CHA-CHING! 
But are the Chrisley's really as rich as the reality TV show's producers want viewers to believe? According to some, the financial reality is not even close. Let's dive into just how much the Chrisley family is really worth. 
Todd Chrisley made his money in real estate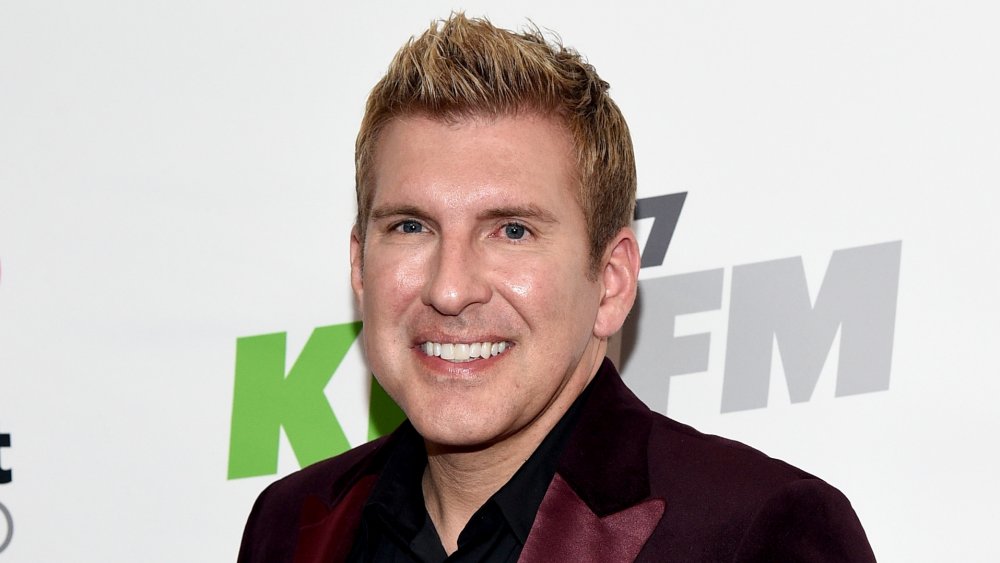 Michael Buckner/Getty Images
Yep, that's right — long before Todd Chrisley was bitten by the reality TV bug, he made a pretty fabulous lifestyle for himself and his family as a real estate tycoon. According to Investopedia, Todd claimed on the premiere episode of Chrisley Knows Best that 95 percent of "his multi-million dollar fortune" was amassed in real estate. But it appears just one raw deal caused everything to come crashing down for the real estate mogul.
People reports that Papa Bear Chrisley was left with no choice but to file for Chapter 7 bankruptcy in August 2012 after a bad business deal left him holding the bag to the tune of $30 million large. Todd's attorney, Robert Furr, released a statement to the outlet, explaining in a matter of fact manner that his client was "guaranteed a real estate development loan and it failed." Yikes.
But filing for bankruptcy was unfortunately just the tip of the iceberg for the Chrisleys, as the subsequent investigation into Todd's finances reportedly uncovered that he was sitting on a staggering amount of ... debt. Per People, Todd listed assets totaling over $4.2 million in court documents, but also claimed he was in debt to the tune of $49.4 million.
Now, we're not exactly numbers people around here, but that's a lot of dough to owe. It's worth mentioning that while wife Julie Chrisley's net worth is an estimated $3 million, Todd's is reportedly negative $5 million.
Todd and Julie Chrisley are in trouble with the feds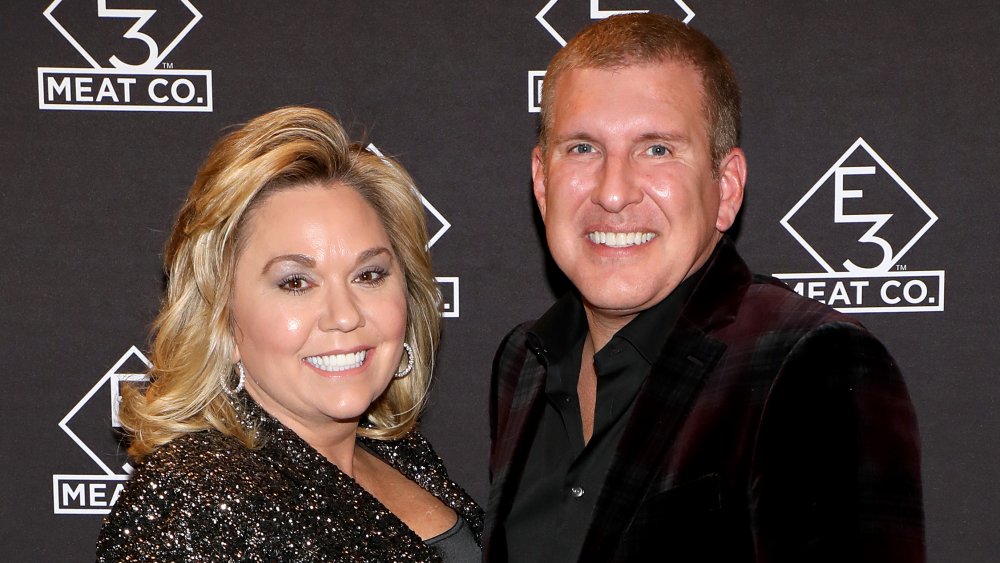 Danielle Del Valle/Getty Images
Things went from bad to worse when both Todd Chrisley and his wife, Julie Chrisley, were indicted on federal tax evasion charges in August 2019. According to People, the couple was also formally accused of wire fraud, falsifying documents, and deliberately hiding assets and income from the IRS following a nearly two-year investigation. Per TMZ, it was believed at the time that the Chrisleys had "concocted a scheme" to obtain the "money they allegedly used to fund a lavish lifestyle." 
Unfortunately for the Chrisleys, US Attorney BJ Pak had no sympathy for the reality stars and their alleged wrongdoings. "I want to make note here," he said (via WSB-TV Atlanta), "Just because you're rich and on a TV show doesn't mean that the law is not going to come get you when you commit a federal crime."
But not so fast. According to Todd, it was all just one big misunderstanding, and the couple pleaded not guilty. He claimed on Instagram that a disgruntled former employee sought revenge after being fired by taking phony documents to the U.S. Attorney's office. "I'm telling all of you this now because we have nothing to hide and have done nothing to be ashamed of," Todd maintained. 
As of this writing, the Chrisleys are still in legal limbo, waiting for the federal court to decide their fate, according to Distractify. But what we do know is this: it appears that the Chrisleys' net worth is simply not all that it's cracked up to be.