Barack Obama Mad About Malia's Partying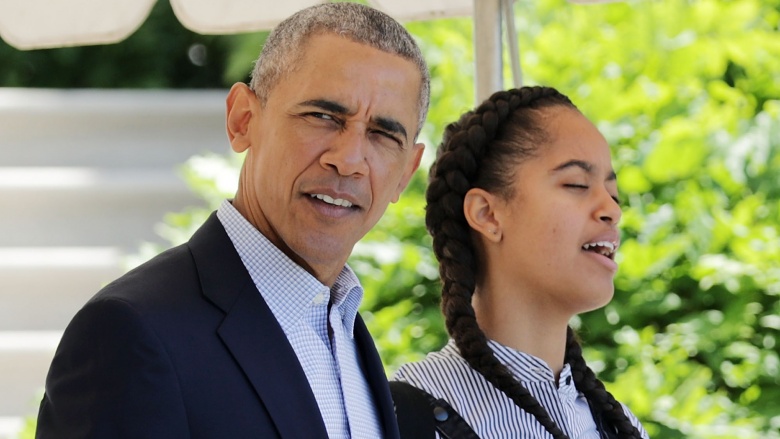 Getty Images
All the fun Malia Obama had at Lollapalooza and beyond is rumored to be making her dad—some guy you may know as President of the United States Barack Obama—furious.
The Boston Herald reported this week that Malia, 18, was at a party in West Tisbury, Mass. that cops busted for being too "rowdy." When police arrived, Malia's Secret Service detail reportedly escorted her back to the family's summer residence in the area. The partiers supposedly complied with police orders to tone it down or leave the premises.
The news comes only weeks after Radar Online published a video of Malia smoking something hand-rolled at the Chicago music festival in July 2016. A witness said, "I caught Malia smoking pot and I have the pictures to prove it. You could smell the marijuana smoke. I saw some young guy hand her a cigarette and she took at least one hit on it," the spy added. "She had it in her hand for about one minute, then gave it back to him."
Sources also snagged video of the First Daughter twerking and dancing with her pals at Lollapalooza, which is normal teenager stuff, but still fuel for the family's critics and political adversaries.
"This is the president's worst nightmare," a source told Radar Online. "The end of his term is in sight—and the carefully crafted image as a world-beating family is unraveling right before his eyes! I'm sure he had some choice words for his daughter during that walk they took."
Though the POTUS may be annoyed by Malia's actions, he probably understands them. In his own memoir, Dreams from My Father, he admits to smoking pot and "doing a little blow" in college. Malia's currently on a gap year before starting school at Harvard, so perhaps he's willing to cut his little girl a break.