Vin Diesel And The Rock Get Passive-Aggressive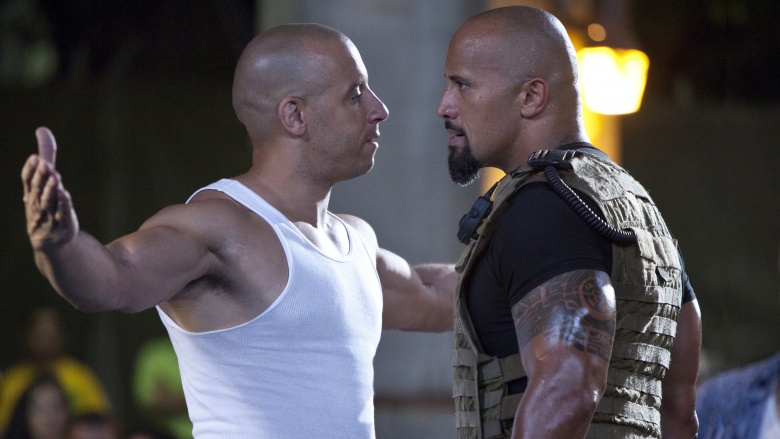 Vin Diesel made an earnest attempt to extend an olive branch to Dwayne Johnson over the weeknd, but "The Rock" seemed unimpressed.
Diesel, 49, posted a nearly 30-minute Facebook video on Aug. 19, 2016 thanking his fans for their support. "When I think about how fortunate I am and how blessed I am," Diesel gushed, "it's hard for me not to recognize how much all of you have affected those blessings. And how much you all attributed to me feeling so fortunate. Know this, without you, I would not be doing Fast 8."
He added, "The reason we brought Dwayne Johnson into Fast 5 was because of you! There was a [fan] named Jan Kelly who said, 'I would love to see you guys work together on screen.' So we gave the role that was originally written for Tommy Lee Jones, we gave it to Dwayne and he shined in it."
The Rock was unmoved. In an Instagram post on Aug. 19, 2016, Johnson specifically thanked several of his Fast & Furious 8 (2017) co-stars, but not Diesel, bringing to mind the old adage, "If you can't say anything nice..." He wrote, "Finished strong and on to the next. That's an officially wrap on #FastAndFurious8. Thank you to our director @fgarygray for the vision and execution. Thank you UNIVERSAL for being tremendous partners as always, thank you to all my fellow co-stars for the daily effort and grind. Scott Eastwood you handsome sumbitch! Nathalie Emmanuel I have a cold Budweiser ready for you and Tyrese Gibson you still have the biggest smile and forehead I've ever seen."
Diesel and Johnson's contentious relationship was revealed when Johnson took aim at Diesel in an angry social media post from the set of Fast 8, calling out Diesel's alleged poor attitude and work ethic. The pair continued exchanging jabs online, which reportedly drove their co-stars crazy, until filming finally wrapped. On the bright side, this beef between beefcakes should make for one very interesting press tour in 2017.