The Truth About The Duggar Women's Clothing Rules
The Duggar family — aka the former stars of 19 Kids and Counting — are well-known for their conservative rules. From parents Michelle and Jim Bob Duggar monitoring and restricting their kids' internet use to their strict dating rules, the clan has a lot of guidelines. And it's fair to argue these stipulations have influenced the life trajectories of Michelle and Jim Bob's 19 children, as many of them married at a young age (as young as 21 in some cases) and welcomed children shortly after. What's more? The men and women in the family date (or "court," as they like to say) with the end goal of marriage.
As for the family's female siblings, in particular, religious beliefs often determine what they can and cannot wear. Although every woman on the show has some liberty in how she chooses to dress, Bob and Michelle decided early on that there would have to be some parameters in place for their daughters to maintain "modesty," as Michelle calls it.
So what are Michelle and Jim Bob's exact clothing guidelines? Let's take a look at this curious topic.
Michelle Duggar encourages her daughters to cover up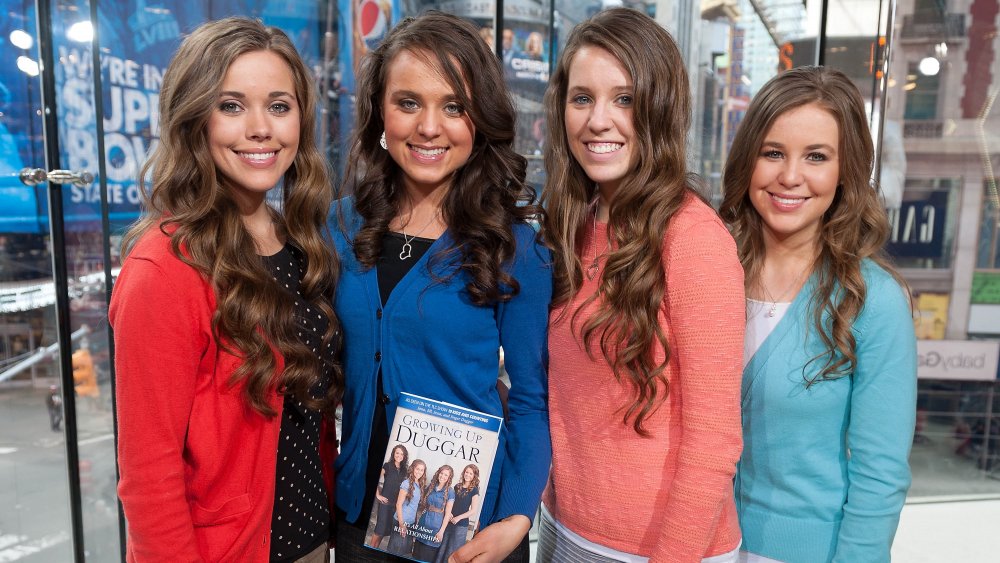 D Dipasupil/Getty Images
Michelle Duggar discussed the Duggar women's penchant for modest attire in a blog for TLC, writing (via The Inquisitr), "For us, we felt like we needed to be covered from our neck to below our knees mainly because God talks about the thigh being uncovered, and how that's nakedness and shame."
As for showing cleavage? That's a big no-no. "We try to make it a habit to always cover the top of our shirt with our hand when we bend over," Jill, Jessa, Jinger, and Jana Duggar, wrote in Growing Up Duggar. "We don't want to play the peekaboo game with our neckline."
Although this might seem extreme to some, the eldest Duggar daughters see things differently. "We do not dress modestly because we are ashamed of the body God has given us; quite the contrary," the ladies penned. "We realize that our body is a special gift from God and that He intends for it to be shared only with our future husband."
As a result, the Duggar women often wear long skirts, dresses, and conservative blouses, while pants are seemingly off-limits for those still living under Jim Bob and Michelle's roof.
Of course, it's fair to wonder why the Duggar men seemingly don't face the same restrictions.
Did the Duggar daughters start a clothing rebellion?
After some of the Duggar daughters got married, fans started to notice changes in their appearances. Jinger and Jill Duggar began wearing pants and shorts, as well as showing more skin. As seen above, Jinger wore a dress in Season 10 of Counting On that showed off her bare shoulders. Jill is also a fan of sleeveless tops, and she even pierced her nose. Trés scandalous! 
Jinger's husband, Jeremy Vuolo, shared his interesting thoughts on how a woman is supposed to dress in a sermon he gave. "It is not your liberty, women, to wear sensual, seductive clothing that is designed to draw the attention of your brothers," Jeremy said, per In Touch Weekly. "But it is your liberty as to whether you dress modestly with a modest pair of pants, or with a skirt, or with a T-shirt, or with a blouse." OK, Jerm.
As for how Michelle and Jim Bob reacted to their daughters' style changes? Jinger addressed this in an episode of Counting On, saying while tearing up, according to In Touch Weekly, "We had conversations before I started wearing pants and just shared my heart with them and where I saw the Lord leading me. I was really grateful for their response." 
Jinger also revealed that she still appreciates her parents' directive to "maintain modesty." She added, "I'm really grateful for their hearts and how they've just instilled that in us kids."