Demi Lovato Sued For Copyright Infringement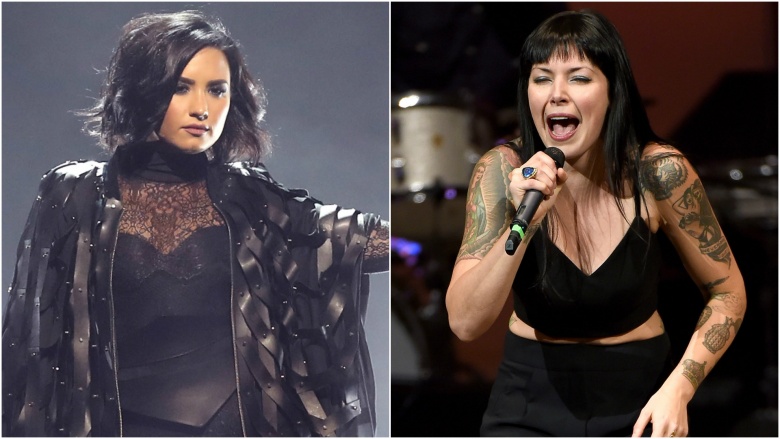 Getty Images
Demi Lovato's lawyer may be having a "heart attack" right about now. The "Body Say" singer, 24, is facing a lawsuit from indie band Sleigh Bells over her 2015 hit "Stars."
Sleigh Bells claims the song sounds way too much like their 2010 song "Infinity Guitars." In legal documents obtained by E! News, Sleigh Bells' legal camp says, "A comparison of the two songs reveals that, at the very least, the combination of the hand claps and bass drum, structured as 3 quarter beats and a rest, with the bass drum providing a counter-rhythm to the hand claps, is at least substantially similar in both works. This infringing material repeats throughout the Defendants' song."
Sleigh Bells lobbed its first accusation in November 2015. "Flattered you guys sampled 'Infinity Guitars' and 'Riot Rhythm' for 'Stars' but we were not contacted," the duo tweeted to Lovato. "Gotta clear those." A rep for Sleigh Bells told Rolling Stone, "I can confirm that the band feels their music has been sampled without proper clearance and are seeking all available remedies with [Lovato's record label] Island Records."
The co-producers of Lovato's track, Rami Yacoub and Carl Falk, as well as UMG Recordings, are also named in the lawsuit. Yacoub told Rolling Stone in 2015, "We did not use any samples in Demi Lovato's song 'Stars.' Demi was also not involved with the production. She only wrote top line." Translation: the production of the songs may be similar, but it's a coincidence, and Lovato had nothing to do with it.
The members of Sleigh Bells don't buy that argument, alleging that "signal decay and other sonic signatures" in "Stars" are "virtually identical content" and "transcend the realm of coincidence." TMZ said the group is seeking a portion of the track's profits, in addition to requesting that Lovato pull the song from the internet and any Confident releases.