The Tragic Death Of Angela Simmons' Fiance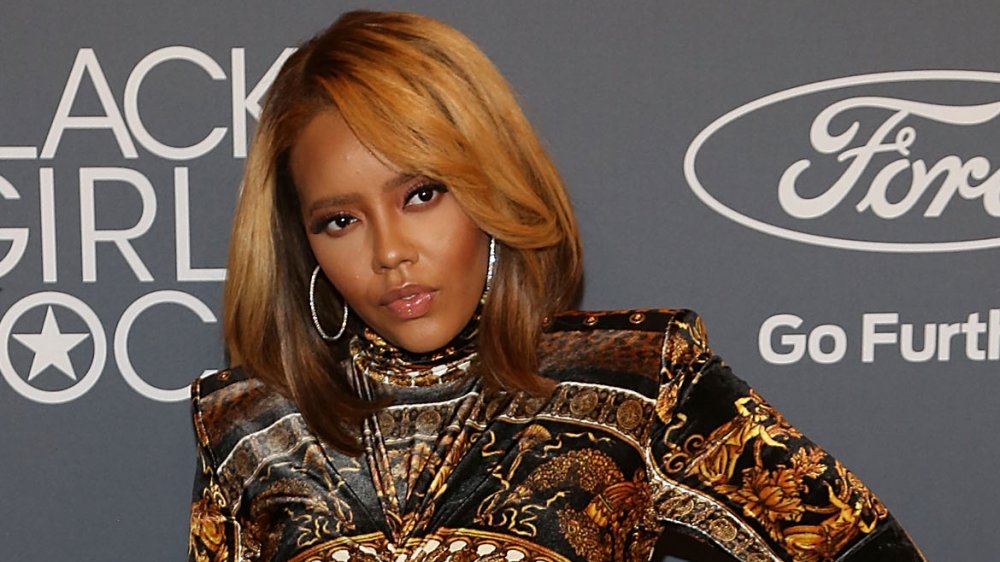 Manny Carabel/Getty Images
On Nov. 3, 2018, Angela Simmons' ex fiancé, Sutton Tennyson, was shot and killed in Atlanta. Tennyson, who split with Simmons in 2017, was shot 13 times, according to the autopsy report obtained by TMZ. The report, which was released in February 2019, said that nine of the bullets penetrated Tennyson's body and four grazed him. The Fulton County Medical Examiner wrote that three bullets did major damage to the body. Bullets were found in his lungs, legs, and spleen, among other places.
Tennyson was reportedly shot while he was in his driveway, and the suspect, Michael Williams, surrendered to police less than a week later, according to People. When arrested, People reported that Williams was charged with aggravated assault with a deadly weapon, possession of a firearm during commission of a felony, and murder. However, Williams has maintained that he did not pull the trigger in the standoff that resulted in Tennyson's death. A witness claimed to police that Williams pulled up to Tennyson's house and the conversation quickly turned heated, according to 11Alive. The witness believed the argument was about money.
So, how has this tragic loss impacted Simmons? Keep reading to find out what she's said.
Angela Simmons calls her son with Sutton Tennyson her 'greatest gift'
Tasos Katopodis/Getty Images
Sutton Tennyson and his ex-fiancée Angela Simmons share a son, Sutton Joseph, whom Angela called her "greatest gift" on Instagram after Tennyson's murder. Simmons — who's the daughter of Joseph Simmons, a.k.a. Reverend Run of legendary rap group Run DMC — broke up with Tennyson in 2017.
Simmons told her mom, Valerie Vaughn, on an episode of Growing Up Hip Hop in 2018 (via BET) of the breakup, "I just got to a place where I feel like I wasn't happy and I tried and I tried and I tried and I wanted it to work because the last thing I wanted to do was not be together with the person I had my child with. I thought I met my husband. I'm going to marry him, we have kids. And it just didn't happen like that. God had another plan for me."
Despite breaking up, the two appeared to remain amicable for the sake of their son. When Simmons shared the news on Instagram the day after Tennyson's death in late 2018, she wrote, "I'm hurting . I'm numb. Thank you for the out pouring of love everyone . I cant believe I'm even saying Rest In Peace Sutton . I promise to hold SJ down in every way I promise." A month later, Simmons shared another tribute, writing, "I know that I will do my best carrying Sj with your strength and mine... Sj will forever carry your name."