Where Does Nicki Minaj Live And How Expensive Is Her House?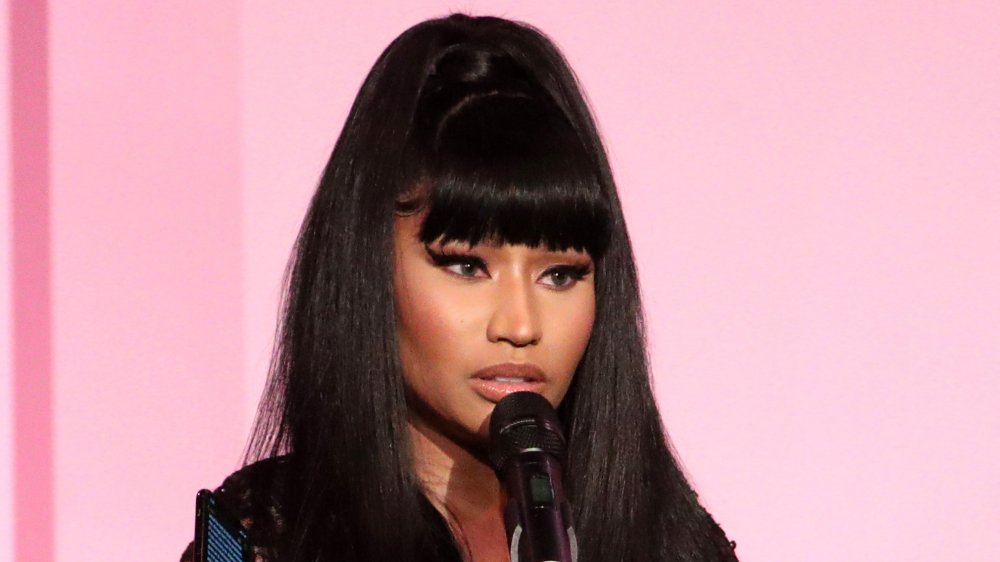 Rich Fury/Getty Images
Nicki Minaj announced that she's pregnant with her first child with husband Kenneth Petty on July 20, 2020 on Instagram. The rapper posted a picture of herself in a two-piece suit with a pretty big baby bump; she hashtagged the pic, "preggers." In a subsequent post, she captioned another bump pic, "Love. Marriage. Baby carriage. Overflowing with excitement & gratitude. Thank you all for the well wishes." It's exciting news for the 37-year-old rapper, but where will this new family settle down? Where does Nicki Minaj even live and what kind of property does she have? 
Minaj is super open about who she is in her music and on social media with fans, but when it comes to the super-personal aspects of her life, she remains a little more mum. And where she lives is one of those things. Minaj was born in Saint James, Trinidad and Tobago, but moved with her family to Queens, N.Y. when she was 5 years old. She reps New York City a lot in her music, and she might even have a place there, but the rapper has switched coasts since becoming a mega-star.
Minaj lived in a huge Beverly Hills mansion previously that most people know as her home, but judging by some recent court records filed by her husband, it looks like they might have moved on. Read on to find out where. 
Nicki Minaj has a huge mansion in Beverly Hills
Nicki Minaj has been known to live in a Beverly Hills mansion that sits on the former site of Frank Sinatra's home. It's a Mediterranean-style home in a very exclusive gated community, per Trulia. She has a five-car garage with a two-story entrance that leads guests into the living room, dining, and family rooms. There's a massive kitchen with a huge breakfast "nook," two sinks, a fridge, freezer, and even a fireplace. 
The master suite has his and her bathrooms with a private terrace. There are seven bedrooms upstairs, and then get this — there's a guest house that can be accessed separately or from a balcony on the second floor with another two bedrooms and a shared bathroom downstairs. That makes it the perfect party house, right? Or, given her good news, a great place to have any assistants or nannies sleep over for those nighttime feedings. The home has a sprawling lawn, a pool, a spa, and a built-in BBQ in the backyard. There are a total of 11 bathrooms. It sounds like the perfect place for the rapper. 
Here's the rub, though: It's hard to find how much she paid for the home, and in fact, she might have been renting it all along. According to Zillow, the home is currently up for rent for $40,000/month. She might have kept it on the market for when she was busy, but she's likely posting up elsewhere for now.
Nicki Minaj may have moved in with her husband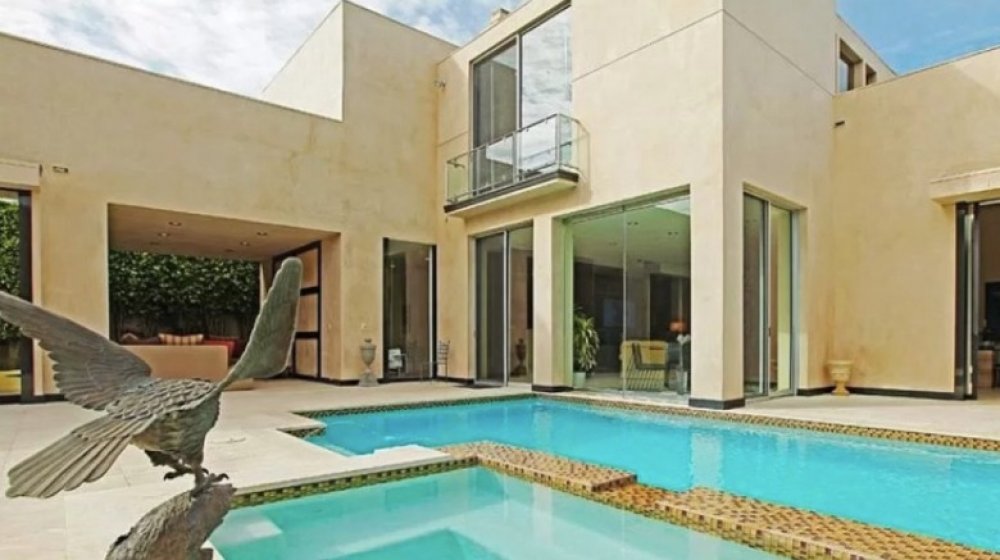 Zillow
Nicki Minaj might have her home up for rent because she moved in with her new husband, Kenneth Petty, though it's unclear if the home is his or hers. It might be joint property now. Petty ran into more legal troubles in March 2020, per TMZ, which brought up an old, 1995 charge for attempted rape. He served four years in prison for it, but failed to re-register as a sex offender, which he was required to do, when he moved to Cali to be with Minaj, per Complex. 
Eventually, Petty registered in order to avoid 10 years in jail, per the same outlet. And according to the address he listed in the sex offender registry, his home is almost as impressive as the one Minaj was presumed to be living in. Petty's home is in the Flats area of Los Angeles, within walking distance to the Beverly Hills Hotel. Per Zillow, it's a $10 million home that's currently off the market and has six bedrooms and eight bathrooms, for a total of 7,000 square feet. It's a much more modern property than the other one Minaj was thought to live in. 
Minaj was also the subject of a burglary in her Beverly Hills home in 2017, per The Sun, so it makes sense that she and Petty would want to move on. Fans will just have to eagle-eye her Instagram Stories to figure out which place they call home these days.