Amber Heard Cozies Up To Elon Musk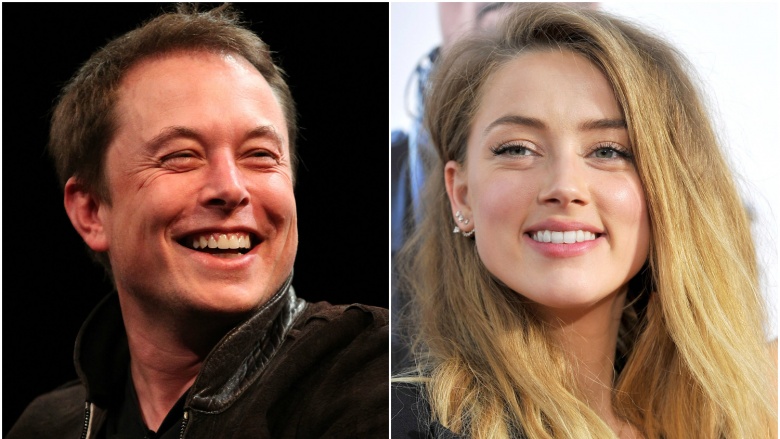 Getty Images
Amber Heard is moving on from Johnny Depp with another rich and controversial man: Elon Musk. The Hollywood Reporter says billionaire Musk, 45, has been smitten with Heard, 30, for years.
The pair both appeared in Machete Kills (2013), but didn't share scenes together. As a result, Musk reportedly emailed several people involved with the film, including director Robert Rodriguez, in an effort to meet Heard, who was dating Depp at the time. "If there is a party or event with Amber, I'd be interested in meeting her just out of curiosity," Musk wrote in one email to an anonymous source. "Allegedly, she is a fan of George Orwell and Ayn Rand...most unusual."
The magazine says that Rodriguez set up a dinner for Heard and Musk, but Heard bailed. Still, Musk kept trying. "Can you send her a note saying I would like to get together for lunch in LA?" he emailed. "Am not angling for a date. I know she's in a long-term relationship, but...Amber just seems like an interesting person to meet."
Now that Heard is single, Page Six reports that she and Musk have finally connected, quite a few times, sometimes in hotels. A source told Page Six that they shared some quality time in a Miami hotel room in July 2016, though they went out of their way to not be seen together. "They were seen arriving to, and leaving, the same room many times, but always separately," the witness said. "He was seen going in at night and doing a 'walk of shame' in the morning."
Musk's camp denied the claims, but he is available. He filed for divorce from wife Talulah Riley for the second time in March 2016. Heard recently settled her contentious divorce from Johnny Depp, who wrote his first checks to Heard's charities of choice this week as installments of her $7 million settlement. However, Heard wasn't happy with that. According to TMZ, her reps are demanding Depp donate $14 million to the causes, because if he donates the allotted $7 million, it means he will also get a tax deduction for it.
"If Johnny wishes to change the settlement agreement, we must insist that he honor the full amount by donating $14M to charity, which after accounting for his tax deduction, is equal to his $7M payment obligation to Amber," her rep told TMZ, adding, "We would also insist that the full amount be paid immediately and not drawn out over many years. Anything less would be a transparent attempt by Johnny's counsel, Laura Wasser and Patti Glaser, to reduce their client's true payment by half under the guise of newfound concern for charities that he has never previously supported."
Depp's camp disputes the last point, noting that he was honored in 2006 for his work with the Children's Hospital of Los Angeles, long before he ever met Heard. What's more, his donations were in Heard's name, per E! News. "Following Amber Heard's announcement that her divorce settlement was to be divided equally and gifted to Children's Hospital of Los Angeles and the American Civil Liberties Union, two exceptionally deserving and important charities, Johnny Depp has sent the first of multiple installments of those monies to each charity in the name of Amber Heard, which when completed will honor the full amount of Ms. Heard's pledge," his rep said in a statement. "Ms. Heard's generosity in giving to these wonderful causes is deeply respected."