Who Is The Mother Of Joe Exotic's Son?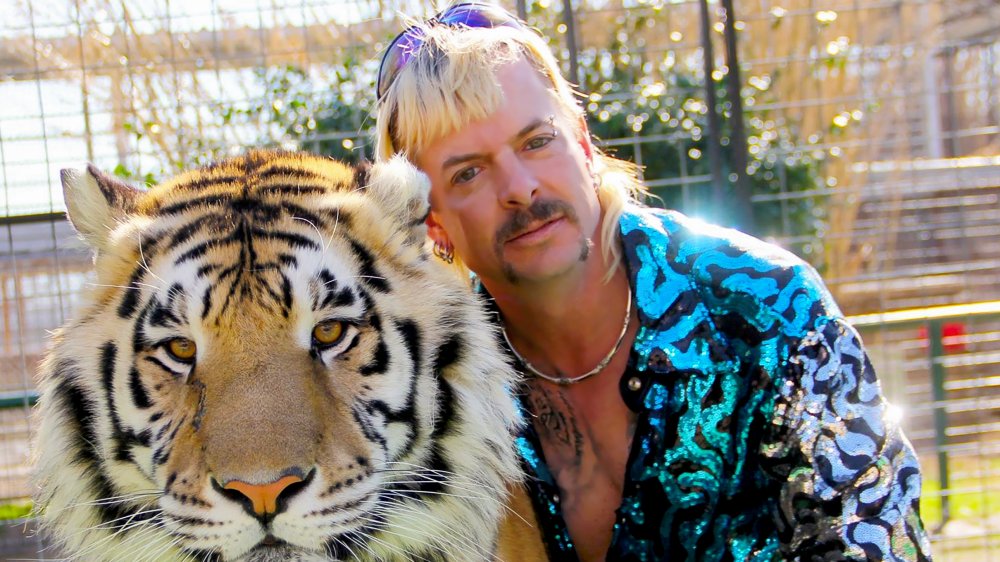 Netflix
Tiger King Joe Exotic (real name Joseph Maldonado-Passage) has made headlines for a number of things, but most notably for owning a controversial big cat zoo in Oklahoma and starring in Netflix's Tiger King. In the docu-series, viewers got a glimpse at Exotic's wild life in Oklahoma and all the years that led up to where he is now (spoiler alert: it's prison). Included in his story were his many husbands, but what wasn't included was the son he allegedly has.
After the documentary landed on Netflix, everyone was talking about Exotic's story, and one of the big items that came out of all the hullabaloo was talk of a son. In early April 2020, Exotic's niece, Chealsi Putman, told the Daily Mail about everything she felt the documentary left out of the story, including the mysterious son. According to Putman, in the early '80s, Exotic spent time as a chief of police in Eastvale, Texas. During that time, he was living with a woman named Kim who he eventually had a child with before moving on with his life. As of this writing, the child, Brandon, is reportedly around 40 years old and not much at all is known about Kim.
"Joe was in and out of Brandon's life when he was growing up, at one point just a few years ago Brandon and his then wife, both worked at the zoo with Joe," Putman told the Daily Mail. However, Exotic's current husband, Dillon Passage, has a different story.
Joe Exotic's husband claims he doesn't have a son at all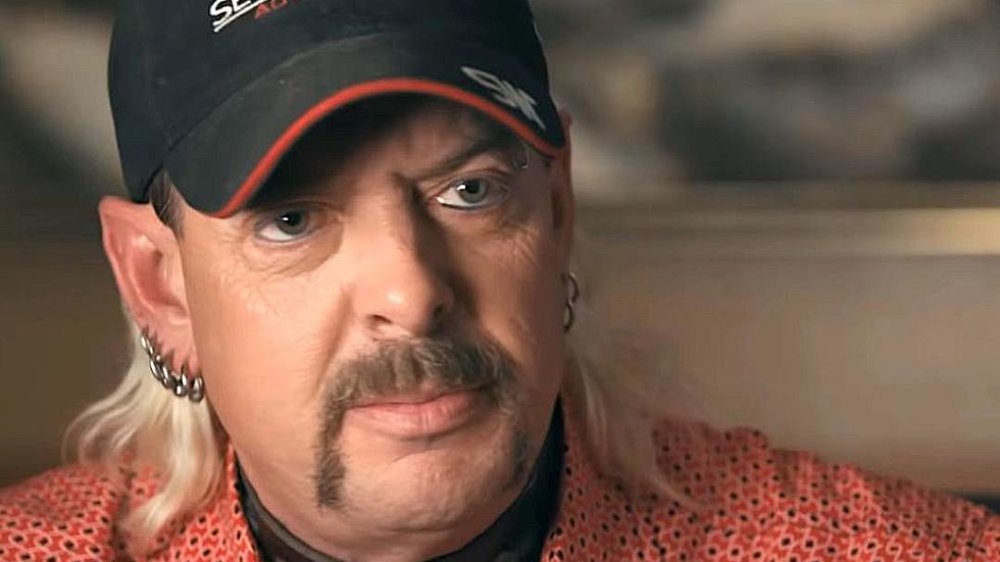 Netflix
In April 2020, after Joe Exotic's niece's interview with the Daily Mail was published, Exotic's husband, Dillon Passage, told Channel Q's The Morning Beat that his husband definitely doesn't have a son. He said (via TooFab) : "Joe does not have any kids, okay? I recently heard the same rumor, and I was like, 'Are you trying to tell me that I'm a step-dad to a 38-year-old and I have grandkids?' Joe used to be with this girl, her name was Kim. But when him and Kim split up, Joe's brother actually got with Kim and they had a son and that is Brandon Chappell."
However, Rick Kirkham, who worked at the zoo and was part of the Netflix docu-series, told The Sun that Exotic does have a son, and revealed he was even in the Netflix series. "... [H]is son came to work at the zoo the summer that I was there, the very first summer. His son Brandon is in the documentary and I'm surprised that the documentary didn't bring that up." 
Neither Brandon nor his mom, Kim, have commented on the relationship at this point, and Exotic hasn't either. Then again, as of this writing, the Tiger King is serving a 22-year sentence on a number of charges, including murder-for-hire against his arch nemesis Carole Baskin, a fellow big cat park owner, according to NBC News.