Miley Cyrus' Homeless VMA Date Auctioning Her Trophy On eBay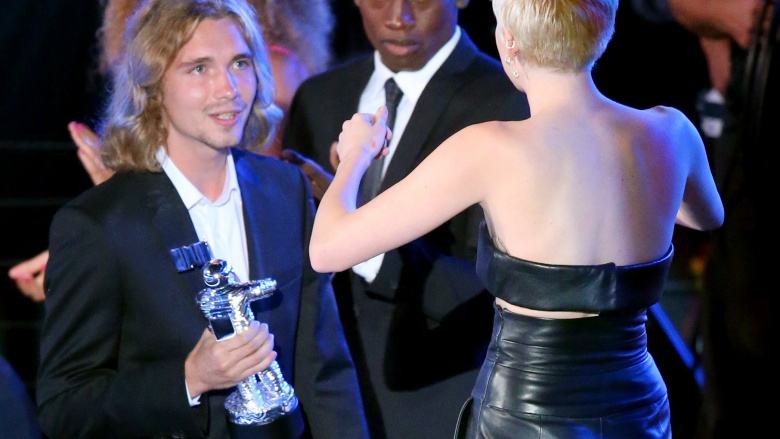 Getty Images
Remember Jesse Helt, the handsome homelessness activist Miley Cyrus took as her date to the 2014 MTV Video Music Awards? He took home the singer's Moonman for video of the year for "Wrecking Ball," and now he's looking to unload it—for a pretty penny.
Helt met Cyrus at a Los Angeles center for homeless youth and spoke onstage to raise awareness about youth homelessness, telling the crowd, "I am accepting this award on behalf of the 1.6 million runaways and homeless youth in the United States who are starving, lost, and scared for their lives right now. I know this because I am one of these people. I survived in shelters all over the city. I've cleaned your hotel rooms, I've been an extra in your movies, I've been an extra in your life. Though I may have been invisible to you on the streets, I have a lot of the same dreams that brought many of you here tonight."
Helt is now listing the trophy on eBay because he and his partner, with whom he shares a Los Angeles studio apartment, are expecting a baby. The brief listing reads, "In mint condition. Very rare one of a kind. No fingerprints." The silver astronaut statuette is engraved with the names of both Cyrus and Helt. The starting bid was $10,000.
As far as Moonmen go, it's a pretty good starting price. TMZ reports that Coolio's award for "Gangsta's Paradise" sold for $6,000. The Moonman for "We Are the World" netted the lucky seller a huge sum of $72,000.
Helt previously made headlines for the difficulties he faced after his appearance on the VMAs. He was busted for a probation violation for appearing on the show—the result of criminal mischief and trespassing charges he received in 2010 when he allegedly tried breaking into an apartment. Helt was subsequently sentenced to six months in jail for the offenses, but is reportedly doing well now.