All The Shocking Details About Chris Brown's Latest Arrest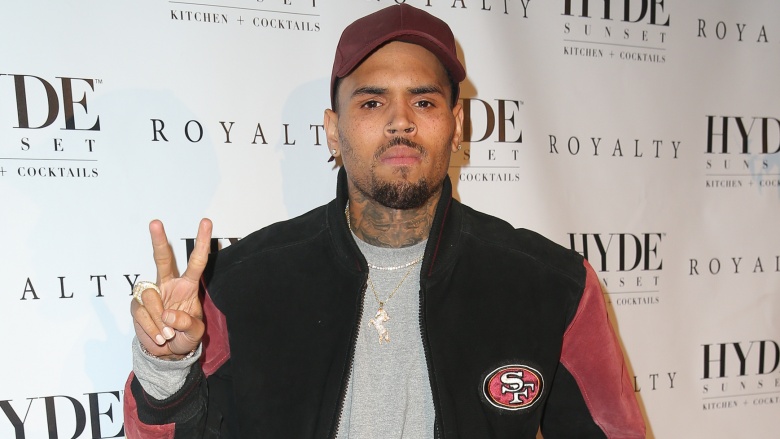 Getty Images
R&B singer Chris Brown was arrested on suspicion of assault with a deadly weapon after a woman accused him of pulling a gun on her, the Los Angeles Times reported on Aug. 30, 2016.
The woman in question, identified by the Times as Baylee Curran, initially went to Brown's home with a friend to talk about "future projects." A bit later, the gathering allegedly got tense when Curran began to admire jewelry being showcased by another man inside the house. "I don't know if it was Chris' friend or how he was related, but that's when he told me to back away from the diamond necklace and started cussing me out and calling me names," Curran told the Times. "That's when Chris pulled his gun and told me to 'Get out,' he said. 'I'm sick of you girls, get the...out!'"
Although she and the friend fled the scene, Curran claims they had to wait outside to retrieve the cell phones they had turned over in order to enter Brown's house in the first place. Reportedly, a man would only return their phones if they signed a nondisclosure agreement. Curran told the Times she refused to sign, "snatched her phone from the man's hand and ran away. The man ran to a Jeep to give chase, but Curran and her friend escaped to a neighbor's property and hid under an SUV when the Jeep drove by." The neighbor contacted police.
The Times said authorities did not receive a search warrant to enter Brown's house until around 1 p.m. local time that day. While police were waiting for the warrant, Brown posted a number of videos to his Instagram account proclaiming his innocence. "Good luck. When you get the warrant or whatever you need to do, you're going to walk right up in here and you're going to see nothing, you idiots," he said (via the Times). "I'm tired of...dealing with y'all."
According to the newspaper, "at least half a dozen people exited the home" when detectives entered and "a few of them [were] holding their hands behind their heads as police patted them down." A law enforcement source told the publication that police found a "duffel bag that had apparently been tossed out the window" containing "evidence to the case." Brown was taken into custody and released before midnight on $250,000 bail. He's due to appear in court on Sept. 20, 2016.
As Nicki Swift previously reported, Brown was sentenced to 131 days in prison in 2014 after violating the terms of his probation, which formally ended in 2015. Brown had been on probation since 2009 after he pleaded guilty to attacking his then-girlfriend, singer Rihanna, prior to the Grammy Awards.