Inside Ellen DeGeneres' Controversial Friendship With George W. Bush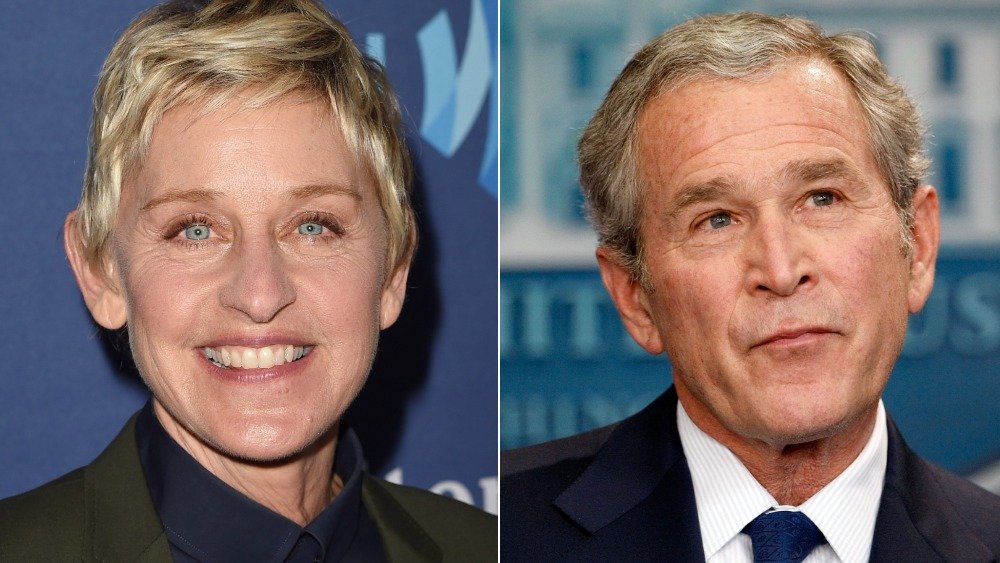 Kevin Winter/Getty Images
Ellen DeGeneres, daytime talk show host and one of television's most recognizable faces, has been in the headlines for many controversial reasons over the years. Throughout 2020, DeGeneres has especially faced public scrutiny and criticism for not walking her own talk of being "kind to one another" after allegations that The Ellen DeGeneres Show fostered a toxic workplace culture. Specifically, former employees told BuzzFeed News that they had to endure racism and intimidation at work.
The anonymous whistleblowers detailed incidents where white coworkers made racist comments about everything from Black employees' box braids to only knowing "the names of the white people who work here." Also included in the accusations were reports of former employees being fired after returning from medical leave or personal days to attend family funerals. 
While the reports suggest most of the alleged transgressions were made not by DeGeneres herself, but rather from her executive producers and managers, the former employees still hold DeGeneres responsible to some degree. "If she wants to have her own show and have her name on the show title, she needs to be more involved to see what's going on," one employee told BuzzFeed News. The show is now under investigation by WarnerMedia.
Perhaps surprising to some, this isn't the first time DeGeneres has been accused of being less than genuine or offending a marginalized group. One of her most memorable controversies, in fact, involves former President George W. Bush. 
Ellen DeGeneres defended her friendship with George W. Bush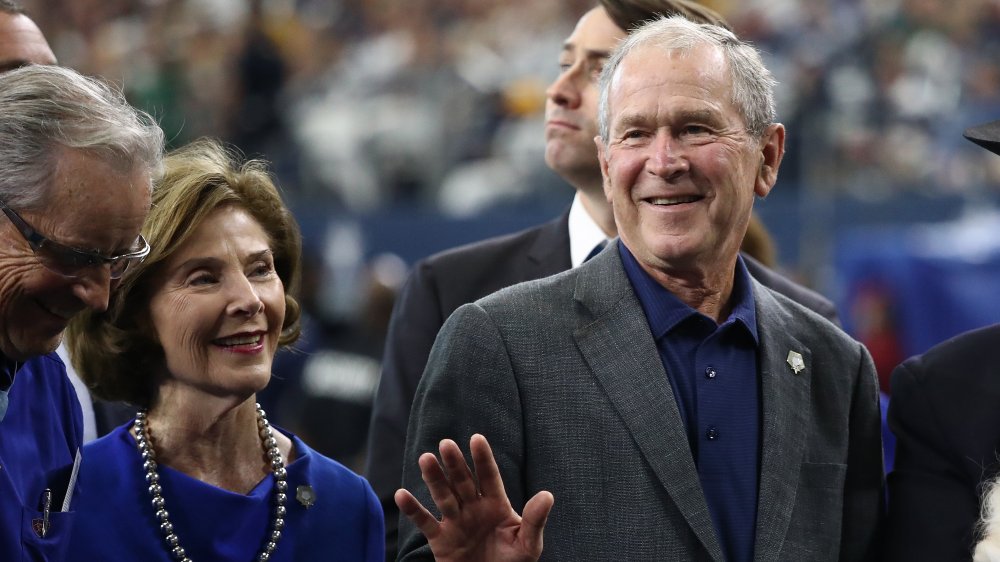 Ronald Martinez/Getty Images
In October 2019, Ellen DeGeneres was photographed hanging out in the bleachers at a Dallas Cowboys game with none other than former President George W. Bush. She was criticized on social media for getting cozy with the Republican conservative, partly because DeGeneres is an open lesbian while Bush opposed marriage equality during his time as president, per Deadline. 
After the uproar, DeGeneres came to her own defense, saying she was preaching tolerance. 
"I'm friends with George Bush. In fact, I'm friends with a lot of people who don't share the same beliefs that I have," she explained on her show. "We're all different and I think that we've forgotten that that's okay that we're all different." 
"But just because I don't agree with someone on everything doesn't mean I'm not going to be friends with them," she continued. "When I say be kind to one another, I don't mean only the people that think the same way that you do. I mean be kind to everyone."
Ellen DeGeneres faced accusations of hypocrisy
But some viewers pointed out that Ellen DeGeneres' defense of her friendship with George W. Bush didn't line up with her previous actions. According to Page Six, the talk show host has previously banned figures like Caitlyn Jenner, former The View panelist Sherri Shepherd, and actor Vince Vaughn for being anti-gay — which is quite the opposite of her later comments about tolerating people's views even if you disagree with them. 
One Page Six source aptly summarized critics' feelings about DeGeneres' inconsistent choices to ban those she disagrees with. "Ellen is obviously a hypocrite," the source told Page Six. "She said she can be friends with people who have different views from hers, yet she won't give those people her platform and block them from appearing on her show."
Adding fuel to the fire to the claims of hypocrisy, DeGeneres invited comedian Kevin Hart to appear on her show after his prior homophobic comments had resurfaced. The comments had cost Hart the opportunity to host the 2019 Oscars, but DeGeneres still gave him a platform to speak. She received a wave of backlash for the decision. 
Now the tables have turned, as Kevin Hart was one of several celebrities who came out in support of DeGeneres amid the investigation into her show's working conditions.