Orlando Bloom Gave Miranda Kerr A Heads Up About His Nude Photos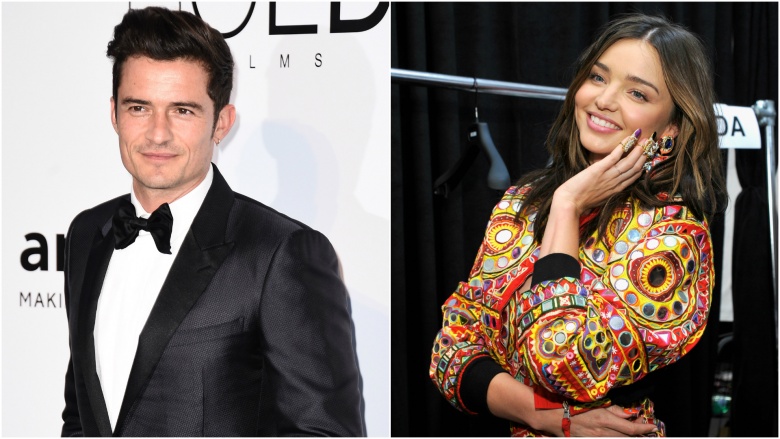 Getty Images
Orlando Bloom's nude photos took the rest of us by surprise, but he was kind enough to give his ex-wife, Miranda Kerr, a heads up about the images.
The former Victoria's Secret Angel told Australia's Kyle and Jackie O Show that Bloom texted her to let her know that his naked paddleboarding pictures were probably going to go viral soon. "Oh my God, he texted me and was like, 'Um, I'm really embarrassed. Some photos are coming out, just thought I should let you know," she said. "And I was like, 'Hmmm...right, what were you thinking? Seriously! What were you thinking?' adding, "Obviously, he wasn't."
In the NSFW photos that surfaced earlier this month, a stark-naked Bloom is seen paddleboarding and splashing around in Sardinia, Italy, with girlfriend Katy Perry, who, modestly enough, rocked a bikini and kept it on.
Some sources speculate that Bloom got naked to deter paparazzi, who Perry is known to detest, figuring that they would have a hard time selling a full-frontal photo since many outlets wouldn't be able to publish it because, well, it's full-frontal. Alternatively, other sources think the actor may have been acting out in response to Kerr's engagement to Snapchat co-founder Evan Spiegel. That news broke less than a week before Bloom showed his butt (and other stuff) to the world.
Bloom and Kerr married in 2010 and called it quits in 2013, sharing custody of their 5-year-old son, Flynn.
Perhaps Bloom has reason to be jealous of Spiegel: when Kyle and Jackie O host Kyle Sandilands asked Kerr if Spiegel wears "budgie smugglers"—Down Under slang for Speedos—she replied, "Um...Let's just say board shorts fit him better. There's more space in the board shorts. More space than the budgie smugglers."