Blac Chyna Dishes On Being A 'Hustler' And Relationship With Rob Kardashian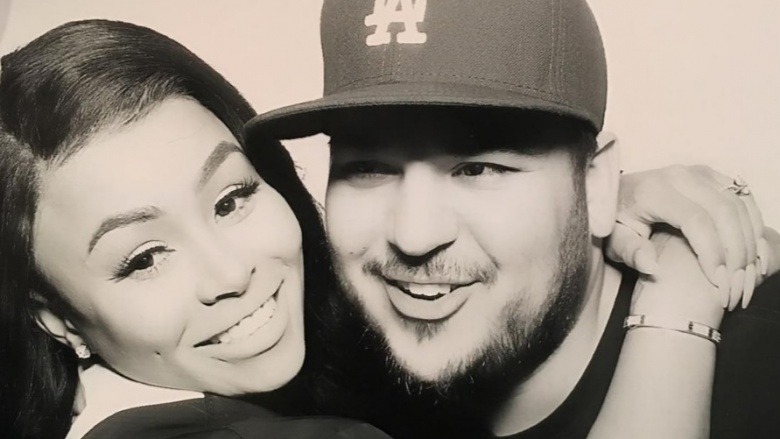 There are a couple of obvious reasons why Blac Chyna would want a reality show with Rob Kardashian, specifically, money and fame. But the starlet of the upcoming Rob and Chyna insisted to Elle that there's more to her motivations than money...though money does play a big role in pursuing a television career.
"I wanted to show people my personality, that I'm not just a pretty face or what some people paint me out to be: this bad person, this stripper ho," she vented. "I want them to see me as a mom, business woman, a growing being." She said Kardashian doesn't mind her hustle. "He likes my work ethic, how I'm a hustler, adding, "I don't care if it's one dollar or a thousand dollars, I'm going to go out and get it."
Chyna said she appreciates her fiancé's lack of pretension. "Around Rob, I'm always able to speak my mind and speak freely and not care," she said. "I can do the craziest stuff or say the craziest stuff, and he doesn't judge me. Like if my stomach hurts, I don't have to pretend. I can go straight to the bathroom. It's those little things that really make a big difference."
Chyna also thinks having a reality show will help Kardashian recover from depression, though he notoriously hated being part of Keeping Up with the Kardashians, even skipping sister Kim Kardashian's wedding to Kanye West to avoid being photographed at the event.
"We'll bring people into our world, and then they will start rooting for us, and when you have people rooting you on...it always makes things better," she said. "Rob is going through his depression, but I feel like if he has the support from his fans and people from the outside, it will help. It helps to have people around to give you that confidence."
Though the growing family has certainly had their ups and downs—including when Rob's mom, Kris Jenner, allegedly leaked Chyna's pregnancy to the public before Chyna had even told her own mom—the future Mrs. Kardashian insists they're all happy now. "Everybody is talking," she said. "Everything is good."
And despite what a lot of haters may have thought, Chyna said the pregnancy was planned. "We definitely discussed having kids. Rob made it very clear that he wanted to have a baby," she told People. "Babies, actually! He wants me to have, like, four."
Rob agreed, adding, "If I had found somebody at 19, I would have wanted the same thing then. But I never found anybody. Part of life is to build a family and have kids. And I thank God that we're able to. It's very exciting to me to be a first-time dad."
By the way, don't expect their firstborn to match the family's alliterative name game. Chyna said not only are they keeping the sex a surprise until the premiere of their reality show, but added flatly, "The baby won't have a K name," she told Elle. We both agreed."