Blake Shelton And Miranda Lambert Avoid Each Other At ACM Honors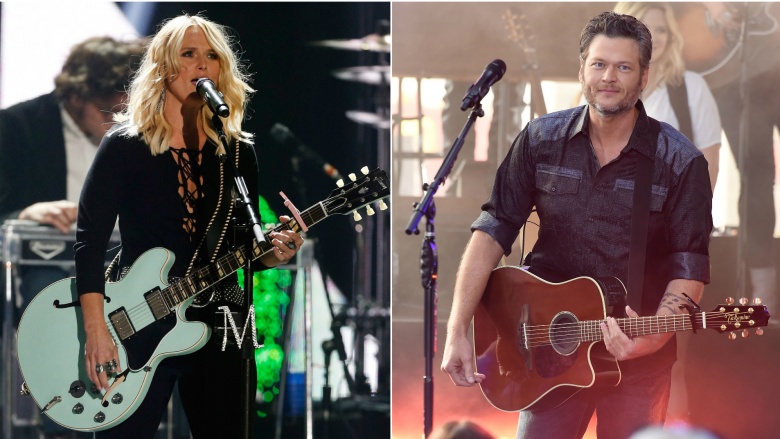 Getty Images
Once country's golden couple, exes Miranda Lambert and Blake Shelton did not interact at the Academy of Country Music Honors on Aug. 30, 2016.
Sources told Us Weekly that while neither Lambert nor Shelton outright insisted to be kept away from one another, insiders knew to separate them. "Blake and Miranda didn't request to be far away from each other, but they never interacted," a source said. "Everyone at the ACMs knew they wouldn't want to cross paths." Another witness added, "[Shelton] did not have an audience seat at all." One spy noted that he was in his dressing room backstage during Lambert's performance, further shrinking chances of an awkward encounter.
Both Shelton and Lambert performed at the ceremony, but neither walked the red carpet and neither brought their significant others, Gwen Stefani and Anderson East, respectively.
Shelton and Lambert split in July 2015 after four years of marriage. Both artists have chronicled the divorce in their music.
In July 2016, Shelton gave one of his first interviews since his divorce from Lambert and rebound romance with fellow The Voice coach Stefani. "When we recorded the vocals for some of these songs, I was only six months removed from when all the crap went down. When you have a broken heart—at least, when I do—you got to get it out of your system," he told Billboard. "You want people to sympathize with you. I was at rock bottom, in the middle of hell...You can learn some facts of my divorce [from his new album, If I'm Honest]. Maybe not specifics, but you can get a general idea about it."
For her part, Lambert's been lower key, telling Billboard, "No one's heard from me, but I've never hidden anything or tried to be too mysterious...I feel like the right thing to do was just come out with something really honest."