The Real Reason Trisha Paytas Can't Stand PewDiePie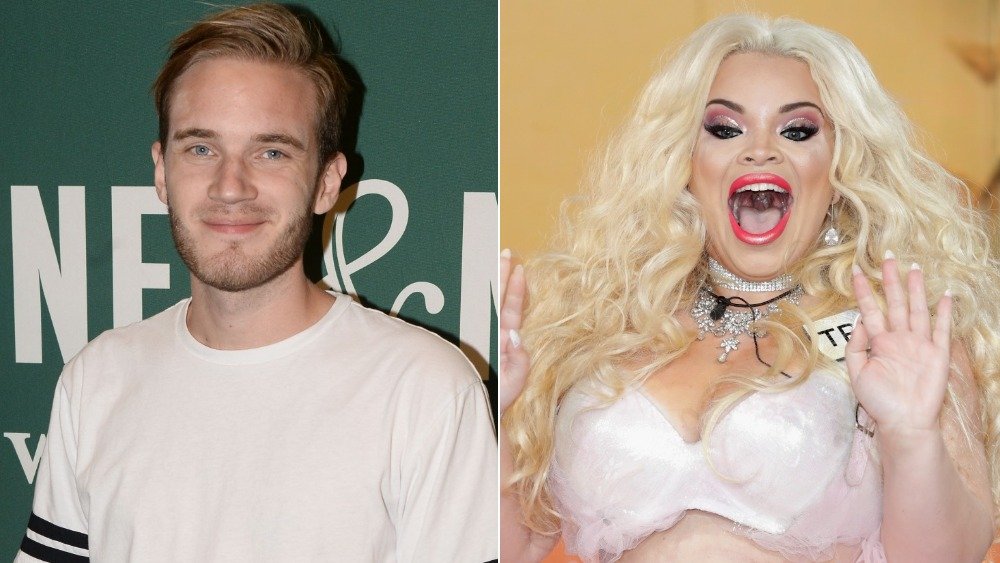 Matt Winkelmeyer, John Phillips/Getty Images
Many YouTubers maintain their internet presence — and make their money –  by sticking to one thing: their videos. That being said, YouTuber Trisha Paytas is a multifaceted individual with a diverse range of projects and interests. While some viewers tune in for her vlogs, Paytas has also augmented her online content with music and books. However, like with a lot of YouTube stars, her success has come with controversy.
Over the years, Paytas has drawn the ire of YouTubers and viewers alike. She's had public conflicts and feuds with many prominent content creators, including Daniel Keem (better known as Keemstar), David Dobrik, and PewDiePie. It appears Paytas can't even look at a picture of PewDiePie without wanting to tear into him, but what caused this bad blood? Did she bear the brunt of one of Pewd's jokes, or is there something else behind her targeted vitriol? 
Take a look at how PewDiePie ended up on Paytas' bad side.
PewDiePie accused Paytas of ghosting a fellow YouTuber
In January 2017, YouTuber Nikocado Avocado (real name Nicholas Perry) entered a contest hosted by Trisha Paytas and posted a violin cover of her song "Warrior." Paytas was reportedly so impressed with Avocado's work that she wanted to collaborate with him, per Dexerto. He eventually flew from Colombia to the United States to work with her. Just one problem: Paytas was nowhere to be found. Avocado had traveled thousands of miles for nothing.
According to Avocado, this wasn't a case of "he said vs. she said." In May 2019, the YouTuber posted a video sharing his side of the story, explaining that the incident was "something that's plagued [him] for years." He claimed that Paytas had promised a collaboration opportunity, failed to honor her word, and laughed in his face multiple times. In the video, Avocado also showed alleged DMs between the two YouTubers.
PewDiePie then posted his own video highlighting the incident that unfolded between Paytas and Avocado. Pewds viewed Avocado's video as proof that she was a "liar, manipulator, playing victim, aggressive, abusive," and took the opportunity to make fun of Paytas, as well as sound the call to "Cancel Trisha Paytas right now." As of this writing, PewDiePie's video sits at just under eight million views compared to Avocado's nearly three million. 
In September 2019 during an episode of the Impaulsive podcast, Paytas made it very clear how she felt about the video and PewDiePie, saying, "If this is where you content is coming ... where you're doing a video about me and, then like, me ghosting someone, like, PewDiePie, f**k all the way off. You're disgusting, your humor sucks, and you should stick to playing video games." Yikes!